Tech Support scammers now offer free antivirus coupons to entice victims to call them
Tech support scammers[1] seem to be full of new ideas how to scam unsuspecting or just inexperienced computer users. Lately, they started using another trick that plays on various "special" offers to lure victims into calling fraudsters. This time, tech support scammers use a deceptive technique[2], for which they create phishing websites[3] that urge the victim to "Claim a Free Antivirus today." When entering such phishing page, the victim receives a pop-up message saying that one is eligible to claim a free antivirus to restore computer's protection. However, the message also advises the victim to "call toll-free at 1-858-429-6057 for immediate support." Then the user gets redirected to a nicely designed website that suggests choosing between Norton Internet Security software and McAfee Total Protection. The website also shows a fake coupon code, which obviously doesn't work. Then the phishing page asks the victim to enter the name, email address, and phone number. To be precise, this phishing page asks for personally identifiable information[4], and one should never provide it to scammers.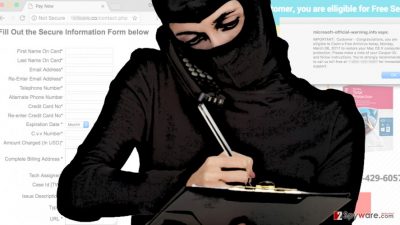 After entering the details and clicking "Claim Now," the website starts "gathering info" and then says that "something went wrong: N0740E". The phishing website again advises the victim to call them at "toll-free" number and says that the user can get help from a technician who can remotely access the computer and resolve the issue, allowing the user to watch and supervise the so-called technician. Obviously, after calling these scammers, the victim finds out that the computer is severely infected and that something needs to be done. Scammers advise the victim to purchase a lifetime protection plan for $400. When asked about the free antivirus, the scammer equivocates and says that the antivirus is useless when dealing with major problems detected on victim's computer system. The payment site that scammers use to collect payments is hxxp://123care[.]co. It demands the user to provide sensitive data such as credit card information, full name, phone numbers, and even victim's billing address. The website itself is dangerous, and it goes without saying that users should not enter any personal information on it. Of course, inexperienced computer users might not notice that the website is marked as not secure/dangerous and enter required information anyway. Of course, the information gets transmitted to cyber criminals right away.
We advise all computer users to stay alert and not believe in fraudsters who promise to provide all kinds of stuff for free. Tech support scammers are simply using social engineering skills[5] to attract users who love free items, trigger victim's curiosity and make him/her provide sensitive data or remote access to the computer. We know what happens next – scammers either rip off the computer user financially or infect his/hers computer with malware right away. Therefore, the next time you notice an enticing suggestion to get something for free, better stay away from it. Chances are, you have just encountered a bait that seeks to contaminate your PC through the establishment of spyware/malware program.
About the author
References