Facebook Messenger video malware hits people in Singapore
"This video is yours?" Facebook message links to malware-laden site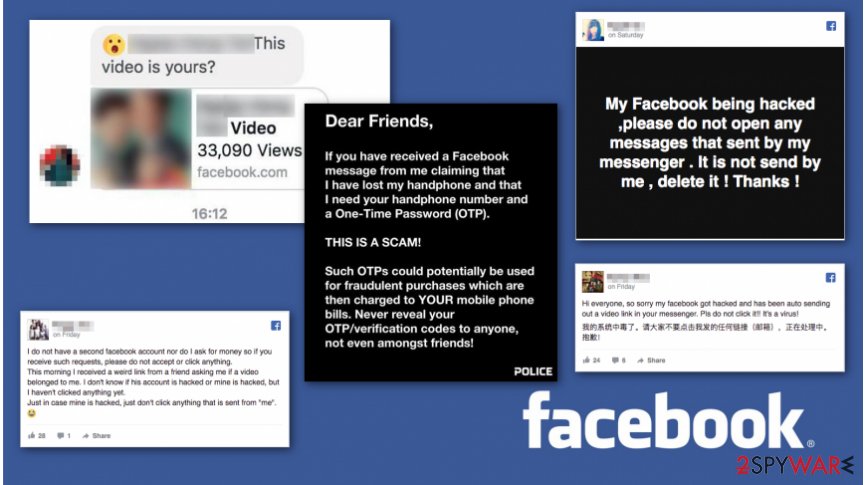 People in Singapore report that they have received suspicious messages with a link from their friends on Facebook Messenger. The texts of Facebook virus[1] look incredibly convincing since they directly address the user with his name and profile picture on the attached link. 
Facebook Scam message says the following:
[User's name] This video is yours?
Additionally, people can see the illustrated video link with their picture and annotation of the number of views (usually, thousands) just below the fake text[2]. According to the IT professionals, clicking on the infected link leads to a malicious website where people unconsciously infiltrate high-risk computer infections.
It is important to point out that the account owner from who the victim receives Facebook Messenger video scam message has nothing to do with the attempt to infect computers — malevolent people infiltrate malicious programs to steal login details and hack FB accounts.
Therefore, in case you have received such Facebook hoax, do not click on the attached link and immediately contact the account owner in person. Users are advised to use two-factor authentication to protect their accounts from cybercriminals and avoid using the same password on multiple social media platforms[3].
Learn what happens if you click on the infected link
While most of the computer users are being informed about potential attempts to either swindle money with the help of scam messages or damage systems with malware, they keep believing in the same tricks employed by the criminals. It is vital to understand the consequences which follow if you fall into the trap of Facebook video scam.
According to the analysis, this Facebook virus aims to infiltrate spyware or adware to collect personal details and misuse them for phishing purposes[4]. Note that the infected link might lead you to a fake login page where you will be asked to submit your credentials or other valuable information.
Also, Facebook video link can take you to a website where malware will be stealthily infused on your computer to track your online activity. The gathered details might be either used to hack your account or deliver virus-ridden ads and trick you into clicking on them.
Be cautious of other Facebook virus versions
FB Messenger scam is not the only threat present in the widely used social media platform. Experts have recently noticed another dangerous activity performed by scammers — following the claims that they have lost their phones, criminals ask for victim's phone number and one-time password (OTP) on Facebook[5].
This information allows the crooks to make gift card or gaming credit purchases from the victim's phone bill. People have already lost more than $16 000 to scammers in 2017. Likewise, it is vital to raise awareness to stop cybercriminals from gaining illegal profits this year.
About the author
References