Facebook scams (virus) - spam
Facebook scams Removal Guide
What is Facebook scams?
Facebook scams is the term used to describe various campaigns of fraudulent conent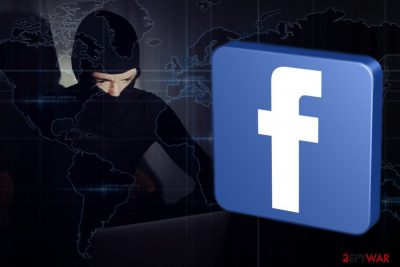 The term used for describing fraudulent activities on the social network.
Facebook scams are a type of cyber fraud that aims at social network users. Scammers created various hoaxes that are being spread on Facebook's News Feed and Messenger. Some of them ask to share posts about upcoming paid services or disagreements to use their personal data in order to create chaos and spread misleading news. Others spread malicious links redirecting to infected websites and ask to install the malware in the form of plugins. Also, you can find various shopping, giveaway, lottery, and fundraiser scams too. However, the main purpose of them all is swindling the money or personal information.
Summary of the cyber threat
Name
Facebook scams
Distribution
Malicious links on Messenger and News Feed, corrupted browser extensions, emails, personal messages
Danger level
High. Might steal personal information and install malware
Release date
At least 2012
Spread
Worldwide
Elimination
To uninstall malicious components downloaded from links shared on Facebook, use FortectIntego. To strengthen your account, replace your password.
Facebook scams emerged soon after the popularity of the social network reached great heights. Security specialists warned about various different types of hoaxes that are spreading online. However, we have divided them into four categories based on their purposes:
scams that are used for spreading fake news and misleading information (e.g., Facebook will start charging users or share personal information publicly);
scams that are used for swindling user's money (e.g., fake fundraisers, shopping scams, etc.);
scams that are used for obtaining personal information (e.g. lottery scams, giveaways, etc.);
scams that are used for spreading malware (e.g. various versions of Facebook viruses).
Therefore, these cyber threats might pose a danger to your privacy and computer security. If you were tricked to install some suspicious application or plugin, please scan your device with SpyHunter 5Combo Cleaner, Malwarebytes, or another anti-malware to check if your PC was not infected. In case of an attack, you need not only remove Facebook scams but change your password too.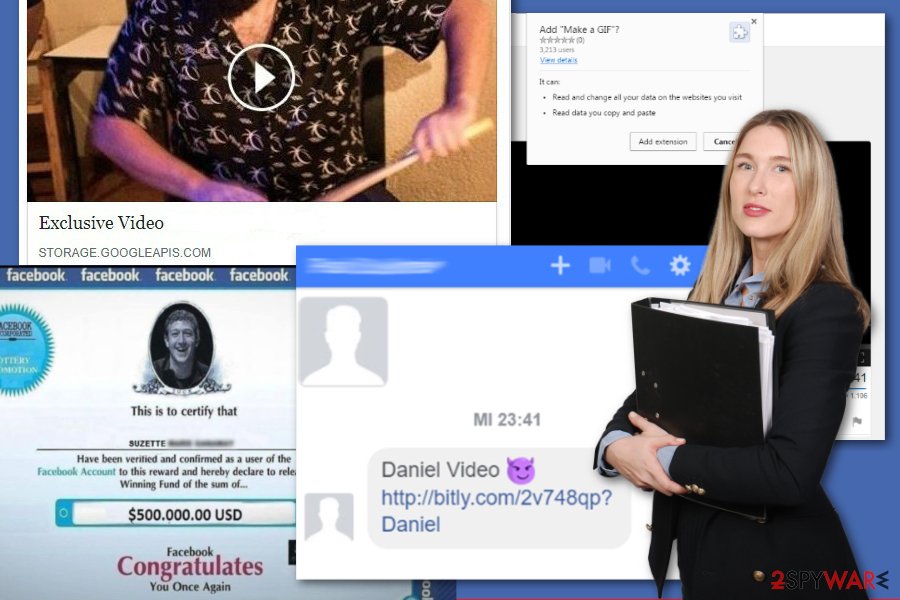 These campaigns are a group of fraudulent apps, ads, and messages that aim to steal user's personal information, money or infect with malware.
Changed Facebook's terms and policy is one of the most popular scams
It's hard to find a Facebook user who hasn't received a message telling about paid services. Such a Facebook scam has been spreading since 2012, but the social network is still free of charge. However, the following message occasionally keeps spreading via personal messages:[1]
"Now it's official! It has been published in the media. Facebook has just released the entry price: £5.99 to keep the subscription of your status to be set to "private". If you paste this message on your page, it will be offered free (I said paste not share) if not tomorrow, all your posts can become public. Even the messages that have been deleted or the photos not allowed. After all, it does not cost anything for a simple copy and paste."
Of course, there are other variations of this message. However, the point is that this information is untrue. Hence, there's no spam your friend's mailbox with useless and misleading information.
A similar hoax has emerged approximately in 2015. However, instead of receiving a personal message, this time you might be encouraged to post a specific message in order not to let Facebook to use your information:[2]
As of January 4th, 2015 at 5pm Central standard time. I do NOT give Facebook, or any entities associated with Facebook, permission to use my pictures, information, or posts, both past and future. By this statement I give notice to Facebook that it is strictly forbidden to disclose, copy, distribute, or take any other action against me based on this profile is private and confidential information. The violation of privacy can be punished by law (UCC 1-308-11 308-103 and Rome statute). NOTE: Facebook is now a public entity. All members must post a note like this. If you prefer, you can copy and paste this version. If you do not publish this statement at least once it will be tactically allowing the use of your photos, as well as information contained in the profile status updates. DO NOT SHARE. You MUST copy and paste to make this your status. I will leave a comment so it will be easier to copy and paste!!!
Similar translated messages are spreading all over the world in a different languages. Researchers from dieviren.de[3] tell that a similar hoax spread in German, Spanish, French, Lithuanian, and many other languages too. It's hard to tell why this ridiculous scam emerged at first. If you are concerned about your privacy, you should read Facebook's privacy policy, check your account settings and think about what personal information is worth sharing on Facebook.
Advertisements and links lead to infectious content online
Another type of Facebook scam aims at users who are willing to purchase some clothes or goods for small prices. Unfortunately, the social network has some flaws in their ads services, so scammers can promote their fake e-shops quite easily.
Some fake e-stores steal pictures from legitimate ones and offer to purchase clothes for low prices. In reality, people receive terrible items that do not look like the ones from the photo. In some cases, victims do not receive their orders at all. Needless to say that they do not have a refund too.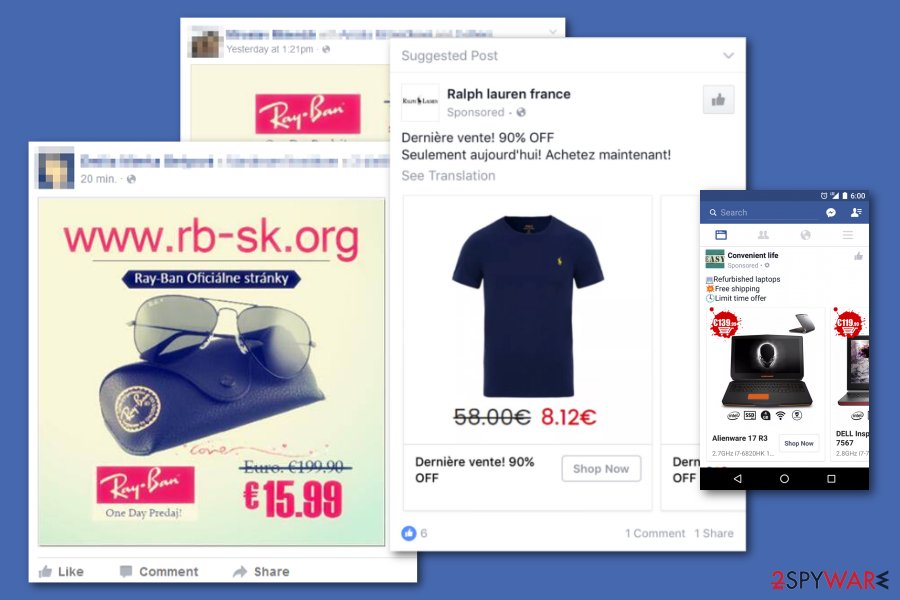 Fake Facebook ads might promote non-existent shops in order to swindle the money from users.
Other fake Facebook ads promote computers or other gadgets at very low prices. The Facebook forum is full of users' reports about fake stores like hxxp://laptopmall.co.uk/ or hxxp://iepcsale.com/ from which they have ordered laptops, but never received them:
I have actually ordered one of the cheap laptops from hxxp://www.hiusmla.com/index.php?route=common%2Fhome
I have made the payment as well.
I received auto-mail confirming my payment success (refer the picture attached).
But have not heard back since.
I can claim my money back through my Bank, but i am just seeing how they really operate.
I am going to get prove that they are a scum or what.[4]
We want to warn to be careful with ads. If you see a product available at three or four times lower price, you have to check the information about the retailer. Look for the company name, check its credibility by looking for the information online and reading customer reviews.
Fake Mark Zuckerberg's account gets used to fake legitimacy of messages you receive
Winning the lottery is always exciting. However, people always forget that in order to get a chance to win something, you need to enter some competition first. Though, scammers are aware that people do not pay attention to this important fact.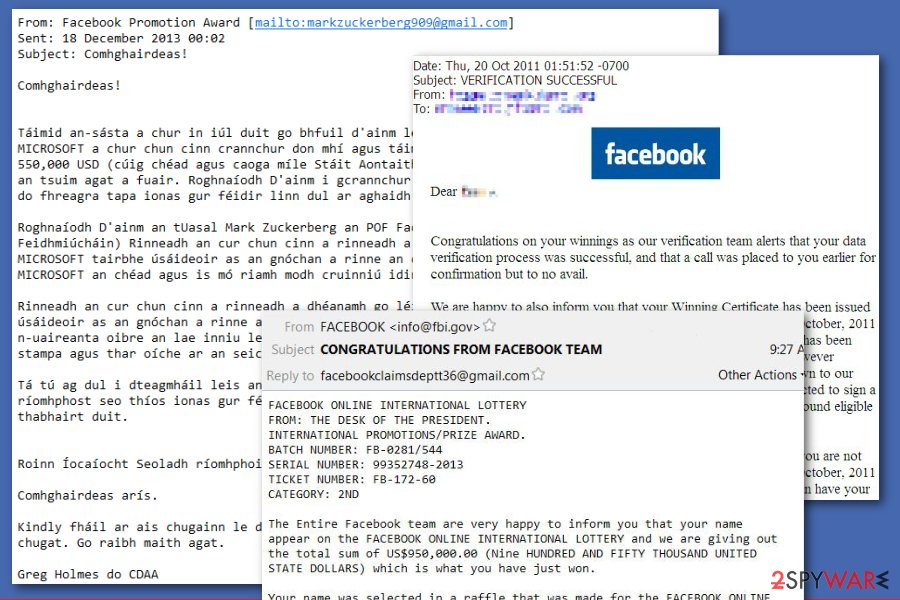 Facebook lottery scam might be spread via emails.
The majority of Facebook lottery scams are spreading via email. These letters look like sent from Facebook and seem legitimate. The scheme usually works in a way that a "lottery winner" has to contact the "agent" who will ask to pay a specific sum of money in order to claim the prize.[5] Nevertheless, this does not seem logic; many people fall for the hoax and follow ridiculous rules due to the excitement of winning a few hundreds of thousands of dollars.
According to the victims, scammers even use fake identification (ID) to trick people that they are actually working in Facebook.[6] However, we want to point out that any lotteries are not held by the company, thus if you receive such email, delete it immediately.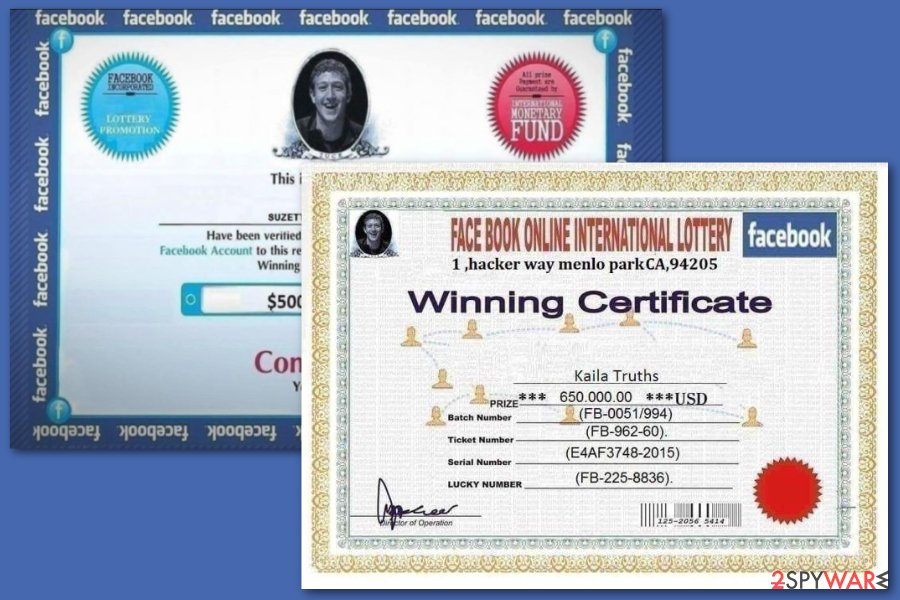 Facebook lottery scams claim that users won huge sums of money.
In April 2018, another Facebook scam has been noticed spreading on the social network tricking people that they won in the lottery too. Dubbed as the Mark Zuckerberg scam,[7] the hoax has been held by using fake accounts.
According to the New York Times, there are about 205 Facebook accounts that impersonate Zuckerberg. Therefore, scammers send messages to victims telling them that they won a few hundred of dollars. Those, who believed that they received a personal letter from the creator of the social network, were asked to send $200 in iTunes gift cards or/and transfer some money. Therefore, this hoax was used only for swindling the money from Facebook users.
The malware can be set to steal data or credentials
Another type of Facebook scams is usually spread via fake video links on both Messenger and News Feed. Various versions of Facebook virus suggest watching the different shocking or personal videos. Usually, the link is followed by sayings:
Is this you in this video?
My Private video
Exclusive video
Special video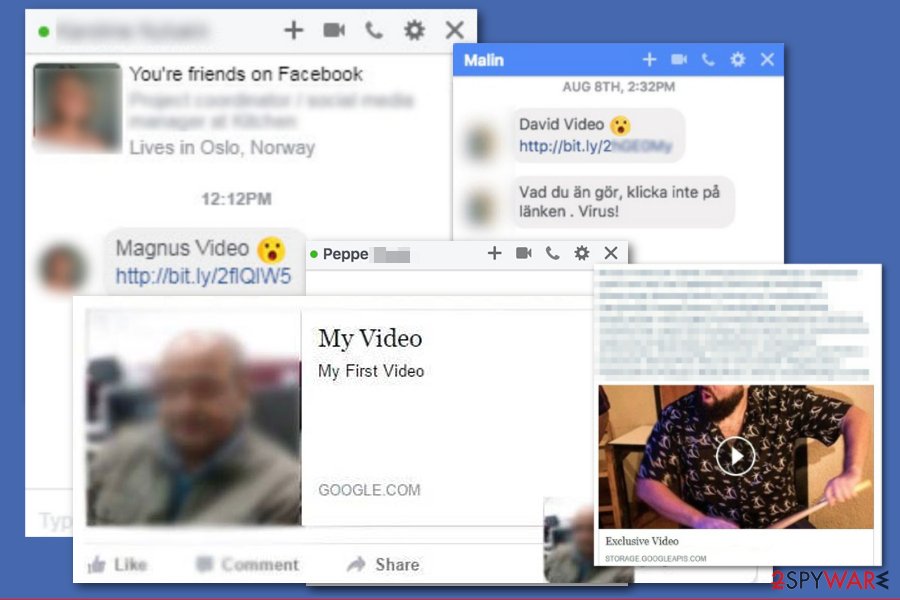 Facebook virus has different forms and shapes but usually spreads as a malicious video link.
Video links often include a profile picture of the victim and his or her full name. Once clicked, the link redirects to a malicious website that impersonates YouTube or other popular video streaming sites. However, users receive a prompt asking to install a plugin or update needed to access the content.
People who install needed content actually download a malicious program to their devices that execute malware or spyware on the computer. Additionally, their Facebook accounts get hacked and used for spreading the malicious link to their whole contact list.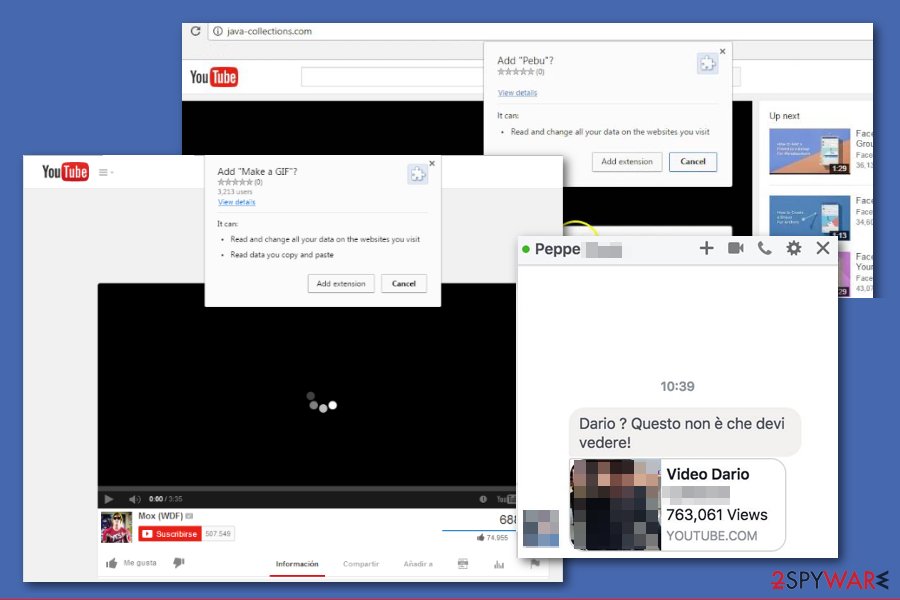 Facebook scam virus might trick people into installing malicious plugins or extensions.
If you have clicked on a strange video link sent from a friend and installed a suspicious extension, you need to remove the Facebook scam immediately. Uninstall these add-ons from the browser and scan the device with anti-malware software. After that, strengthen your Facebook account's security by changing your password.
Facebook scams ba be avoided if you pay attention
The variety of scams makes it challenging to find a cure for stopping these activities on social networks. However, the main tip is to be critical and do not rush sharing or clicking content that everyone seems to be spreading. Flooded News Feed should motivate you to look up the information about what is going on out there.
Tips to avoid scams:
Do not participate in suspicious lotteries that offer expensive prizes, such as, iPhones, MacBooks, holiday vouchers, etc. Before entering the contest, make sure that it is arranged by a trusted and authorized page/company.
Do not send warning messages to your contacts. If you receive a message telling you about upcoming payment, changes to the privacy policy, or similar information that also asks to share it with your friends, it's definitely a scam. If there will be major changes, you would know about them from news outlets or emails from Facebook.
Do not click on unexpected password reset emails. If you suspect that someone may have tried to hack your account, you should log in to Facebook directly and change the password there. Clicking on links or buttons in such emails might lead to phishing sites created for obtaining credentials.
Do not rush shopping on unknown e-shops. Scammers learned how to use Facebook ads to promote fake online shops. This hoax is extremely popular among clothes retailers who steal pictures of great-looking clothes to trick people into purchasing them. However, people receive poor-quality clothes that are barely similar to the advertised ones. In some cases, they never received ordered items and never get a refund. Thus, before shopping, always make sure that the seller is reliable. Reading comments in forums helps a lot!
Do not react to the weird posts you were tagged. If someone tagged you in a video or picture that has a link to a video or some shopping offer, do not click it. It might redirect to a compromised site and hack your account to spread the same hoax.
Do not add unknown people to your friend list. They might be criminals who are willing not only to perform some type of online crime but rob you in real life.
If you received a friend request from a friend you know and definitely have in your friends' list, do not rush adding him or her to your circle. It might be a fake account that can be used for swindling the money on behalf of your friend.
Before donating money to various causes, victims of natural disasters, homeless children, etc. always double-check the information if the issue is real and your money will be used for helping people who actually need it, but not creators of many Facebook scams.
Facebook scams removal process including AV tools
Generally speaking, Facebook scams removal is impossible. Criminals are always looking for new ways to reach potential targets, and a worldwide social network is definitely an excellent place for that. No matter how hard the company works against cybercrime, crooks keep learning new tricks. So, there's no doubt that you will see some fake links, posts, or other hoaxes on Facebook.
The most important task is to stay away from this content. However, if you were tricked or possibly installed something malicious, you have to check your computer's or smartphone's state. If your account was hacked and you keep spreading malicious messages or posts, you need to remove Facebook scams using anti-malware software.
Once you scan all devices you used for accessing Facebook with SpyHunter 5Combo Cleaner, Malwarebytes or another anti-malware, change your password and look through your account settings. If you see some unauthorized access, disconnect from these devices. Also, remove all unknown third-party apps that your account is associated with.
Alternative Software
Different software has a different purpose. If you didn't succeed in fixing corrupted files with Fortect, try running SpyHunter 5.
Alternative Software
Different software has a different purpose. If you didn't succeed in fixing corrupted files with Intego, try running Combo Cleaner.
How to prevent from getting malware
Access your website securely from any location
When you work on the domain, site, blog, or different project that requires constant management, content creation, or coding, you may need to connect to the server and content management service more often. The best solution for creating a tighter network could be a dedicated/fixed IP address.
If you make your IP address static and set to your device, you can connect to the CMS from any location and do not create any additional issues for the server or network manager that needs to monitor connections and activities. VPN software providers like Private Internet Access can help you with such settings and offer the option to control the online reputation and manage projects easily from any part of the world.
Recover files after data-affecting malware attacks
While much of the data can be accidentally deleted due to various reasons, malware is one of the main culprits that can cause loss of pictures, documents, videos, and other important files. More serious malware infections lead to significant data loss when your documents, system files, and images get encrypted. In particular, ransomware is is a type of malware that focuses on such functions, so your files become useless without an ability to access them.
Even though there is little to no possibility to recover after file-locking threats, some applications have features for data recovery in the system. In some cases, Data Recovery Pro can also help to recover at least some portion of your data after data-locking virus infection or general cyber infection. 
About the author
References
Removal guides in other languages