Faceliker Trojan manipulates likes on Facebook
Cybersecurity researchers warn Facebook users to beware Faceliker malware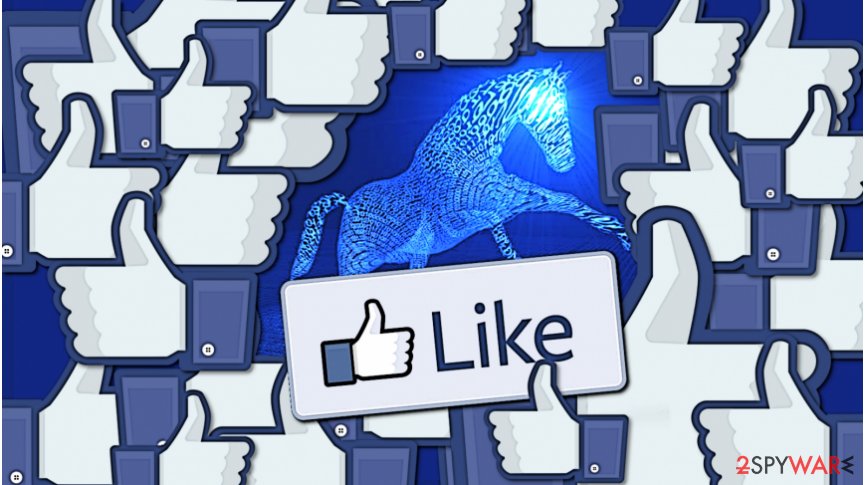 As nowadays social media is an inseparable part of society's social life, naturally scammers prey for victims online. Phishing messages[1] or compromised web links can easily trick unsuspecting users into providing sensitive information or installing dangerous malware on their computers unknowingly.
There's plenty of space for discussions about fake news on social media that users are likely to click, especially if they see their friends liking such posts. However, such fake news are often promoted by bots or accounts compromised by Faceliker malware.
McAfee experts[2] have spotted an unexpected surge of Faceliker Trojan, a malicious virus that takes control over Facebook accounts and uses them to promote certain content on social media. The security firm claims that the malicious virus takes 8.9% of 52 million new malware samples in the Q2 of 2017.[3] Experts suggest that the rise of Faceliker significantly influenced the overall growth of newly discovered malware.
Modus operandi of the virus
According to the research team from the aforementioned security firm, Faceliker compromises victims' devices as soon as they visit a malicious domain online. The malware tricks people into thinking that they like things they want when the virus actually redirects the click and likes an entirely different thing on Facebook instead. This way, the click-fraud Trojan[4] falsifies likes on content it seeks to promote.
VirusActivity experts advise[5] that users who have noticed suspicious content appearing in their feeds should immediately check their activity logs on Facebook to see whether there were some unauthorized attempts to use their accounts for promoting particular online content.
In case the user detects some suspicious activity, an immediate Facebook virus removal is required, as well as actions to protect user's account. The first thing victims should do is to run a system scan using up-to-date anti-malware software, and secondly, changing Facebook passwords. Besides, users can un-like the content that was liked without their consent.
Facebook malware more dangerous than it seems
Although Faceliker virus does not infect victim's device or distribute malicious links, it operates silently and without user's knowledge. Besides, liking and promoting vague content online using victim's account without one's knowledge is an illegal activity. Therefore, Faceliker removal is a highly suggested option.
Since Facebook is one of the most popular social network platforms available today, criminals rush to take the opportunity and spread malicious viruses via it. In case you noticed that your friend shared a suspicious link or sent you a message that looks fishy, warn your friend using a different contact method (phone call or message) and let them know what happened to their accounts. They might not be aware of Facebook virus acting on their behalf online.
About the author
References