"Is that you" Facebook virus. How to remove? (Uninstall guide)
"Is that you" Facebook virus is yet another malware campaign used to extort users' account details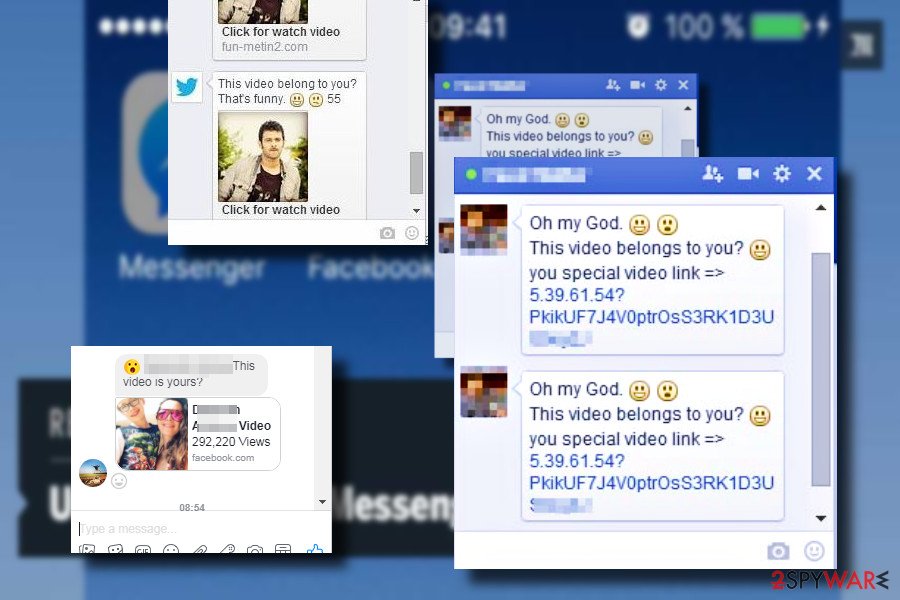 "Is that you" on Facebook's messenger is yet another type of Facebook virus[1] distributed by scammers to obtain people's login credentials or disseminate malware. The is it you facebook virus has initially been detect in 2017. Facebook's team patched the vulnerability quickly, though apparently it wasn't terminated entirely since the new wave of scam campaign has been revealed recently.
"Is that you" Facebook virus scheme resembles "hahaha" Facebook virus and other Facebook virus types. People receive an instant message on Facebook's Messenger that includes your name, a link to a "video"[2] and question Is that you? Usually, video of you virus may be generated from any of your friend's account. However, sometimes the sender may be fake Facebook's support team. 
This social media scam[3] is dangerous as it may cause the leakage of private information. Once the user clicks on a "video" link, its you virus redirects Facebook to fake Youtube website and then launches a Messenger-like login website. The scam asking are you in this video facebook virus won't allow the user to see the video unless he or she enters login details. That's a catch.
"Is that you" virus will not display any video even if you enter the login and password. That's a trick used by scammers who seek to gain access to people's Facebook accounts. The malicious links on social media can also be used for distributing malware or severe cyber infections, so before clicking on doubtful messages that do not look naturally written, ask your friend or acquaintance if he or she send that to you. Most probably his/her account has been infected with the Facebook virus, which is why it's generating malicious messages automatically.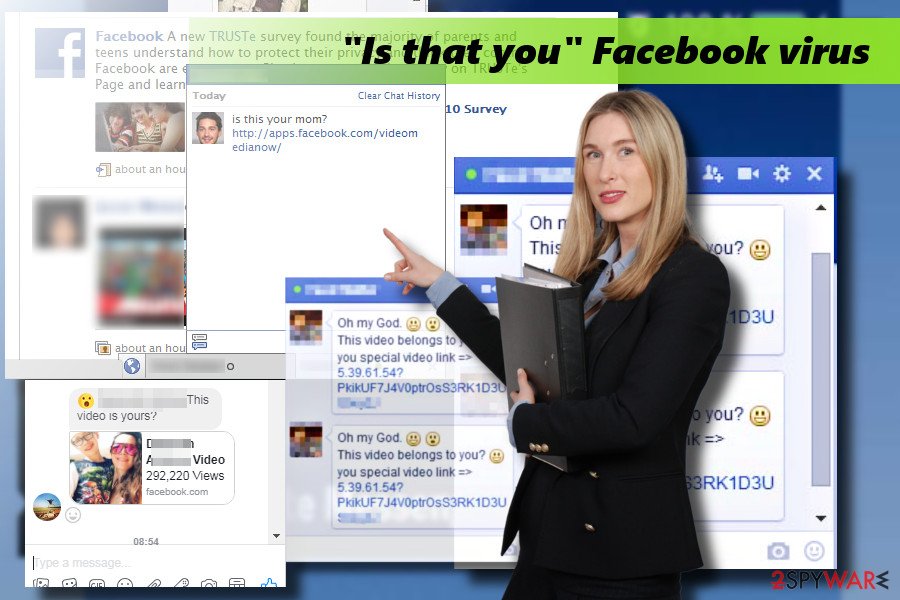 Slide 1 of 1
If you think that your Facebook account has been infected with "Is that you" malware, you should immediately report that to Facebooks support team and change your account's password. Then download a professional anti-malware or update the one that you have and run a full system scan with it. That's the quickest and most reliable way to remove "Is that you" Facebook virus. For this purpose, we recommend using Reimage, but you can select any other reliable security tool.
The distribution of Facebook virus variants is the same
Although not in all cases, most frequently Facebook users are attacked via messages from one of the contacts. The infection spreads using chain scheme, i.e., people get infected from one another by clicking on malicious links.
The is this you virus generates the messages that have the following scheme – the name of the potential victim, then a word "video" linked to a malicious domain and random emoji. Cyber security experts found out that the virus is translated into various languages, so if the location of the victim is Italy, he or she will get the message in the Italian language.
To protect your Facebook account from the attack, it's a must to stay away from misleading advertisements and news feeds provided on the platform. Do not fall for offers to win Ryanair tickets or iPhone offers for one euro. News feeds about a half-naked woman with slogans like "The girl ruined her life in two minutes" are also a scam, which may redirect to phishing websites.
Security experts from NoVirus.co[4] recommend people to enabling two-factor authentication. This feature is a useful precautionary measure that helps to prevent account hack. With the feature enabled, each time someone will try to log into your Facebook account, you will get a confirmation request asking to enter a unique security code.
Learn how to remove "Is that you" Facebook virus
"Is that you" virus is a dangerous piece of malware, which lock you from the Facebook account or trick you into installing another cyber infection. Therefore, as soon as some of your friends tell you that you are sending messages via Messenger asking are you in this video facebook virus, immediately scan the system with professional security software, such as Reimage, Malwarebytes MalwarebytesCombo Cleaner or Plumbytes Anti-MalwareMalwarebytes Malwarebytes.
Besides, don't forget to change your Facebook's password ASAP to prevent identity theft and information leakage. It's also advisable to report your friends that your account might be hacked and that they should now open suspicious messages that are sent via your account to them.
"Is that you" removal also requires a close investigation of app settings on Facebook. To disable malicious add-ons, you should perform these steps:
Log in to your Facebook account and click on a little triangle on your right;
Click Settings to open General Account Settings window;
Look on your left and select Apps;
Click Edit button on Apps, Websites and Plugins option;
Select Disable to protect your account from unauthorized access to third-party apps.
Alternative Software
Different security software includes different virus database. If you didn't succeed in finding malware with Reimage, try running alternative scan with Malwarebytes.
Alternative Software
Different security software includes different virus database. If you didn't succeed in finding malware with Reimage, try running alternative scan with Combo Cleaner.
About the author
References
Removal guides in other languages