Remove Facebook Friend Request virus (Removal Guide) - updated Jul 2020
Facebook Friend Request virus is another social media hoax that attempts to gain control of your account or access sensitive data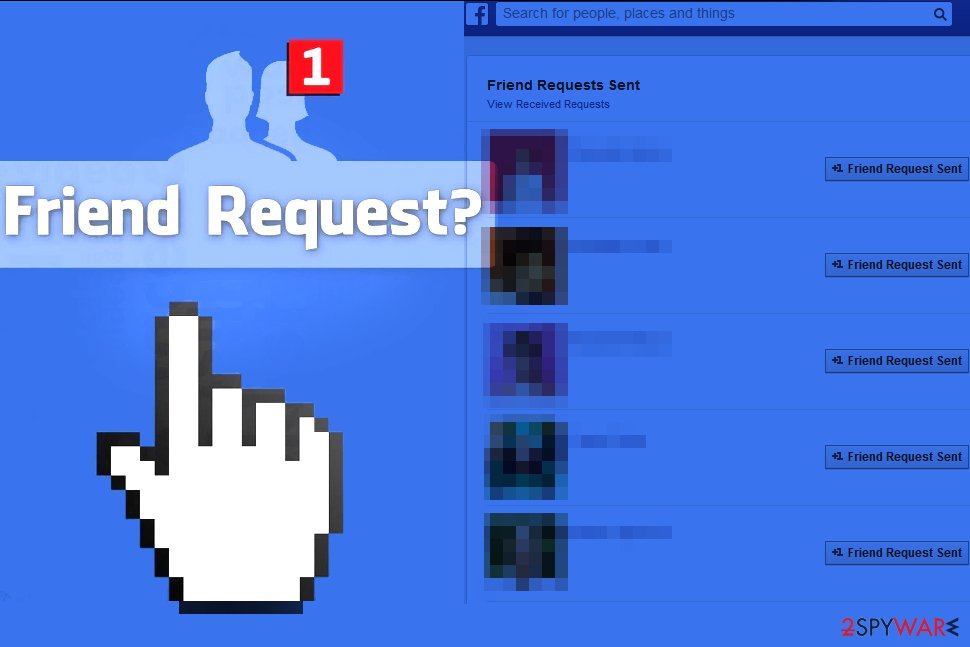 Questions about Facebook Friend Request virus
Facebook Friend Request virus is a malicious application[1] message that sends friend requests to strangers without the user's permission and with questionable purpose. In addition, scammers might be using your public photos and posts to create a fake version of your account and use it to contact your real friends with the intention to swindle money[2] or personal information from them. If Facebook sending friend requests issue has been bothering you for a while, you have been involved in the malicious scam associated with these request messages. The "Friend Request" virus belongs to a huge malware category known as Facebook virus and it is used to scam inattentive social media users by sending out friend requests without one's knowledge or permission.
Name
Facebook Friend Request virus
Type
Social media hoax 
Belongs to 
Facebook virus
Danger
Personal data can be accessed by questionable people
Intention
Get money or information from victims
Versions
Automatic Friend Request; Fake Facebook Friend Request
Active since
2013
Fix
Use

Reimage

Reimage Cleaner

Intego to clean virus damage caused by Facebook Friend Request virus
There was an increased activity of Facebook Friend Request virus in 2017 according to experts[3]. However, at the beginning of 2019, we can still see how active this issue is. The techniques used by scammers hardly changed – they either create fake profiles or malicious apps to send friend requests and scam users or their friends.
As always, the primary purpose of these fraudsters is to swindle money or take control over someone's account. Typically, the reason to hack accounts is to collect personal information or use it for further distribution of malicious links.
The viruses and scams associated with suspicious friend requests on this giant social media network can be divided into several categories. Let's review each of them to learn what to expect from them and how to avoid or remove Facebook Friend Request virus.
2018 came with more news[4] about this virus and a few other versions of this malware that include "Hi….I actually got another friend request from you yesterday…which I ignored so you may want to check your account…" message. This particular October version even raised the attention of the officials of Homeland Security and Emergency Preparedness Office[5].
The official post about this scam reads:
Your account isn't sending duplicate friend requests. And you didn't receive a request from the person you're forwarding it to.
You're simply doing it because the message tells you to.

DON'T.

Otherwise, you become one of the reasons why the hoax is spreading so fast.

There was a cloning epidemic on Facebook 18 months or so ago. That was genuine.
And people still do get hacked.

The message that went viral these past few days is different, however:
It urges you to forward it to "all the people you want to forward to" – which many take to mean all their friends.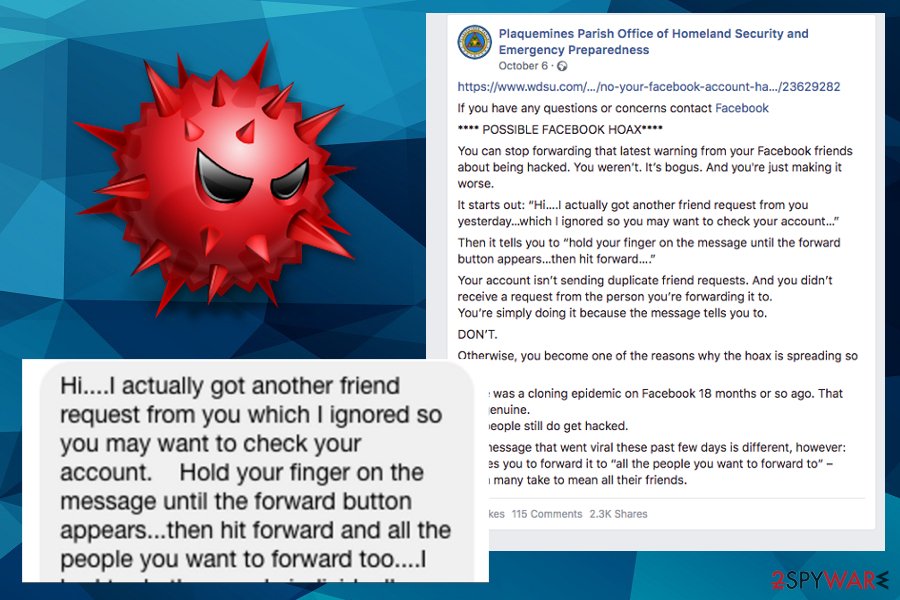 Recent Facebook Friend Request virus version even raised the attention of the officials.
Versions of Friend Request virus:
Facebook sending friend requests automatically
Is Facebook sending friend requests without your knowledge/permission? If yes, it is clear that your account is unprotected and someone has permission to add new friends on your behalf. In most cases, the culprit is a malicious app that asked for such permissions before you started using it. You may have given the app the permissions without actually reading them – it happens quite often.
If you are looking for a solution to "Facebook adding friends for me" problem, we can provide one. To stop the social network from adding friends for you, you must delete the app that has permission to add new friends to you. We provide a method that helps to revoke app permissions using the web, not a mobile app.
Log into your Facebook account.
Click on the small arrow in the top right corner of the screen on the blue Facebook toolbar. Select Settings.
Now, look at the left side of the screen and find Apps section. Click on it. This will take you to App Settings.
Here, you will see a list of apps below "Logged in with Facebook" section. Click Show all to expand the list. Hover your mouse over suspicious apps and click on X that appears next to them. You can also choose to delete all activities (including posts, photos, and videos created with or posted via the app). Click Remove to confirm.
Repeat until all suspicious apps are gone.
Facebook Fake Friend Request virus
This deceitful technique relies on fake Facebook accounts that are created using real photos of a certain Facebook user. Scammers track down a person that posts content publicly and steals private photos from him or her.
They create fake accounts and post pictures and even copy-paste original status messages posted by the victim. All of this is done in order to make an illusion of a real Facebook account, which scammers later use to mislead victim's friends and swindle money from them. Typically, scammers create software that sends out friend requests to all victim's friends and later on send delusive messages asking to lend money.
What is more, such Friend Request virus can send a malicious link to victim's friends, asking them to click on it and see something interesting. This trickery is quite efficient because the victim's friends trust the real person and want to see what they share. However, clicking on such links is highly dangerous, because these sites can be filled with malicious content.
Deceptive websites seek to force users to provide sensitive data or install harmful programs, so be careful! If your friend ever sends you a message with a link to a suspicious website, ask him or her if the website is trustworthy.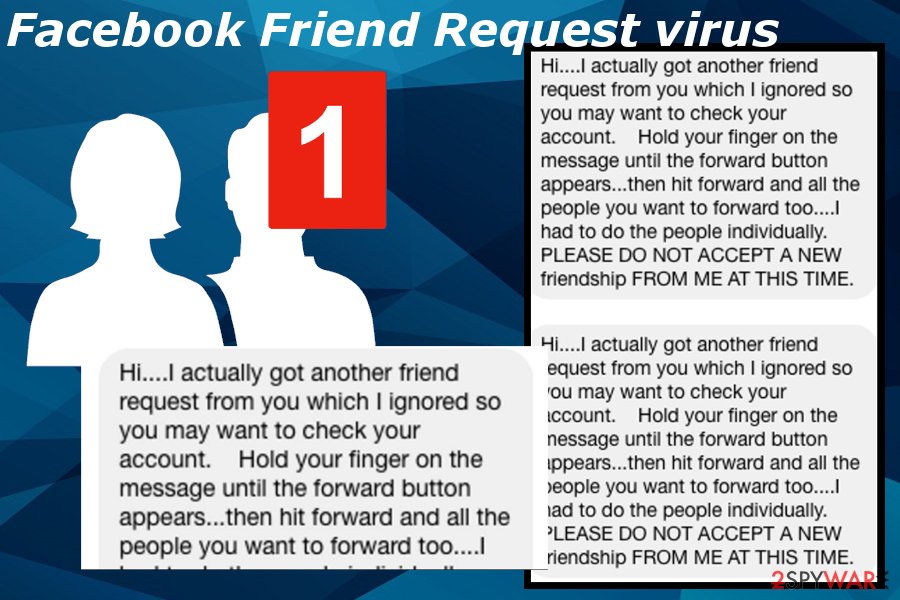 Facebook Friend Request is a social media hoax that targets users' accounts and sensitive information.
Typically, scammers do not reply, but even if they do, we suggest you check the profile of your friend – enter the name of him or her into Facebook search and see if it finds one, or two same profiles. The most obvious sign that you are dealing with Facebook Friend Request malware is that the person who has just sent you a friend request already sends links inviting to explore some suspicious websites or give money. 
However, your computer can also be infected with such a virus if you click on a link sent by a stranger or even a friend whose account was compromised. Usually, such links lead to a website that suggests adding a browser extension or installing an update "in order to watch the content."
Facebook Friend Request Virus October 2018
This virus raised the awareness again when the news came about suspicious messages and friend requests in the fall of 2018. Facebook Help Community even published a post about the version and warned about strange activities on the social platform. The more recently discovered campaign delivers hoax messages directly to users and the profile gets affected this way. 
You may see the following message if your account is compromised:
Hi….I actually got another friend request from you yesterday…which I ignored so you may want to check your account. Hold your finger on the message until the forward button appears…then hit forward and all the people you want to forward too….I had to do the people individually. Good Luck! PLEASE DO NOT ACEPT A NEW ONE FROM ME AT THIS TIME
As a consequence, such malicious software can steal access to your social media account and use it to spread malicious messages to your friends and post deceptive posts on the timeline. In such a case, react if any of your friends report this to you. In addition to that, this type of virus can unblock contacts that you have blocked and added them to your friends again.
To fix this, scan the system with an anti-malware tool and remove Facebook Friend Request virus immediately. You can use different anti-malware software for its removal, for instance, SpyHunter 5Combo Cleaner. After that, remove unwanted contacts manually.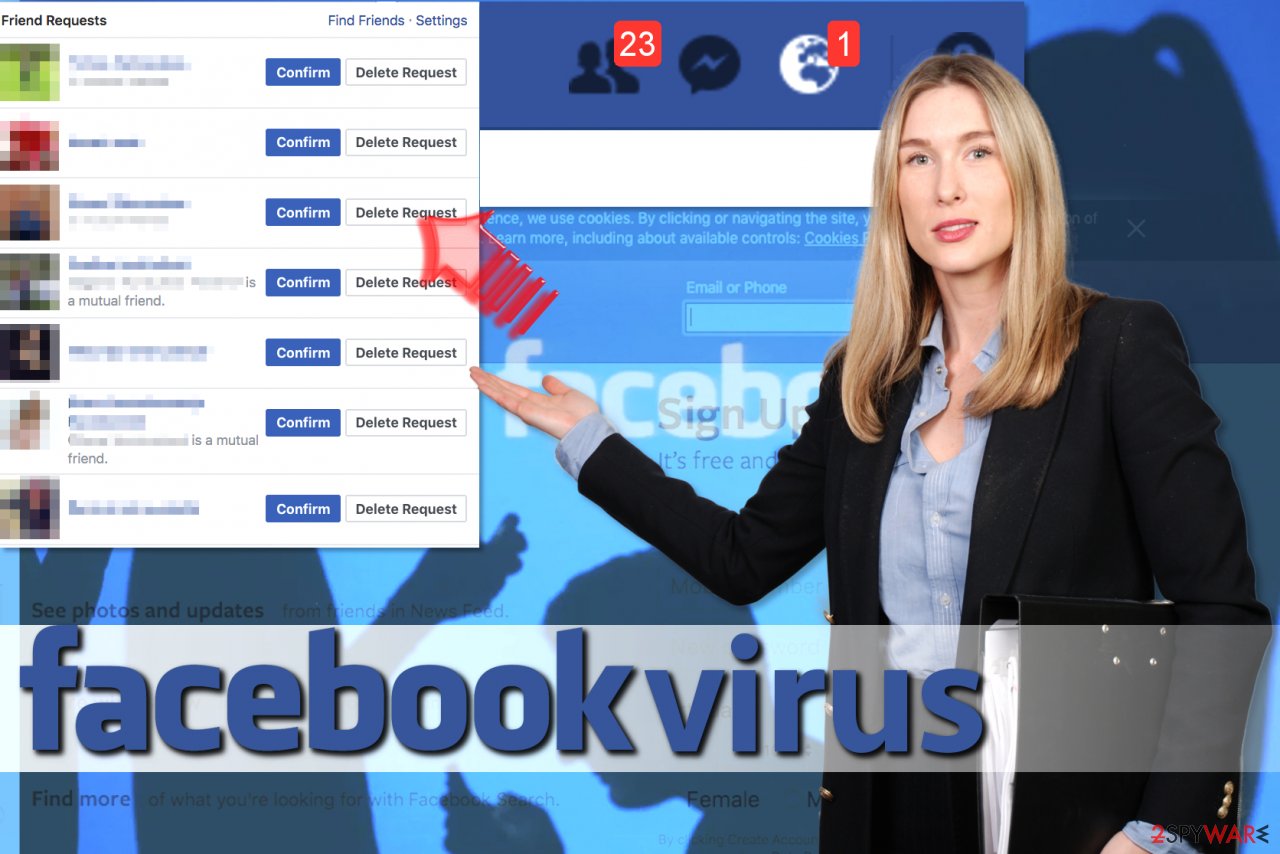 Facebook Friend Request virus is a term that covers suspicious or illegal activities on this social media platform regarding friend requests. If you receive suspicious friend requests or if your account automatically sends them to strangers, you might be infected with a virus.
Common distribution methods
The virus attacks Facebook's users via instant messaging. You may receive a misleading message that looks like it belongs to your friend and offers to click on a link in order to see a picture or watch a video.
Besides, clicking on every app on Facebook may also lead you to the infiltration of this virus because they are hacked by cybercriminals quite often. Once the virus is activated, it starts sending the requests to unfamiliar people and may also start accepting all pending friend requests that you ignored previously.
We also want to warn you that Facebook is not an entirely safe place, and there are some minor adjustments you can make to protect yourself and your friends. First of all, we strongly recommend you make your friends' list private. If it is public, scammers can easily access it and send deceptive messages to them while pretending it is you. Besides, it is advisable to keep sensitive information private. If you can, make your photos accessible for friends only, too.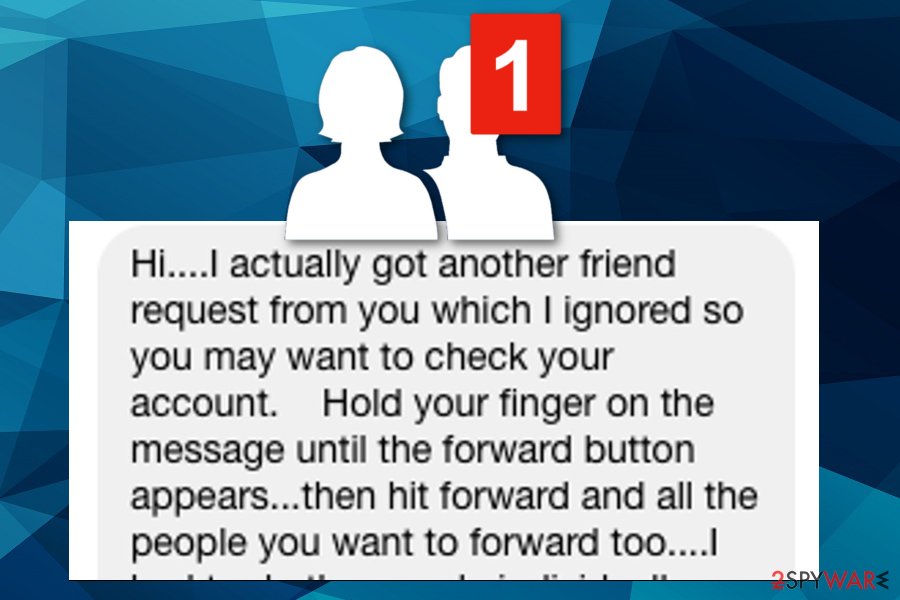 The newest variant of Facebook Friend Request virus came out in October 2018.
Frequently asked questions about Facebook Friend Request virus
Question: I think that Facebook is sending friend requests without my knowledge. How can I stop this? I used to delete the sent requests manually but more and more appear every day. There must be a method to put an end to this!
Answer: Dear visitor, there are two things that you need to do to stop the social network from automatically sending friend requests and ensure that it never happens again. First of all, you must revoke permissions from malicious Facebook apps and then scan your computer for malware that you may have installed lately. Use the tutorial provided by us to secure your account and remove malware from your PC.
Question: I keep receiving random friend requests on Facebook – is that a virus? How can I know if my account is secure? Maybe my profile is included in target lists for scammers? Can you help me to figure this out? I once received a request from someone who was using my pictures!
Answer: Dear visitor, everyone receives random requests from time to time. You shouldn't worry too much about them – just ignore them or reject them. However, the fact that you received a friend request from a "fake" you indicates that your content is shared publicly and you need to take certain measures to protect it.
We highly recommend going to Facebook Settings > Privacy and change the Who can see my stuff? settings from "Public" to "Friends Only." You can also limit the audience for posts that you have already shared.
Terminate Facebook Friend Request virus
If you notice strange people popping up on your friends list out of nowhere, or if you see that something suspicious has been posted on your wall without your knowledge, it can be a sign of Facebook Friend Request virus' presence.
As we have already mentioned, you should revoke app permissions using the tutorial we provided and then check your system for malicious or spyware-type programs that might be illegally controlling your account.
In addition, you must change your Facebook password. However, you should do this after Facebook Friend Request virus removal. Clean the system further using SpyHunter 5Combo Cleaner or Malwarebytes, in case this malware added other malicious or possibly dangerous programs or files to the system. Finish the process by running Reimage Reimage Cleaner Intego and fixing system damage.
Alternative Software
Different software has a different purpose. If you didn't succeed in fixing corrupted files with Reimage, try running SpyHunter 5.
Alternative Software
Different software has a different purpose. If you didn't succeed in fixing corrupted files with Intego, try running Combo Cleaner.
Do not let government spy on you
The government has many issues in regards to tracking users' data and spying on citizens, so you should take this into consideration and learn more about shady information gathering practices. Avoid any unwanted government tracking or spying by going totally anonymous on the internet. 
You can choose a different location when you go online and access any material you want without particular content restrictions. You can easily enjoy internet connection without any risks of being hacked by using Private Internet Access VPN.
Control the information that can be accessed by government any other unwanted party and surf online without being spied on. Even if you are not involved in illegal activities or trust your selection of services, platforms, be suspicious for your own security and take precautionary measures by using the VPN service.
Backup files for the later use, in case of the malware attack
Computer users can suffer various losses due to cyber infections or their own faulty doings. Software issues created by malware or direct data loss due to encryption can lead to problems with your device or permanent damage. When you have proper up-to-date backups, you can easily recover after such an incident and get back to work.
It is crucial to create updates to your backups after any changes on the device, so you can get back to the point you were working on when malware changes anything or issues with the device causes data or performance corruption. Rely on such behavior and make file backup your daily or weekly habit.
When you have the previous version of every important document or project you can avoid frustration and breakdowns. It comes in handy when malware occurs out of nowhere. Use Data Recovery Pro for the system restoring purpose.
About the author
References
Removal guides in other languages

August 18th, 2013 at 4:05 am

Block all time for sending freinds requests and not even sent any x


October 30th, 2013 at 10:17 am

Im blocked from sending friend requests on facebook its says Im blocked for 30 days id like to know why?


December 20th, 2013 at 4:36 am

FACEBOOK SENDING REQUEST WITHOUT MY PERMISSION (((SOLVED))) This happen to me for a few days until I found out what was happening..I synce my phone with FB and its taking all my gmail contacts and yahoo contact from my phone and sending invites to there cell or email. THIS IS HOW YOU CHECK TO SEE WTH is going on and DELETE all INVITES so FB can STOP IT : Login FB and click here http://www.facebook.com/contact_importer/remove_uploads.php


June 24th, 2014 at 3:21 pm

Is this only a computer-virus or could my smartphone be infected? I reset my system to get rid of any unwanted programs on my pc. Is that enough to ensure that the virus is gone?


August 30th, 2014 at 11:59 pm

How to post a friend request on FaceBook


August 31st, 2014 at 12:00 am

Facebook request how to send


October 22nd, 2014 at 12:39 am

This is happening on my girlfriends Facebook for iPhone. How can we fix this?


June 6th, 2015 at 8:54 pm

I unfortunately had this nasty virus. It removed people from my blocked list and added them, added friends of friends (which resulted in the ex and his friends getting invites on top of some totally random people), sent out messages with links in to people which turned out to be dodgy and sent out over 100 friends requests. Luckily facebook froze my account as all of this happened whilst I was in Spain. I discovered it could be facebook apps that you use. A lot of them have the capability of logging facebook login details and you allow remote access to your phone via the apps outside of facebook. Im no longer on it now as it instigated issues with a lot of people I dont get on with. My advice is to limit app and use only the trusted ones (if there is such thing!) good luck to anyone who has had this. Its awful!!!!


June 13th, 2015 at 8:59 pm

por favor ayuda a facebook para eliminar el virus delta home..tóxico para mi pc, gracias