How to remove network management tools
Network Management Tools (also known as Network Configuration Software) is a set of programs used to examine the traffic, proxies and other information going through the network. These tools can monitor everything that goes through central servers. Also, they can analyze this data without a need to install something on the system. Some part of Network Management Tools can be used to change device configurations and apply them to specific requirements. After altering computer's network settings, Network Configuration Software can make the system vulnerable to various attacks. Such software is considered untrustworthy and malicious.
The most dangerous activities caused by malicious Network Management Tools:
Identifying what devices are present on a network and disabling them;
Checking network components, analyzing the traffic and monitoring information that is spread over the network;
Disabling the Firewall or other security measures without user's approval;
Altering system settings and allowing communications from untrusted external sources.
Each of these activities can initiate the loss of sensitive information or make the system vulnerable to different kinds of viruses. In the worst case scenario, Network Management Tools can involve the affected PC system into the distribution network of other cyber threats.
Viruses that infiltrate computers after the malicious NMT disables the firewall:
Here are the main threats spread with the help of fraudulent versions of Network Management Tools:
How can I protect myself?
Get rid of useless software and disable unimportant services. Make sure you disable default features and uninstall programs that are unnecessary to you to decrease the opportunity of being attacked. You should go thru all the features that are enabled by default and disable the ones that you are not planning to use. Security experts highly recommend paying attention to file sharing and print sharing services that help people to share their files via the network. The same goes with unnecessary software. Don't forget to backup important data before removing the software to prevent the essential components of the operating system. 
Rely on secure networks. Connecting computer to the internet is the same as linking it to thousands of other machines. To protect information flows via the network, it is recommended to secure the router before connecting it to the network as it is the first device that can be protected. No matter that modems are the first devices receiving information from the Internet, they doesn't have security settings needed for data protection.
Use the Firewall. This is a tool used to control the flow of information between the PC and the Internet. You can find the firewall in the latest operating systems and home routers or you can install one from the Internet. However, you should always make sure that it is enabled and configured properly if you want to protect your system from unwanted changes and attacks.
Install Antivirus and Anti-spyware software. Malicious Network Configuration Software can cause infiltration of different viruses, malware and other dangerous programs. To keep the computer completely safe and prevent the loss of your personal information, make sure you install a reputable security software. Security experts also recommend enabling automatic updates to prevent infiltration of the newest viruses that can easily get into the system by exploiting security vulnerabilities on computer. Our recommended programs that can help you to prevent network attacks are these security tools: FortectIntego and SpyHunter 5Combo Cleaner. Once you install any of these programs on your computer, make sure that you update it to its latest version right away.
Latest network management tools added to the database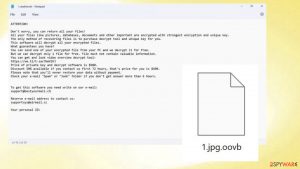 Oovb ransomware is the virus that demands large sums of money in exchange for the alleged decryption.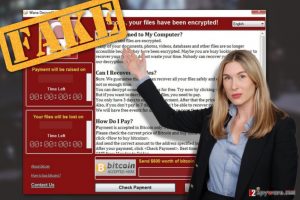 Wana DecryptOr 2.0 imitates WannaCry and demands ransom. Wana DecryptOr 2.0 virus is a WannaCry-related infection which imitates the design of this infamous ransomware to trick users into thinking their files have been encrypted.
Information updated: 2017-05-11