AllInOne Keylogger. How to remove? (Uninstall guide)
AllInOne Keylogger is a very untrustworthy application that is used in order to spy on people. Usually, such keyloggers are used in order to monitor who is using a computer. Furthermore, this dubious application has a feature to record keystrokes and even take screenshots every couple of seconds. If you add this questionable program to your system, AllInOne Keylogger can easily turn against you and violate your privacy. It is hard to tell who may hide behind such questionable program and where all the private information may end up. There have been cases where such keyloggers were the main cause of an identity theft. If you have even the slightest suspicion that such program may hide in your system, you should scan your PC with a reliable anti-spyware program and eliminate this potential threat.
How can AllInOne Keylogger hijack my computer?
Cyber criminals are commonly using such dubious programs in order to spy on people and to steal private information. As you can imagine, there are many ways how this malicious program may infiltrate your computer. You should avoid opening spam mail attachments, avoid downloading unfamiliar free programs and avoid visiting doubtful websites. AllInOne Keylogger virus is a very deceptive application and can easily find even the smallest gap in your security. You may get a corrupted spam mail with a notification that you have got a package waiting for you in the post office. You may also get a fake message that you won a big prize, and in order to claim this prize, you need to download something or register in some questionable website. Please be careful and always keep your guard up. Internet is filled with various cyber threats; therefore, we always recommend having a reliable anti-spyware program.
How to remove AllInOne Keylogger from my computer?
AllInOne Keylogger is not a regular program, which you can easily uninstall thru Add/Remove Programs folder. Sometimes you need more than that. We highly recommend using Reimage, Malwarebytes Malwarebytes or Plumbytes Anti-MalwareNorton Internet Security in order to remove this keylogger.
Alternate Software
We have tested Plumbytes Anti-Malware's efficiency in removing AllInOne Keylogger (2014-07-11)
We have tested Malwarebytes's efficiency in removing AllInOne Keylogger (2014-07-11)
We have tested Hitman Pro's efficiency in removing AllInOne Keylogger (2014-07-11)
We have tested Malwarebytes's efficiency in removing AllInOne Keylogger (2014-07-11)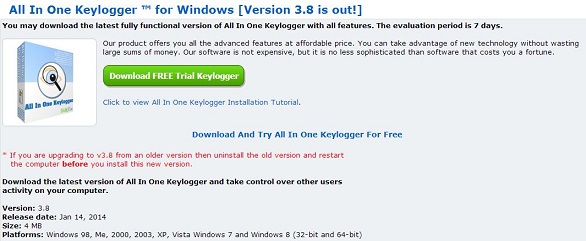 AllInOne Keylogger manual removal:
Kill processes:
lvvortt.exe
aio_keylog_crk.exe
Delete files:
lvvortt.exe
aio_keylog_crk.exe
About the author