Alureon. How to remove? (Uninstall guide)
Trojan Alureon is a trojan horse, which has several variants floating in internet space. It is a bigger trojan in size that sirefef trojan. Many people in various internet forums tell that MalwareBytes, McAfee, Avg, Norton, TdssKiller and other antivirus programs do not find this threat. Microsoft security essentials show these error codes 0×80070032, 0x800704ec and 0×80501001. After the infection Alureon trojan tries to deceive users, blocks access to the Internet. Trojan:DOS/Alureon.E comes with aditional software which shows annoying advertisements. Alureon can change Windows Explorer settings and download other malicious files from external servers. This virus effects both 32 bit and 64 bit operating systems. Trojan:DOS/Alureon.E comes with ZeroAccess Rootkit, it creates a small hard disk partition for itself and neither the factory restore nor reformat of your Hard Drive will remove the virus. Alureon.E virus acts silently, it can access victims PCs without any attention. The virus may hide in some unsafe sites that it will create a backdoor to the victims PC.
How to remove Alureon trojan?
The sadest part of all this Infection is that most antivirus softwares do not detect Alureon trojan and they are unable to remove this virus. recentry Spybot search and destry added some variants of alureon trojan. This might help you to remove the infection. Manual removal of Alureon is an imposible task. It creates random files and registry entries. Try using Spyhunter and Spybot to remove this infection.
Alureon creates the partition on hard disk. We need to remove a partition created by the rootkit to keep itself safe from removal.Click on Start > Right click My Computer > Click Manage > Click Disk ManagementFind any small partition which do not have assigned drive letter to itRight click on unlabeled partition and left click Delete Volume.Now restart your computer and do a virus scan with reputable antispyware software like SpyHunter or STOPzilla.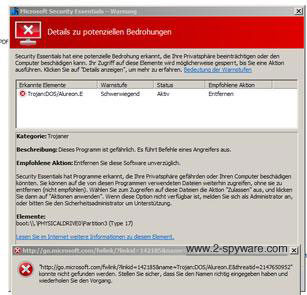 About the author