Antivirus Plus. How to remove? (Uninstall guide)
Antivirus Plus is new and dangerous malware. It uses fraudulent tactics to push users into buying useless program. AntivirusPlus is promoted as it was great security tool, but anyone could recognize the scam if they took a closer look to this application and its advertising techniques.
Antivirus Plus infects computers with help of trojans. The trojans are usually downloaded accidentally together with video codecs or software installs from malicious websites or downloads from p2p networks. AntivirusPlus+ is also advertised on fraudulent websites and people may download it voluntarily. The means of Antivirus Plus distribution reveals dubious nature of the software; however, it uses other misleading tactics to convince people that it is a reputable tool.
Antivirus Plus is able to modify user's HOSTS file the way that makes Antivirus Plus website appear to be security.microsoft.com. It also fabricates infection reports and offer purchasing AntivirusPlus for deleting the malware. Don't get confused! Antivirus Plus+ is not anti-virus, it is a computer parasite. If you pay for a license of this application you won't get any functional security software, but you will lose your money. Furthermore, once creators of Antivirus Plus fraud have your credit card details they may take all of your money.
AntivirusPlus loads plenty of pop-ups that make it difficult to use a computer or browse the web. It may also download additional malwares. It's recommended to delete Antivirus Plus as soon as possible. Avoid websites related to this malware and block antivirus-plus.org in advance using your HOSTS file.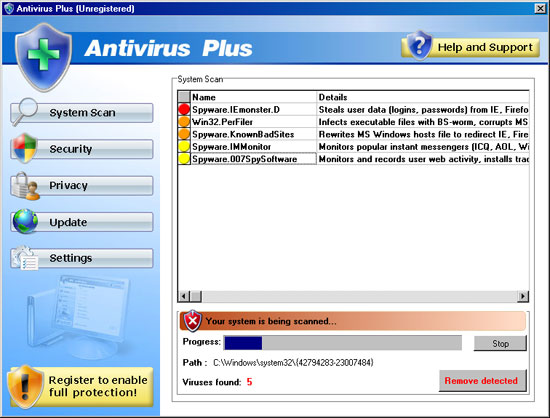 Antivirus Plus manual removal:
Kill processes:
AntivirusPlus.exe
AntivirusPlus.grn
rundll32.exe
dop.exe
Delete files:
AntivirusPlus.exe
AntivirusPlus.grn
rundll32.exe
dop.exe
About the author