AV Security Suite. How to remove? (Uninstall guide)
removal by Jake Doevan
-
- Also known as
AVSecuritySuite, AVSecurity Suite, AV SecuritySuite, AV Security Suite Basic, AV Security Suite Pro
| Type:
Rogue Antispyware
AV Security Suite is a rogue anti-spyware program from the same family as Antispyware Soft and Antivirus Soft. Once installed, this fake program will display fake security alerts and state that your computer is infected with spyware, adware and other types of malware. Then it will prompt you to pay for a full version of the program to remove the infections and to make your computer more secure. Of course, that's not true, because AV Security Suite is an infection itself and obviously won't protect your computer from malware. Most importantly, don't purchase this bogus program. If you have already purchased it, then you should contact your credit card company and dispute the charges. Finally, please follow the removal instructions below to remove AV Security Suite from your computer as soon as possible either manually or with an automatic removal guide.
Probably the most annoying thing about AVSecuritySuite is that it actually blocks legitimate software and certain system tools. It may even make your computer very slow. When running, it will display several fake pop-ups and state that your anti-virus or anti-spyware program is infected and that you should uninstall it. Furthermore, it will impersonate Windows Security Center and state that your computer is not protected against malware. It will then recommend you to buy a full version of AV Security Suite. Again, don't do that, otherwise you will simply lose your money. It's very important to mention that you may have to reboot your computer is safe mode with networking in order to remove this virus from your computer. AV Security Suite Basic changes Internet Explorer settings and enables proxy server. You need to restore those settings, otherwise, you won't be able to download malware removal tools from the Internet. If you fins that your computer is infected with this bogus and very annoying program, then please follow the removal instructions below.
AV Security Suite removal instructions
1. Restart your computer. As your computer restarts but before Windows launches, tap "F8" key constantly. Use the arrow keys to highlight the "Safe Mode with Networking" option as shown in the image below, and then press ENTER.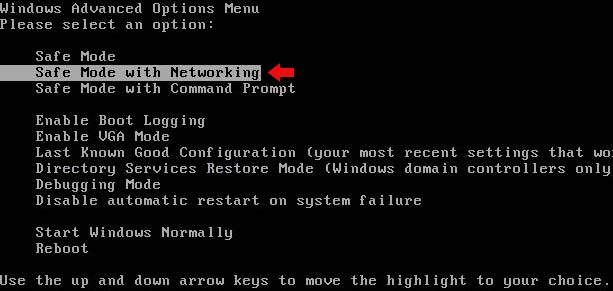 2. Open Internet Explorer. Click on the Tools menu and then select Internet Options.
3. In the the Internet Options window click on the Connections tab. Then click on the LAN settings button.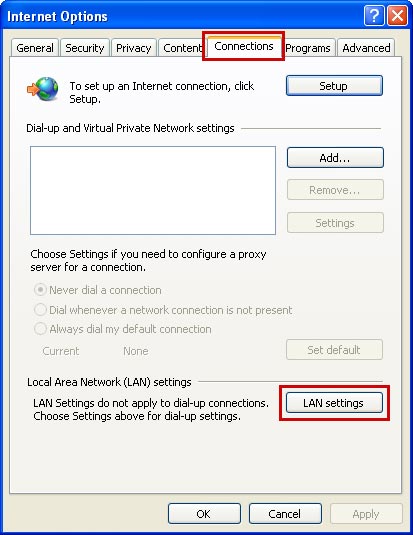 4. Now you will see Local Area Network (LAN) settings window. Uncheck the checkbox labeled Use a proxy server for your LAN under the Proxy Server section and press OK.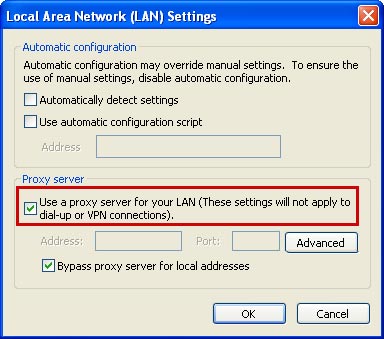 5. Download an automatic removal tool from this page and run a full system scan. Or download it form alternative location.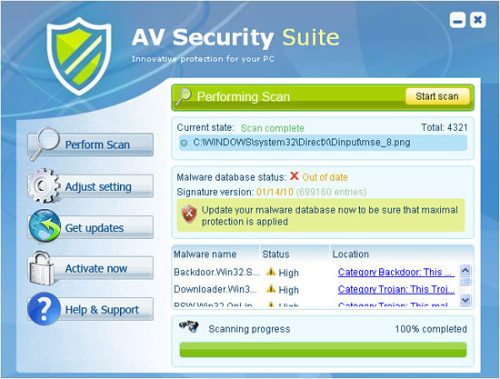 AV Security Suite manual removal:
Kill processes:
[RANDOM CHARACTERS]tssd.exe
Delete registry values:
HKEY_CURRENT_USERSoftwareMicrosoftWindowsCurrentVersionRun "[EIGHT RANDOM CHARACTERS]" = "%UserProfile%Local SettingsApplication Data[RANDOM CHARACTERS][RANDOM CHARACTERS]tssd.exe"
HKEY_LOCAL_MACHINESOFTWAREMicrosoftWindowsCurrentVersionRun"[HARACTERS]" = "%UserProfile%Local SettingsApplication Data[RANDOM CHARACTERS][SECOND SET OF RANDOM CHARACTERS]tssd.exe"
HKEY_CURRENT_USERSoftwareMicrosoftInternet ExplorerDownload"CheckExeSignatures" = "no"
HKEY_CURRENT_USERSoftwareMicrosoftInternet ExplorerDownload"RunInvalidSignatures" = "1"
HKEY_CURRENT_USERSoftwareMicrosoftInternet ExplorerPhishingFilter"EnabledV8" = "0"
HKEY_CURRENT_USERSoftwareMicrosoftInternet ExplorerPhishingFilter"Enabled" = "0"
HKEY_CURRENT_USERSoftwareMicrosoftWindowsCurrentVersionPoliciesAttachments"SaveZoneInformation" = "1"
HKEY_CURRENT_USERSoftwareMicrosoftWindowsCurrentVersionPoliciesAssociations"LowRiskFileTypes" = ".exe"
HKEY_LOCAL_MACHINESOFTWAREAVSuitE
HKEY_LOCAL_MACHINESOFTWAREavSofT
HKEY_CURRENT_USERSoftwareavSofT
Delete files:
[RANDOM CHARACTERS]tssd.exe
Delete directories:
%UserProfile%Local SettingsApplication Data[RANDOM CHARACTERS]
About the author