Bad Rabbit ransomware / virus (Free Instructions) - updated Jun 2021
Bad Rabbit virus Removal Guide
What is Bad Rabbit ransomware virus?
Bad Rabbit ransomware hit more than 200 organizations all over the world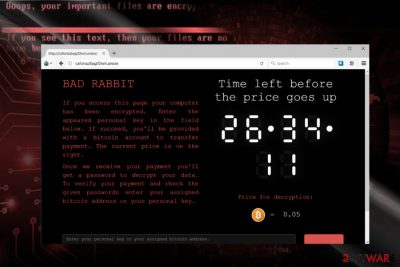 Bad Rabbit virus launched a massive worldwide attack on the 24th of October 2017. During a small amount of time, the file-encrypting virus managed to affect more than 200 organizations all over the world and took their files hostage. However, some of the encrypted files might be decrypted without paying the ransom to cybercriminals.
According to the latest data, ransomware mostly affected organizations in Russia and Ukraine. Other Eastern European countries, South Korea, Japan suffered from the ransomware as well. According to the latest research data, the malware hit some American users as well.
| | |
| --- | --- |
| Name | Bad Rabbit |
| Type | Ransomware |
| Distribution | Fake Adobe Flash Player updates |
| Encryption | AES + RSA; once applied to files, all of them receive the .encrypted extension |
| Malware removal | You need to perform a full system scan with anti-malware software such as SpyHunter 5Combo Cleaner |
| System fix | Once ransomware is deleted from the system, fix virus damage with FortectIntego repair software |
Criminals behind the malware compromised many legitimate websites to deliver fake Adobe Flash Player updates (install_flash_player.exe) that must be executed manually to activate the crypto-malware.
The virus uses AES-256-CBC and RSA-2048 ciphers to lock the files, adds a .encrypted extension to their original filenames, creates a Readme.txt file which it places on the Desktop. Finally, Bad Rabbit replaces Master Boot Record (MBR) and restarts the computer.
Consequently, the victim loses access to the computer as it fails to boot and displays a threatening message on a black screen. The ransomware says, "Oops! Your files have been encrypted!" and explains that the only possible data restoration method is paying a ransom to virus' authors.
The message provides a link to a .onion website (accessible via Tor browser only) and leaves the "personal installation key" on the screen. The payment website presented by the virus states that the victim has to pay 0.05 bitcoin for data recovery (approximately $280).
A recent analysis of the virus tells that paying the ransom is not the only way to restore files after the ransomware attack. The virus does not delete Shadow Volume Copies. Thus, third-party software might help to rescue at least some of the encrypted files. However, before trying alternative recovery methods, users are suggested to remove malware from the device using FortectIntego or another malware removal software.
UPDATE. Researchers have already discovered a vaccine from Bad Rabbit, which prevents the ransomware from corrupting files even if the victim manages to execute the malicious file. Further details on how to create your own "vaccine" are provided on Esolutions blog.
Free decryptor can help some victims to get back their files
Kaspersky Labs reported[1] that there might be a chance to restore files after a ransomware attack without paying the ransom. The researchers found two mistakes in the ransomware's code. The most significant discovery is that malware does not delete Shadow Volume Copies after data encryption.
Therefore, victims of ransomware might use third-party software to restore encrypted files. Keep in mind that these tools might not be capable of decrypting all your files. However, some of them will be definitely rescued. Though, before trying various recovery programs, remove the virus from the device.
Researchers have also found another flaw in ransomware's code that is related to the decryption passwords. It seems that malware does not delete the generated password from the memory until a victim reboots the computer. Researchers discovered that it might be possible to extract decryption passwords from the dispci.exe file if the system was not rebooted after a ransomware attack.
Scammers use the name of Bad Rabbit to scare internet users
In January 2018, malware researchers warned about a new technical support scam that uses the notoriety of malware. The scam follows the traditional scheme. Users are redirected to a compromised site that delivers a pop-up warning about ransomware attack and urges them to call a provided phone number:
Windows Has Detected a BAD RABBIT ATTACK !! On Your System
Do Not Shutdown or Restart Your Computer
Contact Windows Certified Technicians For Immediate Assistance
Authors of the scam claim that due to the attack, users' Facebook logins, credit card information, email logins, and photos stored on the computer are in danger. However, it is not what ransomware is designed for. As you already know, it's a file-encrypting virus.
If you receive such a pop-up, you should not call 1-844-539-5778 or other phone numbers. Instead of that, close the browser, and check the system for adware program with FortectIntego. Usually, such potentially unwanted program is responsible for displaying message by technical support scammers.
Relation to Petya/NotPetya malware
Bad Rabbit ransomware is believed to be a variant of NotPetya ransomware (also found as Petya/ExPetr/Petna) as it shares many technical similarities with the infamous crypto-virus. The ability to modify Master Boot Record, usage of AES and RSA encryption ciphers, and similar hashing algorithm used are just a few details that connect both ransomware variants. However, there are some differences between them.
Please study the provided fact sheet to learn more about this malware and how it differs from the NotPetya virus.
Unlike NotPetya ransomware, it is not a wiper and functions as a well-configured and fully operational file-encoding virus.
The virus does not exploit EternalBlue vulnerability (CVE-2017-0144[2]) to infect target systems. Previously mentioned ExPetr malware (as well as WannaCry) took advantage of the said security flaw in Windows servers.
The ransomware employs the EternalRomance exploit kit.
Bad Rabbit is still capable of proliferating via SMB. The malware scans for open shares and runs Mimikatz[3] software to collect Windows credentials. The virus then uses a list of hard-coded logins and passwords (all of them are quite basic) to infect other computers on the network via SMB.
The virus does not delete Shadow Volume Copies; thus, data recovery might be possible after the attack.
BadRabbit virus continues the misdeeds of Petya.
Hundreds of organizations in Europe, Asia and America were hit by ransomware
Ransomware outbreak majorly affected Russia (as reported by Bedynet.ru[4]) and Ukraine, although many victims were spotted in Bulgaria, Japan, Turkey, Poland, and other countries worldwide. No wonder why – these countries were also the leading ones regarding the number of compromised websites that served the ransomware's executable (the fake Flash Player update).
At the moment, the number of victims is said to have exceeded 200. Just like during the outbreak of WannaCry or NotPetya, we already see a growing number of large companies and organizations among the victims. Odessa International Airport in Ukraine and several media corporations in Russia, including Interfax, Fontanka.ru et al., are one of the first ones that reported infiltration of the malware.[5] See a complete list of affected companies below.
UPDATE: Avast researchers reported[6] that the ransomware has been detected in the United States.[6] It is assumed that the attack may have been infected if they have partners in Europe or other targeted regions and share the same SMB access.
The list of victimized organizations and companies
Interfax news agency
Interfax reported an attack on its servers on October 24th. The ransomware took down at least three of major Russia's media agency's websites.

Fontanka.ru, Argumenti.ru,
Argumentiru.com

Russian cybersecurity firm GROUP-IB reported that these three major Russian news sites were compromised and used to distribute the ransomware disguised as malicious Flash Player Update.
Kiev Metro
Kiev Metro became one of the first victims of the crypto-ransomware on October 24th. The virus managed to compromise the payment system and caused major delays during passenger registration.
Odessa Airport
Odessa Airport also fell victim to the ransomware attack on the same day as Kiev Metro systems did.
Ministry of Infrastructure of Ukraine
The ransomware continuously wreaks havoc in Ukraine, this time infecting Ministry of Infrastructure of Ukraine.
If the described ransomware already compromised your computer, waste no time and remove the ransomware using anti-malware software like SpyHunter 5Combo Cleaner or Malwarebytes. Do not forget to follow instructions provided below this report for a safe elimination of the file-coding virus.
Please keep in mind that you should use a professional malware removal tool to completely erase remains of this Trojan. Otherwise, you risk leaving some of its files on the system and leaving security vulnerabilities that could allow further malware infections. For a complete threat removal, use guidance written by IT experts (you will find them below the article).
Ransomware exploits system vulnerabilities to launch the attack
When first reports about ransomware distribution emerged, it was believed that it spreads via EternalBlue or EternalRomance exploit kits. It was discovered that malware uses another NSA exploit kit which as stolen by Shadow Brokers on April – EternalRomance.[7]
The exploit uses the CVE-2017-0145 vulnerability in Microsoft's Windows Server Message Block (SMB) which allows remote code execution. However, Microsoft released security bulletin MS17-010[8] to fix this issue. Unfortunately, not all companies and computer users patch their computers and install necessary updates. As a result, they might suffer from the a ransomware attack.
Fake Flash Player updates used for malware delivery
Adobe's product Flash Player notorious success once again for the benefits of malware developers. The main malware dropper is disguised in fake Flash updates.[9] The malware is downloaded as the install_flash_player.exe file from corrupted sites. It might also disguise under alternative file names.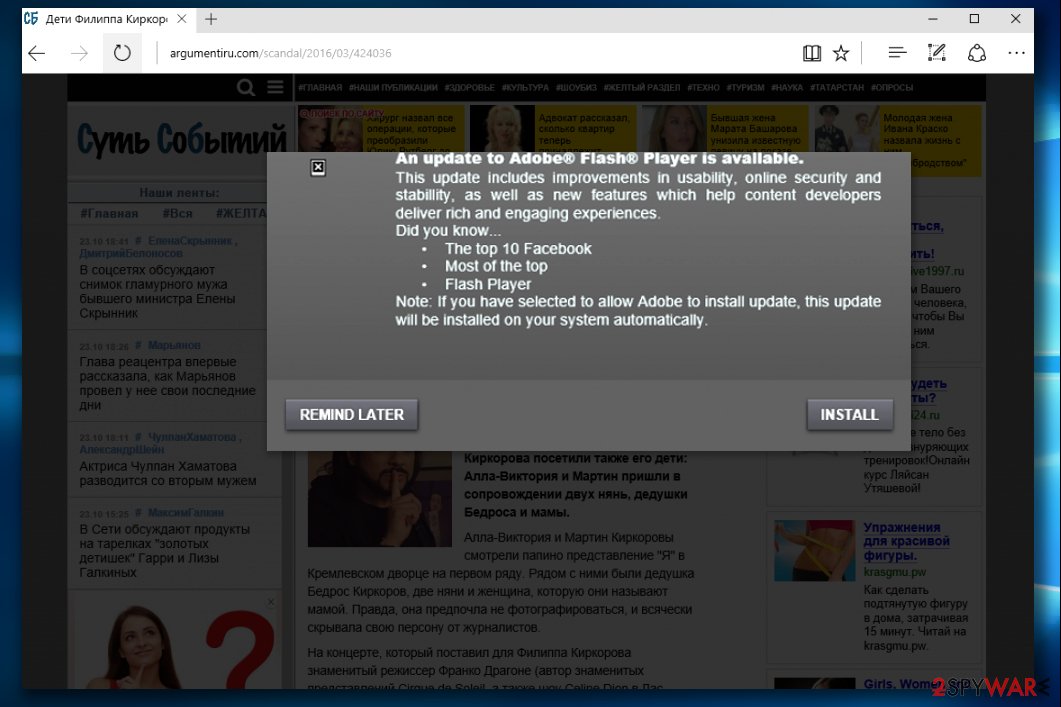 Fake Adobe Flash Player update prompts are commonly used to distribute ransomware.
Interestingly, the malware has to be executed by the victim himself. It is likely to happen, since the malware pretends to be a file associated with a well-known Adobe Flash Player software.
After the invasion, it creates C:\Windows\infpub.dat file. Consequently, it generates the following files – C:\Windows\cscc.dat and C:\Windows\dispci.exe. They are responsible for modifying MBR settings. Interestingly, the malware suggests references to the characters of the Game of Thrones series. BadRabbit malware creates three tasks named after three dragons in the series:
C:\Windows\system32\rundll32.exe C:\Windows\infpub.dat,#1 15
cmd.exe /c schtasks /Delete /F /TN rhaegal
cmd.exe /c schtasks /Create /RU SYSTEM /SC ONSTART /TN rhaegal /TR
cmd.exe /c schtasks /Create /SC once /TN drogon /RU SYSTEM /TR:00
C:\Windows\AF93.tmp"
It also makes use of the open-source encryption service called DiskCryptor[10]. Later on, it uses aforementioned AES and RSA-2048 encryption methods. It targets a variety of file formats.[11]
After rebooting the system, the virus displays the same ransom note as NotPetya. Just like any traditional ransomware, it points to a payment site where victims can get more details about available data recovery solutions.
It's possible to avoid ransomware attack
Regarding the fact that the crypto-malware disguises under Flash Player and breaks into servers, the key prevention measure would be to avoid installing suspicious software updates from any other sites than the official Adobe web page.
Some victims report that their computers were compromised after opening malicious email attachments, which is also one of the most efficient malware distribution tricks. Therefore, you should stay away from questionable files attached to digital messages from strangers or companies you have no business with.
Make sure your security tools are updated as well. It would be better to download a couple of different types of security apps.
Patch your computer by installing all necessary security upgrades from Microsoft.
Keep all your programs up to date.
Consider creating your own "vaccine" for BadRabbit. You can find more details about it above.
Delete Bad Rabbit ransomware and recover encrypted files
Users infected with the described malware should remove this virus as soon as possible. It is advisable to rely on an up-to-date anti-malware tool, such as FortectIntego or Malwarebytes, to successfully eliminate the malware. Due to its peculiar operation methods, it is not surprising why the malware is called the next Petya.
Speaking of the virus's technical details, it is highly recommended not to remove it manually if you are not an experienced computer technician. If you have encountered this cyber misfortune, follow the instructions below. Since the ransomware changes MBR settings, you will not be able to boot the computer in Safe Mode at first. Implement the MBR reset instructions.
After that, restart the computer into Safe Mode, re-activate your security applications and remove the virus. After the scanning, launch the computer in normal mode and repeat the procedure. It will confirm that Bad Rabbit removal is complete. Note that malware elimination does not recover encoded files. Try to recover them from backups. You will find some suggestions below.
On Windows 7:
Insert the Windows 7 DVD.
Launch DVD.
Choose language and keyboard layout preferences. Opt for Next.
Choose your operating system, mark the Use recovery tools and click Next.
Wait for the System Recovery Options screen to appear and choose Command Prompt.
Type in the following commands and press Enter after each one: bootrec /rebuildbcd, bootrec /fixmbr, andbootrec /fixboot.
Eject the installation DVD and reboot the PC.
On Windows 8/10 systems:
Insert the installation DVD or recovery USB.
Select Repair your computer option.
Pick Troubleshoot and select Command Prompt.
Type the listed commands one by one and press Enter after each: bootrec /FixMbr, bootrec /FixBoot, bootrec /ScanOs, and bootrec /RebuildBcd.
Eject the DVD or recovery USB.
Type exit and hit Enter.
Reboot the PC.
Alternative Software
Different software has a different purpose. If you didn't succeed in fixing corrupted files with Fortect, try running SpyHunter 5.
Alternative Software
Different software has a different purpose. If you didn't succeed in fixing corrupted files with Intego, try running Combo Cleaner.
Getting rid of Bad Rabbit virus. Follow these steps
Important steps to take before you begin malware removal
File encryption and ransomware infection are two independent processes (although the latter would not be possible without the former). However, it is important to understand that malware performs various changes within a Windows operating system, fundamentally changing the way it works.
IMPORTANT for those without backups! → 
If you attempt to use security or recovery software immediately, you might permanently damage your files, and even a working decryptor then would not be able to save them.
Before you proceed with the removal instructions below, you should copy the encrypted files onto a separate medium, such as USB flash drive or SSD, and then disconnect them from your computer. Encrypted data does not hold any malicious code, so it is safe to transfer to other devices.
The instructions below might initially seem overwhelming and complicated, but they are not difficult to understand as long as you follow each step in the appropriate order. This comprehensive free guide will help you to handle the malware removal and data recovery process correctly.
If you have any questions, comments, or are having troubles with following the instructions, please do not hesitate to contact us via the Ask Us section.
IMPORTANT! →
It is vital to eliminate malware infection from the computer fully before starting the data recovery process, otherwise ransomware might re-encrypt retrieved files from backups repeatedly.
Isolate the infected computer
Some ransomware strains aim to infect not only one computer but hijack the entire network. As soon as one of the machines is infected, malware can spread via network and encrypt files everywhere else, including Network Attached Storage (NAS) devices. If your computer is connected to a network, it is important to isolate it to prevent re-infection after ransomware removal is complete.
The easiest way to disconnect a PC from everything is simply to plug out the ethernet cable. However, in the corporate environment, this might be extremely difficult to do (also would take a long time). The method below will disconnect from all the networks, including local and the internet, isolating each of the machines involved.
Type in Control Panel in Windows search and press Enter
Go to Network and Internet
Click Network and Sharing Center
On the left, pick Change adapter settings
Right-click on your connection (for example, Ethernet), and select Disable
Confirm with Yes.
If you are using some type of cloud storage you are connected to, you should disconnect from it immediately. It is also advisable to disconnect all the external devices, such as USB flash sticks, external HDDs, etc. Once the malware elimination process is finished, you can connect your computers to the network and internet, as explained above, but by pressing Enable instead.
Scan your system with anti-malware
If you are a victim of ransomware, you should employ anti-malware software for its removal. Some ransomware can self-destruct after the file encryption process is finished. Even in such cases, malware might leave various data-stealing modules or could operate in conjunction with other malicious programs on your device. 
SpyHunter 5Combo Cleaner or Malwarebytes can detect and eliminate all ransomware-related files, additional modules, along with other viruses that could be hiding on your system. The security software is really easy to use and does not require any prior IT knowledge to succeed in the malware removal process.
Repair damaged system components
Once a computer is infected with malware, its system is changed to operate differently. For example, an infection can alter the Windows registry database, damage vital bootup and other sections, delete or corrupt DLL files, etc. Once a system file is damaged by malware, antivirus software is not capable of doing anything about it, leaving it just the way it is. Consequently, users might experience performance, stability, and usability issues, to the point where a full Windows reinstall is required.
Therefore, we highly recommend using a one-of-a-kind, patented technology of FortectIntego repair. Not only can it fix virus damage after the infection, but it is also capable of removing malware that has already broken into the system thanks to several engines used by the program. Besides, the application is also capable of fixing various Windows-related issues that are not caused by malware infections, for example, Blue Screen errors, freezes, registry errors, damaged DLLs, etc.
Download the application by clicking on the link above
Click on the ReimageRepair.exe


If User Account Control (UAC) shows up, select Yes
Press Install and wait till the program finishes the installation process
The analysis of your machine will begin immediately
Once complete, check the results – they will be listed in the Summary
You can now click on each of the issues and fix them manually
If you see many problems that you find difficult to fix, we recommend you purchase the license and fix them automatically.
By employing FortectIntego, you would not have to worry about future computer issues, as most of them could be fixed quickly by performing a full system scan at any time. Most importantly, you could avoid the tedious process of Windows reinstallation in case things go very wrong due to one reason or another.
Restore files using data recovery software
Since many users do not prepare proper data backups prior to being attacked by ransomware, they might often lose access to their files permanently. Paying criminals is also very risky, as they might not fulfill the promises and never send back the required decryption tool.
While this might sound terrible, not all is lost – data recovery software might be able to help you in some situations (it highly depends on the encryption algorithm used, whether ransomware managed to complete the programmed tasks, etc.). Since there are thousands of different ransomware strains, it is immediately impossible to tell whether third-party software will work for you.
Therefore, we suggest trying regardless of which ransomware attacked your computer. Before you begin, several pointers are important while dealing with this situation:
Since the encrypted data on your computer might permanently be damaged by security or data recovery software, you should first make backups of it – use a USB flash drive or another storage.
Only attempt to recover your files using this method after you perform a scan with anti-malware software.
Install data recovery software
Download Data Recovery Pro.
Double-click the installer to launch it.

Follow on-screen instructions to install the software.
As soon as you press Finish, you can use the app.
Select Everything or pick individual folders where you want the files to be recovered from.
Press Next.
At the bottom, enable Deep scan and pick which Disks you want to be scanned.
Press Scan and wait till it is complete.
You can now pick which folders/files to recover – don't forget you also have the option to search by the file name!
Press Recover to retrieve your files.
Find a working decryptor for your files
File encryption is a process that is similar to applying a password to a particular file or folder. However, from a technical point of view, encryption is fundamentally different due to its complexity. By using encryption, threat actors use a unique set of alphanumeric characters as a password that can not easily be deciphered if the process is performed correctly.
There are several algorithms that can be used to lock data (whether for good or bad reasons); for example, AES uses the symmetric method of encryption, meaning that the key used to lock and unlock files is the same. Unfortunately, it is only accessible to the attackers who hold it on a remote server – they ask for a payment in exchange for it. This simple principle is what allows ransomware authors to prosper in this illegal business.
While many high-profile ransomware strains such as Djvu or Dharma use immaculate encryption methods, there are plenty of failures that can be observed within the code of some novice malware developers. For example, the keys could be stored locally, which would allow users to regain access to their files without paying. In some cases, ransomware does not even encrypt files due to bugs, although victims might believe the opposite due to the ransom note that shows up right after the infection and data encryption is completed.
Therefore, regardless of which crypto-malware affects your files, you should try to find the relevant decryptor if such exists. Security researchers are in a constant battle against cybercriminals. In some cases, they manage to create a working decryption tool that would allow victims to recover files for free.
Once you have identified which ransomware you are affected by, you should check the following links for a decryptor: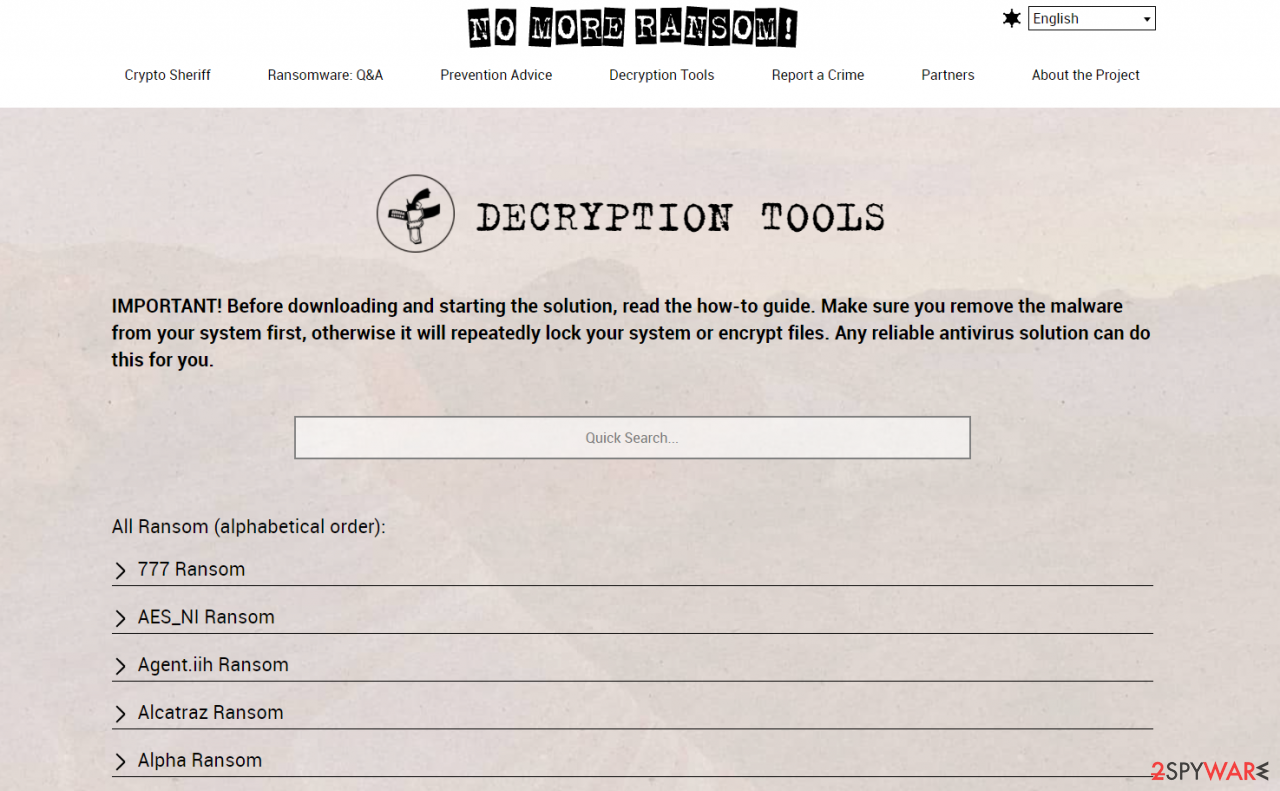 If you can't find a decryptor that works for you, you should try the alternative methods we list below. Additionally, it is worth mentioning that it sometimes takes years for a working decryption tool to be developed, so there are always hopes for the future.
Report the incident to your local authorities
Ransomware is a huge business that is highly illegal, and authorities are very involved in catching malware operators. To have increased chances of identifying the culprits, the agencies need information. Therefore, by reporting the crime, you could help with stopping the cybercriminal activities and catching the threat actors. Make sure you include all the possible details, including how did you notice the attack, when it happened, etc. Additionally, providing documents such as ransom notes, examples of encrypted files, or malware executables would also be beneficial.
Law enforcement agencies typically deal with online fraud and cybercrime, although it depends on where you live. Here is the list of local authority groups that handle incidents like ransomware attacks, sorted by country: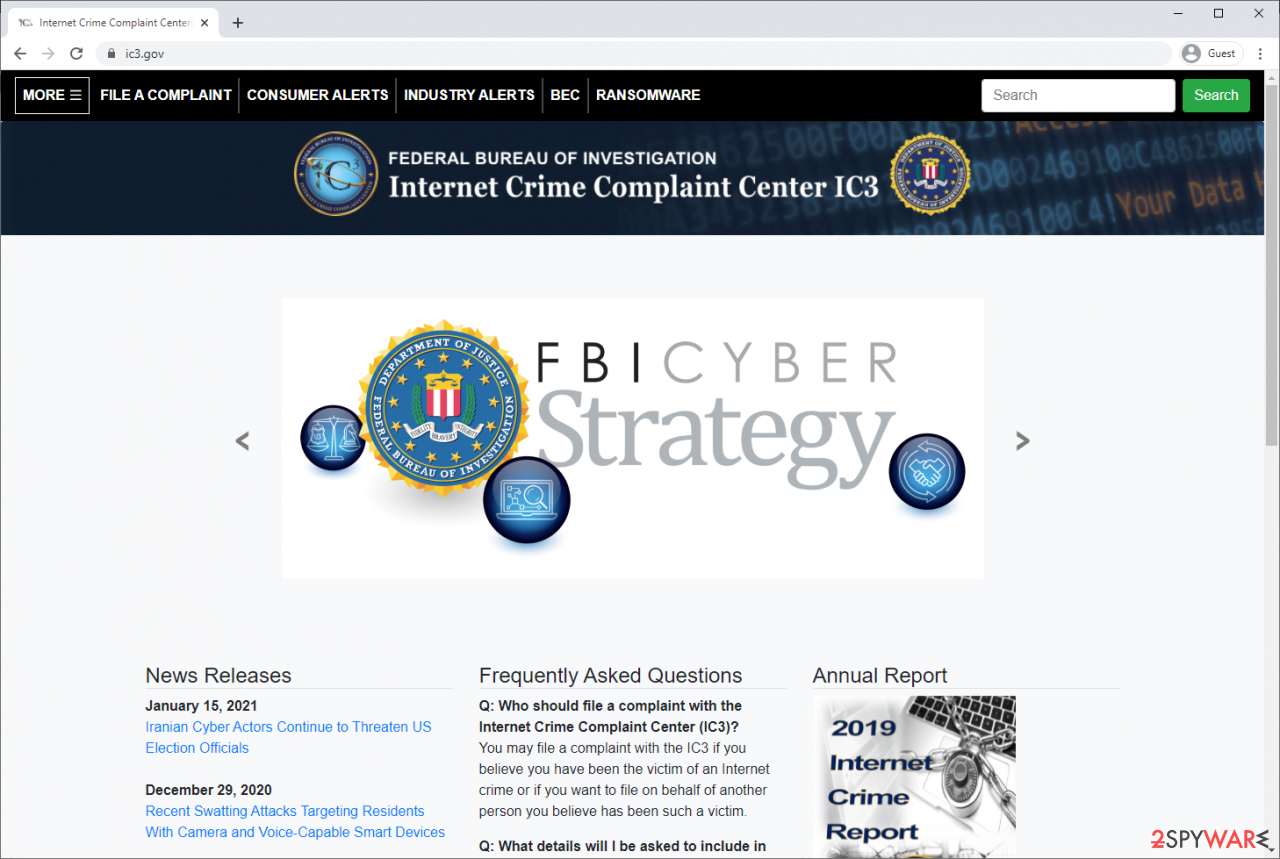 If your country is not listed above, you should contact the local police department or communications center.
Manual removal using Safe Mode
Important! →
Manual removal guide might be too complicated for regular computer users. It requires advanced IT knowledge to be performed correctly (if vital system files are removed or damaged, it might result in full Windows compromise), and it also might take hours to complete. Therefore, we highly advise using the automatic method provided above instead.
Step 1. Access Safe Mode with Networking
Manual malware removal should be best performed in the Safe Mode environment. 
Windows 7 / Vista / XP
Click Start > Shutdown > Restart > OK.
When your computer becomes active, start pressing F8 button (if that does not work, try F2, F12, Del, etc. – it all depends on your motherboard model) multiple times until you see the Advanced Boot Options window.
Select Safe Mode with Networking from the list.
Windows 10 / Windows 8
Right-click on Start button and select Settings.


Scroll down to pick Update & Security.

On the left side of the window, pick Recovery.
Now scroll down to find Advanced Startup section.
Click Restart now.

Select Troubleshoot.
Go to Advanced options.
Select Startup Settings.
Press Restart.
Now press 5 or click 5) Enable Safe Mode with Networking.
Step 2. Shut down suspicious processes
Windows Task Manager is a useful tool that shows all the processes running in the background. If malware is running a process, you need to shut it down:
Press Ctrl + Shift + Esc on your keyboard to open Windows Task Manager.
Click on More details.

Scroll down to Background processes section, and look for anything suspicious.
Right-click and select Open file location.

Go back to the process, right-click and pick End Task.

Delete the contents of the malicious folder.
Step 3. Check program Startup
Press Ctrl + Shift + Esc on your keyboard to open Windows Task Manager.
Go to Startup tab.
Right-click on the suspicious program and pick Disable.


Step 4. Delete virus files
Malware-related files can be found in various places within your computer. Here are instructions that could help you find them:
Type in Disk Cleanup in Windows search and press Enter.


Select the drive you want to clean (C: is your main drive by default and is likely to be the one that has malicious files in).
Scroll through the Files to delete list and select the following:


Temporary Internet Files
Downloads
Recycle Bin
Temporary files

Pick Clean up system files.


You can also look for other malicious files hidden in the following folders (type these entries in Windows Search and press Enter):


%AppData%
%LocalAppData%
%ProgramData%
%WinDir%
After you are finished, reboot the PC in normal mode.
Finally, you should always think about the protection of crypto-ransomwares. In order to protect your computer from Bad Rabbit and other ransomwares, use a reputable anti-spyware, such as FortectIntego, SpyHunter 5Combo Cleaner or Malwarebytes
How to prevent from getting ransomware
Protect your privacy – employ a VPN
There are several ways how to make your online time more private – you can access an incognito tab. However, there is no secret that even in this mode, you are tracked for advertising purposes. There is a way to add an extra layer of protection and create a completely anonymous web browsing practice with the help of Private Internet Access VPN. This software reroutes traffic through different servers, thus leaving your IP address and geolocation in disguise. Besides, it is based on a strict no-log policy, meaning that no data will be recorded, leaked, and available for both first and third parties. The combination of a secure web browser and Private Internet Access VPN will let you browse the Internet without a feeling of being spied or targeted by criminals. 
No backups? No problem. Use a data recovery tool
If you wonder how data loss can occur, you should not look any further for answers – human errors, malware attacks, hardware failures, power cuts, natural disasters, or even simple negligence. In some cases, lost files are extremely important, and many straight out panic when such an unfortunate course of events happen. Due to this, you should always ensure that you prepare proper data backups on a regular basis.
If you were caught by surprise and did not have any backups to restore your files from, not everything is lost. Data Recovery Pro is one of the leading file recovery solutions you can find on the market – it is likely to restore even lost emails or data located on an external device.
About the author
References
Removal guides in other languages