Fake Adobe Flash Player install. How to remove? (Uninstall guide)
How malicious is Fake Adobe Flash Player install?
A fake version of Adobe Flash Player install (or update) shows up on PC's desktop out of nowhere. Usually, the fake warning message appears after clicking on some suspicious link online or a sensationalist headline of a click bait article that was shared on Facebook or other social media page. Another method used for spreading Adobe Flash Player install virus relies on adware viruses and browser hijackers that have become very popular during the last days. No matter which method is used to invade the system, the pop-up is typically set to push users into believing that their Adobe Flash Player is out of date. Besides, such warning is usually filled with stolen logos and similar content that can easily deceive you into thinking that the offer is real and comes from a well-known company – Adobe Systems. Unfortunately, these fake alerts have nothing to do with this tech giant.
In reality, such pop-ups come from unreliable web sources that try to trick unaware PC users into downloading dubious software that might be supplemented with computer threats as Trojan horses, ransomware, adware, browser hijackers and other noxious or potentially unwanted programs (PUPs). One of the most malicious viruses, which is reportedly spread with a help of a Fake Adobe Flash Player install is Trojan.Ransomware. This trojan horse is extremely hazardous virus because it can easily block the computer system down and encrypt your personal files. That means you will not be able to open your photos, audio, video files or other important records anymore. To decrypt the infected files, victims are asked to pay an enormous ransom in order to get the decryption key. Be careful and do NOT agree to download software updates that come from unreliable web sources. If you think that Fake Adobe Flash Player install has just been installed on your PC, you should scan it with a powerful anti-malware software. We recommend using such tools as Reimage or Webroot SecureAnywhere AntiVirus.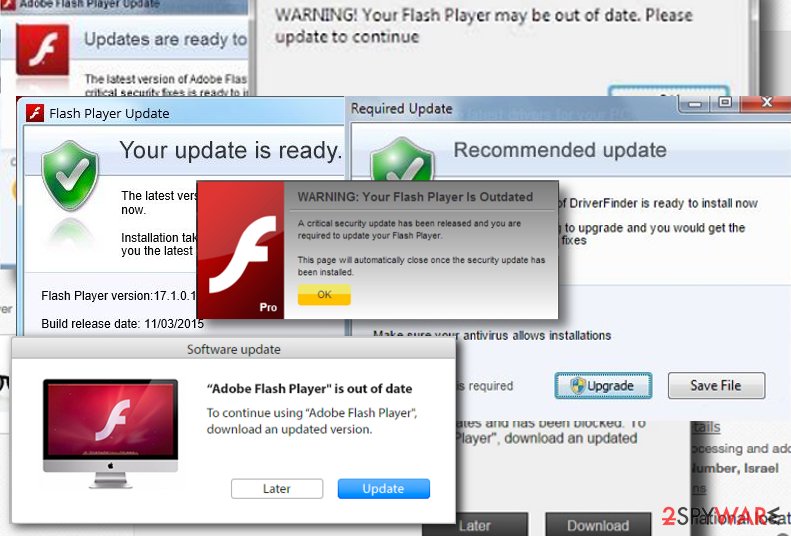 PC threats aim to attack iOS users, too
It was discovered that the cyber-criminals aim to attack Mac users with these dubious "Update Adobe Flash Player" alerts, too. It appears that after user agrees to install this corrupted Adobe Flash update, a real update is installed alongside a scareware program that usually tries to frighten the computer user by displaying messages that your computer is badly infected with malicious programs and to fix it you have to buy some sort of suspicious software. You might also end up with a professionally programmed malware software by downloading such bogus Adobe Flash Player update, too. Computer experts say that such malicious programs are professionally programmed, and they can download other malicious programs to the infected computer. To avoid installing such cyber-threats, stay away from fake Adobe Flash Player update alerts!
How to spot the Fake Flash Player update?
First of all, you need to make sure that you have Adobe Flash Player on your computer and that you have been using it in the past. Then, you can always check the latest updates on publisher's website. Make sure you visit it to see what is offered to you. In addition, we highly recommend reading the entire warning message which presents itself as a valuable alert from Adobe Systems. You should pay attention to such details as logos, spelling and grammar mistakes, links that are displayed in the message and similar content. Of course, we do NOT recommend clicking links but hovering your mouse over them and checking the address. If it is not adobe.com, then, most probably, you are dealing with scammers. 
How can Fake Adobe Flash Player install hijack my computer?
Mostly, computer threats that are spread via Fake Adobe Flash Player update installer get inside the system as soon as the user clicks the 'download now,' I agree,' 'Update now' or a similar button that can be found on a misleading notification. That is why we want to encourage you NOT to click this button. Besides, make sure you ignore such and similar alerts that may pop up on your screen asking to install software updates as you browse the Internet. If an alert tells you that one of your programs is out of date, it would be wiser to visit the official website of the suggested software and see what it offers for you. That is the safest way to update such programs as Adobe Flash Player, Java, Google Chrome, or other well-known programs. Otherwise, you risk infecting your computer with unexpected PC threats such as Trojans, ransomware, browser hijackers and adware type software. After successful infiltration of the victimized computer, such programs use various techniques for money making – they may try to frighten you and try to talk you into buying some fake computer security programs, cause web redirects forcing you to visit predetermined websites and use you as a tool to generate pay-per-click revenue, and so on.
If you think that Adobe Flash Player virus has just been installed on your computer, you should remove it ASAP. Please, do NOT squander your time because such threat may try to download more dangerous programs to your computer. The information explaining how you can remove this threat is provided on page 2.
How can I get rid of Fake Adobe Flash Player install?
If you have already received these bogus offers to update software that are showing up on your computer's screen during your browsing sessions, you should run a full system scan with an updated anti-malware software. We highly recommend using such programs as Reimage, or Webroot SecureAnywhere AntiVirus. Such programs can detect and terminate numerous computer threats with ease. Please, do not try to deal with dangerous viruses on your own as your good intentions may do more harm than good.
About the author
Removal guides in other languages