Cyboscan PC Optimizer virus. How to remove? (Uninstall guide)
Should you rely on CyboScan PC Optimizer?
Questions about Cyboscan PC Optimizer virus
Cyboscan PC Optimizer is a suspicious system tool that claims to clean logs, temporary files and error reporting files, optimize computer's performance and repair registry issues. However, security experts agree that this program is not reliable. The system scan often shows hundreds of errors that must be fixed immediately. However, it might be just a marketing trick. In order to solve these problems users are offered to purchase a paid version of the Cyboscan PC Cleaner for 99.99 USD. Though, you should not pay such money for a questionable software. Nevertheless, this tool might free up a little bit of space or clean some temporary files; it is not classified as a reliable and safe program. Thus, if you have already installed it, and think what to do with surprising scan results, we suggest putting down the credit card. Just remove Cyboscan from the device. If you feel the need for computer optimization software[1], look for more reliable tools.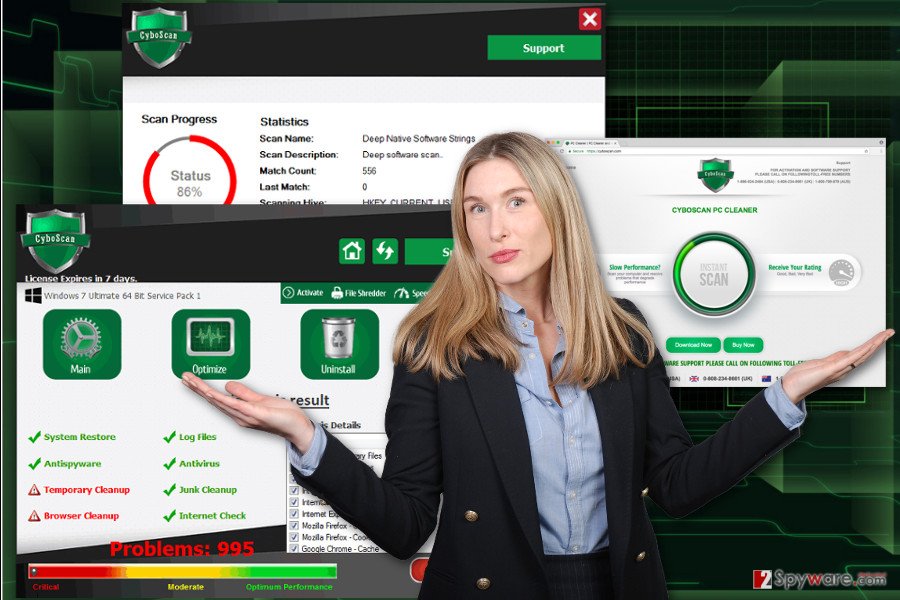 Slide 1 of 1
What is more, this program also was entitled as Cyboscan PC Optimizer virus due to its questionable distribution and infiltration methods. Indeed, it has an official website that offers to download the free version and purchase an expensive license. However, it might also appear on computers unauthorized. The free version of the program might be attached to the software packages and spread as an extra component. Thus, if you have no clue why it showed up on you PC, probably you haven't paid enough attention for the particular software installation. After Cyboscan hijack, it might warn users about critical computer's state and suggest fixing detected issues. However, you should never trust any program that managed to sneak inside the system without asking your direct permission. Hence, we recommend Cyboscan removal to avoid this shady application. The quickest method to get rid of it is to scan the computer with a professional anti-malware program,[2] such as Reimage. Automatic removal assures that this tool and other potentially unwanted programs (PUP)[3] are deleted entirely.
How does this PC optimizer get inside computers?
Cyboscan PC Optimizer can be downloaded or purchased directly from the official website. But we have already revealed that it might also use a help of other programs to spread and infiltrate computers. Indeed, it might be attached with any freeware or shareware. [4]Therefore, if you do not pay enough attention to free software downloads, you might accidentally install Cyboscan PC Cleaner. When installing new programs, do not rely on "Quick," "Recommended" or "Standard" settings.[5] They do not openly disclose about optional programs that might be included in the software package. The biggest problem is that using these settings, you indirectly agree to install all extra applications. To avoid that, you need to choose "Advanced" or "Custom" settings. Do not rush through installation steps and look for the checkbox of pre-selected entries. If you find CyboScan or other questionable third-party apps, deselect them and continue the process without worrying about PUPs.
How to remove Cyboscan PC Optimizer virus?
The Cyboscan virus is too strong and incorrect term for this system tool. This program is not malicious; however, it is not useful as well. Thus, if you already installed it, and do not consider buying the full version, you should not keep on the device as well. What is more, if this program came inside in the bundle, you should investigate the system attentively because other PUPs might have also sneaked into a computer as well. However, in order to remove Cyboscan PC Optimizer, you should look for the "Uninstall" button.
1. Go to Control Panel and go to the Programs list.
2. In the list of the programs find Cyboscan (and other related apps) and double-click (or right-click) on it.
3. Choose Uninstall option.
4. Once the uninstall guide appears, follow each step attentively and make sure that you remove all entries related to it.
When Cyboscan PC Optimizer removal is over, close Control Panel and reboot your PC if it's necessary. What is more, we highly recommend scanning the computer with Reimage or other reputable anti-malware/anti-spyware program just to make sure that the system is safe and sound.
Alternative Software
Different security software includes different virus database. If you didn't succeed in finding malware with Reimage, try running alternative scan with SpyHunter.
Alternative Software
Different security software includes different virus database. If you didn't succeed in finding malware with Reimage, try running alternative scan with Combo Cleaner.
About the author
References

April 3rd, 2017 at 3:52 am

I dont know why but all PC optimizers look shady for me


April 3rd, 2017 at 3:52 am

I was shocked when I saw that I need to pay 100$ to fix 245 errors on my PC. I though its some kind of a scam.


April 3rd, 2017 at 3:53 am

I installed it from software bundle because I thought it was a useful tool. Well… its time to delete it!