LookSafeSearch.com. How to remove? (Uninstall guide)
What's the difference between LookSafeSearch.com and Yahoo search engine?
If you have just noticed LookSafeSearch.com instead of your start page or the default search engine, you should waste no time and reset your browser settings back to normal. Why? No matter that it says that it is powered by Yahoo, it is not the legitimate search provider that should be trusted. In fact, Look Safe Search has already been added to "browser hijacker" and a "potentially unwanted program" categories, so you can remove it with the help of reliable anti-spyware. If you have never had a browser hijacker on your computer, you should know that the main issue related to this PUP is that it is capable of redirecting people to needed websites without their permission asked. It does that by showing them sponsored search results that are usually filled with links and pop-ups.
Also, when Look Safe Yahoo Search virus is on your computer, you may start noticing annoying pop-up ads, browser crashes, system slow downs, and similar issues. Also, you may not even know that this search engine is capable of tracking your browsing and collecting non-personally identifiable information. Typically, browser hijackers, adware-type programs and similar PUPs are capable of collecting people's search terms, information related to mostly visited websites, email address, computer's IP address, its location and similar data. We do NOT recommend revealing such information because its loss may lead you to various problems! If you are dealing with LookSafeSearch.com hijack right now, you should think about fixing your computer ASAP. For that, you can install Reimage, update it to its latest version and run a full system scam. Now you should remove all components of LookSafeSearch.com redirect virus to prevent its unwanted activity on your computer.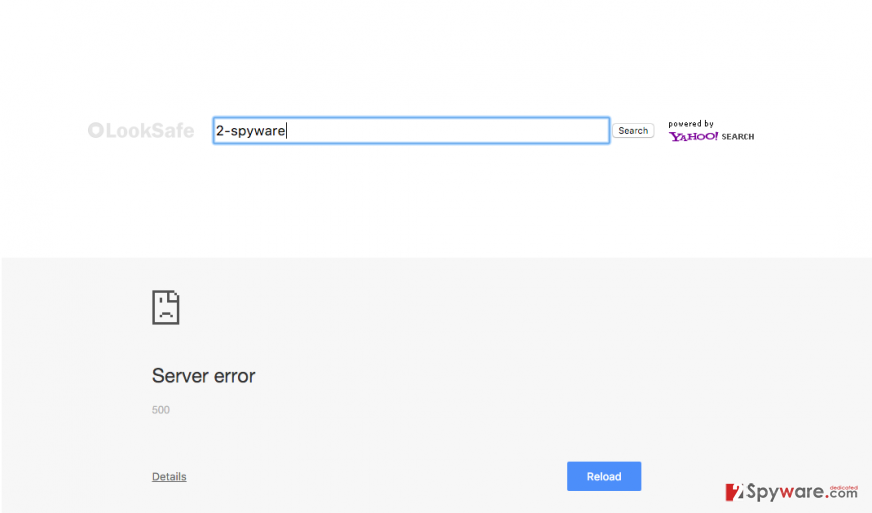 Why does Look Safe Yahoo redirect problem is bothering me?
Questions about LookSafeSearch.com
Look Safe redirect, annoying pop-up ads and similar problems appear right after downloading a browser hijacker to the system. There are two methods used for spreading such PUPs. You can either download them to your computer thinking that they are legitimate or you can add them to the system without your knowledge. Let's discuss this distribution technique, which is known as bundling. In this case, LookSafeSearch.com virus is added to free programs as an optional component. You may download it together with Free Youtube Downloader, PDF File Converter, HD Video Codecs, etc. To prevent its appearance, you need to avoid rushing the installation process of the freeware. Please, stay away from basic, quick or recommended installation option. Instead of these options, make sure you opt for Custom or Advanced installation method and follow the entire installation process. Make sure that you unmark all unwanted accessories, including LookSafeSearch.com.
Look Safe Search removal:
Adware-type programs, browser hijackers and similar PUPs can show up on computer without any permission asked. If you have just started seeing LookSafeSearch.com instead of your start page and the default search engine, you should think about all the risks that it may lead you to. We believe that you don't want to put yourself at the risk of being redirected to unsafe websites used for accumulating personal information or spreading untrustworthy software.
To prevent this risk, you need to remove LookSafeSearch.com from your computer. For that, you can use either a manual removal guide or Automatic removal option. In this case, you should scan your computer with a reliable anti-spyware (tools that you can use are given below) and get rid of unwanted components.
About the author
Removal guides in other languages