Los Pollos Hermanos virus. How to remove? (Uninstall guide)
removal by Jake Doevan
-
- Also known as
Los Pollos Hermanos Crypto virus, Los Pollos Hermanos ransomware
| Type:
Ransomware
What is Los Pollos Hermanos virus?
Los Pollos Hermanos virus (can also be found as Los Pollos Hermanos crypto virus or Los Pollos Hermanos ransowmare) is a dangerous application, which was noticed in a the beginning of May. The main region where it has been spreading around is Australia and some other countries that are close to it. So, if you live somewhere in this region, you should think about installing a reputable anti-spyware that could catchLos Pollos Hermanos ransomware before it infiltrates the system. Another thing that you should definitely do is to make backups of your important files because this threat is capable of encrypting each of videos, documents, photos and other files that are kept on the system. If you don't know how could you do that, please check this post (Why do I need backup and what options do I have for that?) for getting more knowledge about that. Once this serious ransomware manages to block predetermined files, it displays such alert, which asks to pay a ransom in exchange for a specific decryption key that could help the victim to decrypt these encrypted files:
Your important files have been encrypted: photos, documents, videos, etc.
If you want to decrypt your files you must pay the fee of $450 AUD
Failure to pay within the specified time will mean you must pay $1000 AUD
For support related inquiries contact: [email address]
No matter that it may seem like it is the only method to recover your files, you should NEVER pay such ransom because there is no guarantee that this will help you to get your blocked files back. For that you should remove Los Pollos Hermanos virus and prevent encryption of additional data. In addition, you should try these tools: R-Studio, Photorec or Kaspesky Ransomware Decryptor. At the end, you may ask where this silly virus name came from. If you are a fan of Braking Bad TV show, you will understand…
How can Los Pollos Hermanos crypto virus infect my computer?
Lust like lots of other file-encrypting ransomwares (Cryptolocker, Simplelocker, Alpha Crypt, TeslaCrypt and others), this virus can be downloaded as a legitimate and very important attachment of the email. Such misleading emails are mostly set to inform people about missing payments, important deliveries, various purchases and similar things. Besides, it has also been noticed that this virus has been spreading via fake alters offering people to update such programs as Java, Flash Player, etc. Please, do NOT fall for such alerts because they have nothing in common with these programs. These alerts are just innovative tools to spread viruses around. If you want to protect yourself, you have to update programs just by visiting their official websites and clicking the 'Download update' or similar button. If you think that Los Pollos Hermanos crypto ransomware has already infiltrated your computer, you should use a guide below and fix it.
How to remove Los Pollos Hermanos virus?
If Los Pollos Hermanos virus has infected your computer and blocked each of your files, the main thing that you should do is to remove malicious files from your computer. In order to do that, try using one of these applications: Reimage, Plumbytes Anti-MalwareWebroot SecureAnywhere AntiVirus, Malwarebytes Anti Malware. If you want to restore connection to your files, you should try using their backups or, if you don't have them, try to run one of these file recovery tools as R-Studio or Photorec. Besides, Kaspersky Lab has also presented a tool for decrypting encrypted files, so you should also try Kaspesky Ransomware Decryptor. Please, do NOT pay a fine because this doesn't guarantee that you will receive a key required for the decryption of your files.
We highly recommend thinking about the prevention of such infections. For that you can use previously mentioned programs. Besides, don't forget to think about the immunity of your files and backup. For that you can use USB external hard drives, CDs, DVDs, or simply rely on online backups, such as Google Drive, Dropbox, Flickr and other solutions. More information about backups can be found in this post: Why do I need backup and what options do I have for that?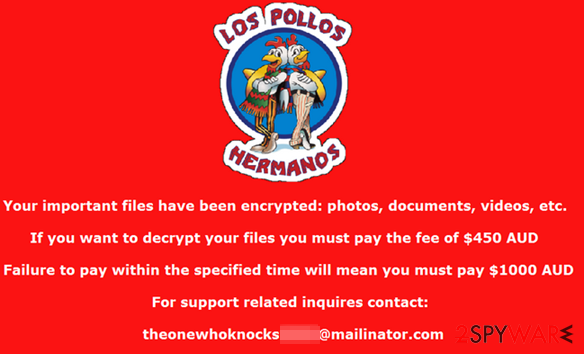 About the author