PClock virus. How to remove? (Uninstall guide)
What is PClock?
If you know what Cryptolocker is, then you will have no problem to understand what the PClock virus is. For those who are not familiar with this threat, we will say that it is one of the most aggressive cyber threats that are spread around at the moment. It is capable of infiltrating computers without being noticed (at the moment of writing, it is set to infect only Windows OS), encrypting almost every file that can be found on the system (*.xls, *.docx, *.doc, *.text, *.jpg, *.jpeg, *.ppt, *.pdf, *.pps, *.wps, *.pptm, *.pptx, *.pst, *.zip, *.tar, *.rar, etc.) and then asking to pay a ransom in exchange for unblocking affected files. PClock virus relies on XOR encryption routine when trying to block target system files, so there is no surprise that there is the only method that can be used for the decryption of these files and this method is to pay a ransom and get the key. You can hardly miss the fact that your computer was affected by this ransomware because as soon as it finishes encrypting your files, it shows a huge warning message asking to pay a ransom. This payment should be made in bitcoins (PClock requires to pay 1 bitcoin) and within 72 hours. Please, do NOT make this payment because it might be that it won't help you to recover the connection to your files. For that you should install Reimage and run a full system scan with it. In order to recover your affected files, you can try to use Photorec.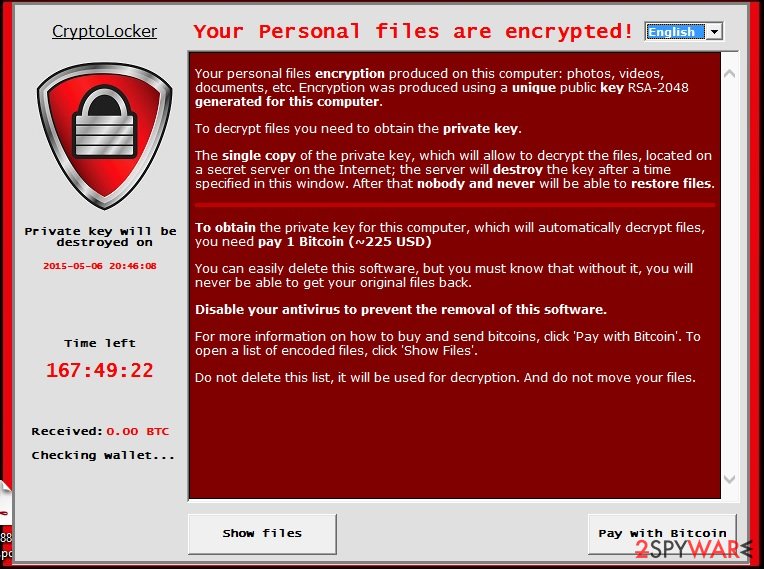 How can PClock infect my computer?
PClock is spread using well-known techniques that should be kept in mind forever. One of the mostly-used methods relies on fake notifications that report about such things as missing updates, possible infections or even discounts. Once any of such ads is clicked, computer is infected by trojan horse, which is additionally used for making predetermined system changes and also encrypting required files. If you want to stay safe, you should ignore all these ads that claim that you should update your Java, Flash Player, FLV Player, etc. In addition, stay away from those ads that 'recommend' contacting some kind of customer service and similar assistants because they can also lead you to the infiltration of PClock virus. Finally, you should avoid illegal websites and also stay away from suspicious emails. If the message looks very suspicious and claims that should download the attachment, you should never do that because this can easily lead you to the infiltration of this ransomware. Once this threat enters computer, it does what it was set for and then shows such fake warning message:
CryptoLocker

Your important files encryption produced on this computer: photos, videos, documents, etc.
If you see this text, but do not see the "CryptoLocker" window, then your antivirus deleted "CryptoLocker" from computer.
If you need your files, you have to recover "CryptoLocker" from the antivirus quarantine, or find a copy of "CryptoLocker" in the Internet and start it again.
You can download "CryptoLocker from the link given below.
hxxp://invisioncorp.com/au/XXXXXXXXXX
Approximate destruction time of your proviate key:

If the time is finished you are unable to recover files anymore! Simply remove this wallpaper from your desktop.
How to remove PClock virus?
If PClock virus has just showed up on your PC's desktop, you should ignore its requirement to pay a fine because you can be lft without your files and your money. Instead of making a payment and supporting hackers, we recommend using a guide below.
At the end, we highly recommend thinking about the prevention of such infections. For that you should always have a reputable anti-spyware installed on your computer. Besides, don't forget to think about the immunity of your files and backup. If you have been making backups, you should be capable of recovering your files. You can also use file recovery software. At the moment of writing, we could recommend R-studio and Photorec.
Alternative Software
Different security software includes different virus database. If you didn't succeed in finding malware with Reimage, try running alternative scan with Malwarebytes.
Alternative Software
Different security software includes different virus database. If you didn't succeed in finding malware with Reimage, try running alternative scan with Combo Cleaner.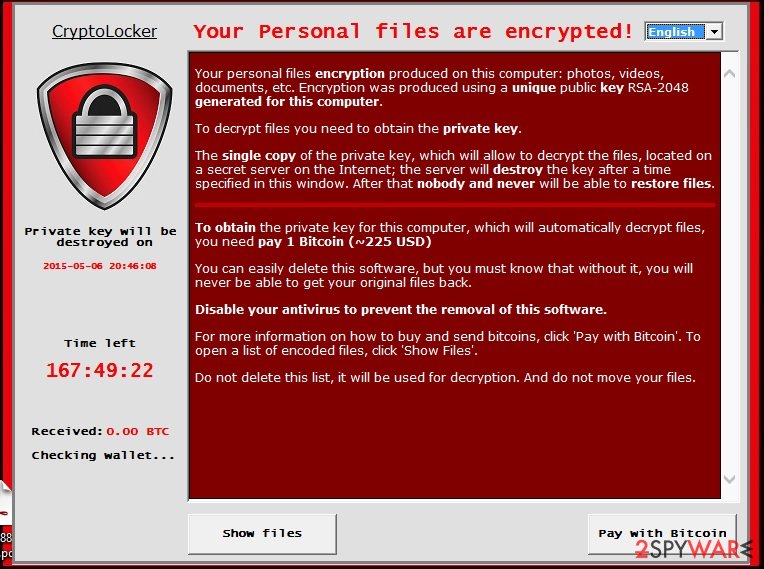 About the author