PlayBryte virus. How to remove? (Uninstall guide)
PlayBryte virus is annoying browser hijacker, which helps for cyber criminals to increase the traffic to one of their domains and earn a modest gain in this way. This virus affects all Internet browsers that are installed on computer: it ads its extension, changes homepage, default search engine and some other settings. Of course, it doesn't ask user's permission when it decides to make these changes and start rerouting its victim to playbryte.com or other websites every time he/she starts the browsing session. Besides, PlayBryte virus shows continuous pop-up advertisements that are also related to this gaming site. Please, do NOT ignore this virus and its activity on your computer! Browser hijackers not only cause annoying redirections on browsers but may also start recording your Internet activity and steal personal information from your computer.
HOW CAN I GET INFECTED WITH PlayBryte virus?
PlayBryte virus typically comes bundled with freeware, shareware and similar softwares. So, when downloading such programs, you should always check every installation window for PlayBryte extension, which may secretly get on your browsers and alter various settings without any permission asked. If you find PlayBryte.com instead of your homepage or default search engine, or you are constantly redirected to PlayBryte.com, it's obvious that you have this infection on your computer. Be aware that it may start tracking your activities through cookies if not eliminated on time, so you should remove PlayBryte virus as soon as possible. This will also help you to protect your sensitive information and prevent identity theft.
HOW TO REMOVE PLAYBRYTE VIRUS?
If you want to remove PlayBryte virus, follow these steps:
1. Scan your computer with updated anti-spyware.
If you want to remove infected files from your computer, scan its system with a help of Malwarebytes, Reimage or other reputable software. Before a scan, be sure that these programs are updated and have the full virus data base.
2. Uninstall PlayBryte and anything what is related to it from your computer:
Click "Start" -> "Control Panel" -> "Programs and Features" or "Add or Remove Programs". Look for PlayBryte entries and click 'Uninstall' to remove them from your computer.
3. Remove PlayBryte from each of your browsers:
Internet Explorer:
In order to change the homepage, open IE and go 'Tools' -> 'Internet Options' -> 'General' tab. Click 'Use default' or enter the name of the website you would like to start your work with. Finally, click 'OK' to save the changes.
Additionally, go 'Tools' -> 'Manage addons' -> 'Search Providers'. Here, choose the search engine you used before and make it your default search provider. Besides, click on 'Web Search' -> 'Disable suggestions' to disable PlayBryte .
Finally, go 'Tools' -> 'Manage addons' -> 'Toolbars and Extensions' and look for PlayBryte related entries.
Mozilla Firefox:
Open Mozilla Firefox, click 'Tools' -> 'Add-ons' -> 'Extensions' -> disable PlayBryte and similar entries.
Now go 'Tools' -> 'Options' and reset the startup homepage (you can change it to google.com, yahoo.com or similar search page).
Google Chrome:
Click on the 'Customize and control Google Chrome' -> 'Options' -> 'Basic' Options and change homepage to google.com
Additionally, click the 'Manage search engines…' -> choose 'Google' and make it the default search engine.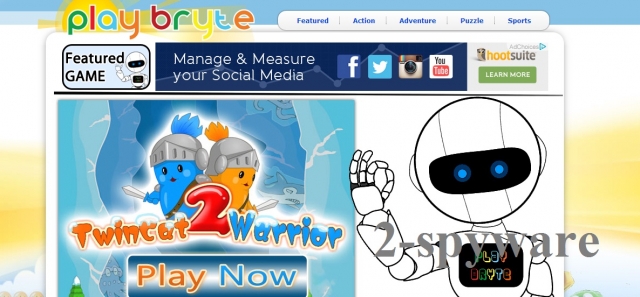 PlayBryte virus manual removal:
Delete registry values:
HKEY_LOCAL_MACHINESOFTWAREiBryteplaybryte
HKEY_LOCAL_MACHINESOFTWAREMicrosoftWindowsCurrentVersionUninstalliBryte_playbryte
Delete files:
%LOCALAPPDATA%iBryteImplementationsplaybryteFirefoxplaybryte@playbryte.comchromecontenttoolbar.js
%ProgramFiles%iBryteplaybryteAxShockwaveFlashObjects.dll
%ProgramFiles%iBryteplaybryteAsyncClient11.dll
%ProgramFiles%iBryteplaybryteManifest.xml
%ProgramFiles%iBryteplaybryteiBryteDesktop.exe.config
%ProgramFiles%iBryteplaybryteiBryteDesktop.exe
%ProgramFiles%iBryteplaybryteuninstall.exe
%ProgramFiles%iBryteplaybryteconfig.cfg
%ProgramFiles%iBryteplaybrytesettings.cfg
%LOCALAPPDATA%iBryteImplementationsplaybryteSettingsToolbarPrefs.txt
%LOCALAPPDATA%iBryteImplementationsplaybryteSettingsUpdaterSettings.xml
%LOCALAPPDATA%iBryteImplementationsplaybryteEventLog.txt
%LOCALAPPDATA%iBryteImplementationsplaybryteTabsSearch.txt
%LOCALAPPDATA%iBryteImplementationsplaybryteToolbar.xml
%LOCALAPPDATA%iBryteImplementationsplaybryteUserSettings.xml
%LOCALAPPDATA%iBryteImplementationsplaybryteAssemblies
%LOCALAPPDATA%iBryteImplementationsplaybryteChromeassemblyConfig.json
%LOCALAPPDATA%iBryteImplementationsplaybryteChromebg.html
%LOCALAPPDATA%iBryteImplementationsplaybryteAdSliderSettings.xml
%LOCALAPPDATA%iBryteImplementationsplaybryteAuthorizedURLs.xml
%LOCALAPPDATA%iBryteImplementationsplaybryteBHO.xml
%LOCALAPPDATA%iBryteImplementationsplaybryteconfig.cfg
%LOCALAPPDATA%iBryteImplementationsplaybryteconfig.json
%LOCALAPPDATA%iBryteImplementationsplaybryteDesktop.xml
%LOCALAPPDATA%iBryteImplementationsplaybryteChrome
About the author