SSLOptimizer. How to remove? (Uninstall guide)
Is it worth installing SSLOptimizer?
If you do not have time to monitor your computer safety, you might have come across SSLOptimizer. However, do not get excited that this program will solve the PC problems for you since it only aims to wheedle out money from users. How does it do? Keep reading to find out about its operating method and SSLOptimizer removal options.
Real PC optimizers are in high demand due to their ability not only to remove minor PUPs but also automatically enlarge space on a hard disk and boost up CPU speed. Thus, if you work in a company or have a private business where the speed of virtual communication and information traffic are crucial, you might install SSLOptimizer. However, soon enough your expectations are shattered. When you think that the program will do its duties and fix the found problems automatically, a message appears offering you to purchase the full version.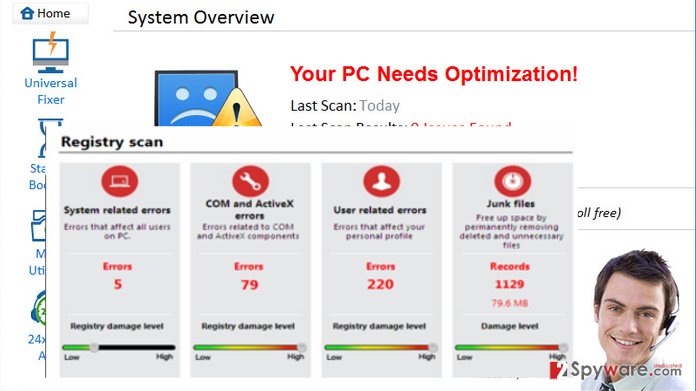 Alternatively, the program also provides the number of a tech support. Do not rush to call it since you might regret it greatly after receiving a stunning bill from your telecommunication company. Such call might be charged with a high tariff. Moreover, after calling the number, you may be offered to purchase additional security programs which do not solve the existing problems but only make things worse. The essence of SSLOptimizer virus is that it coaxes money but does not deliver the promised services. Even if you purchase the full version, the notifications about system optimization issues might not cease. The program might be infected with malignant files which cause the appearance of such alerts even if there are no real threats on your computer. That is why you should remove SSLOptimizer. For that purpose, Reimage comes in handy.
When did the program get into the PC?
Questions about SSLOptimizer
You might have downloaded it directly from the website or installed it accidentally along with another free application. With the help of "bundling" technique, this program is pinned down under "Recommended" settings. As a result of rapid and careless installation, SSLOptimizer finds its way into the system. Thus, you should change the usual sequence of actions in order to avoid installing unnecessary applications. Select "Custom" installation and then untick the add-ons which you find unnecessary.
SSLOptimizer removal methods
It is relatively easy to remove the program. You can do it either manually or automatically. Below this article, you will find the manual instructions. Though this program is not considered to be harmful, automatic removal might seem like the better option. Anti-spyware program can detect all potentially dangerous files better than a human eye. Thus, it will remove SSLOptimizer and all its related files better. Lastly, we would like to remind you stay vigilant at the time of installation process and read reviews about a PC optimizer in order not to install a dubious one again. So here you can find the manual removal guideline:
For Windows users:
1. Click "Start" button
2. Enter "Control Panel"
3. Find "SSLOptimizer" and select "Uninstall" function
4. Finish the process by clicking "OK"
For Mac System:
1. Click "Go" button and select "Applications"
2. Find the "SSLOptimizer" in the list
3. After selecting the program, choose "Move to Trash"
Alternate Software
We have tested Plumbytes Anti-Malware's efficiency in removing SSLOptimizer (2016-05-11)
We have tested Malwarebytes's efficiency in removing SSLOptimizer (2016-05-11)
We have tested Hitman Pro's efficiency in removing SSLOptimizer (2016-05-11)
We have tested Malwarebytes's efficiency in removing SSLOptimizer (2016-05-11)
About the author
Removal guides in other languages