The irritating behavior of Traffic Factory
Traffic Factory virus comes in the form of advertisements. The program is designed for online advertisers. Boosting up the profits is the aspiration of every online business company. Thus, they aim at identifying their potential user and likewise, customize their advertising content in order to raise the overall probability of a purchase. Now, not only pay-per-click ads and retargeting technique helps track a user. Cookies, pixels and other tracking tools come in handy for spying on the virtual population. Needless to say, that constantly popping up advertisements become a bother for every user. What is more, others might feel uncomfortable after being aware of their browsing habits exposed. These features should encourage you to remove Traffic Factory. You can use Reimage to accelerate the elimination.
It would be naive to think that even if you commit to becoming an advertiser and subscribe to their services, you will remain anonymous. According to its privacy policy, it collects a different amount of information depending on the services you use. Later on, the information might be employed for delivering personalized ads for the user. Similar to other PUP programs, it employs such information for marketing purposes. Subscribers of this app do not consider the fact that they might become the victims of their own plan. While users are looking for ways to stay anonymous online, by using this application, you might expose too much information, even it is technical. In addition, even if you have an extensive knowledge about online marketing and know a handful of tricks to successfully promote your production, you might still fall victim of a cyber attack. Traffic Factory redirect might evolve into a troublesome issue which lands you to an infected domain. If not careful enough, you might suffer from the troublesome effects of malvertising. Thus, even if you see Traffic Factory ads promoting this application, it is not recommended to use it. Lastly, aggressive advertising may only ward off potential customers. Initiate Traffic Factory removal.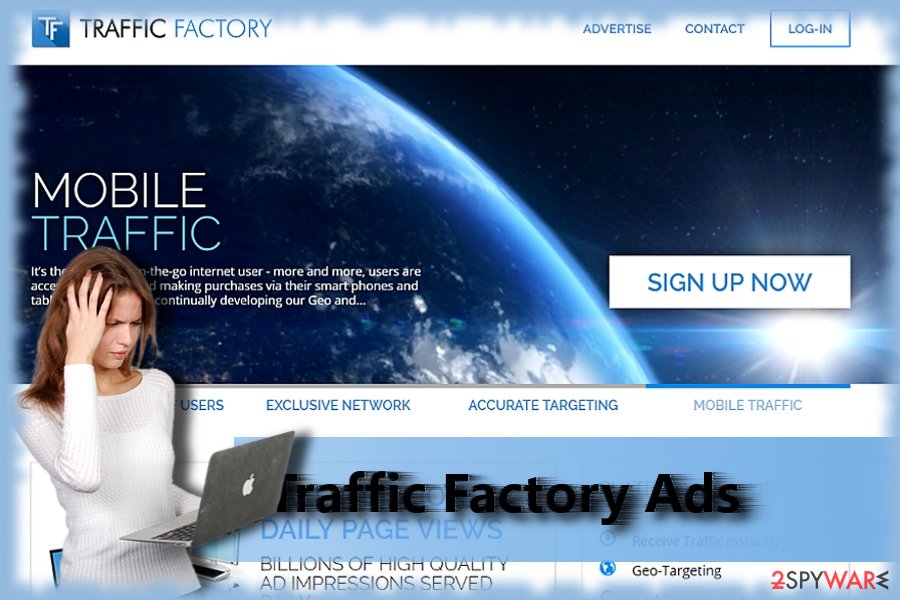 How did it get into your PC?
Traffic factory hijack is rather a rare phenomenon as users install this program by themselves from the official website. Due to the fact that this application belongs to PUP category, you might notice it as a promoted add-on while installing a free application. Unfortunately, users overlook the add-on which is disguised under "Basic" settings. Choosing this method turns out to be a fatal mistake. In order to prevent such infiltration in the future, change your habits of installing new applications. Instead of "Recommended" mode, opt for "Advanced". Carefully proceed to each step and remove the checkmarks from irrelevant optional programs.
Efficient Traffic Factory termination
Adware programs can be highly bothersome. However, the good news is that they can be uninstalled quite easily. You have two options how you want to remove Traffic Factory virus:
The manual removal option;
The automatic removal option.
Spyware removal tool can speed ensure proper Traffic factory removal. Update it in order to enjoy its full features. You can also put an end to this hijacker manually. Note that this method takes more time and requires more attention. 
[GI=windows][/GI]
[GI=mac-os-x][/GI]
[GI=internet-explorer][/GI]
[GI=microsoft-edge][/GI]
[GI=mozilla-firefox]Even if this adware application does not pose any big removal problems, you might want to reset the browser in order to ensure that all cookies and scripts left by Traffic factory are deleted. [/GI]
[GI=google-chrome][/GI]
[GI=safari][/GI]