W32.Mydoom. How to remove? (Uninstall guide)
W32.Mydoom is a dangerous worm, which is spread via mass-mailing campaigns. It means that e-letters with the attachment infected with W32.Mydoom virus can be sent to the masses of people, including you. These letters usually have the following subjects: Status, test, Test, TEST, hello, HELLO, Server Report, hi, HI, Error. If you have just received an email with such subject, you should ignore or or try to double check the sender to make sure that it is known form you. In addition, you should pay attention to these attachments that can also be used for spreading W32.Mydoom worm: message.exe, body.zip, ogp.zip, document.zip, text.zip, message.zip, ymplf.zip, readme.zip, file.zip, body.zip, text.pif, document.pif, doc.pif, data.zip, doc.zip, raun.zip, etwblf.zip, etc.
W32.Mydoom activity on the affected PC system:
W32.Mydoom works as a typical Trojan. That means that it tries to steal valuable users' data and infect their computers with other malware. In addition, such threat can also give its owner (hacker or other bad guy) an ability to connect to your computer remotely and then hijack the whole PC system.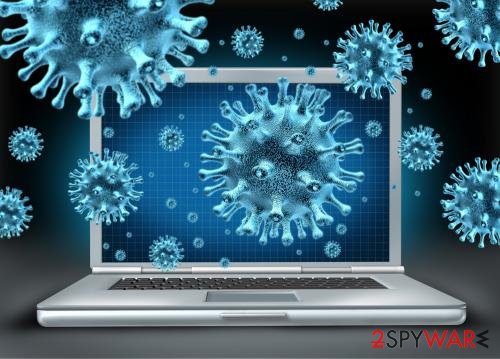 Once victim is tricked into downloading an infected email attachment, which is used for distribution of W32.Mydoom worm, it transfers its components to the Windows Registry. When a computer is infected, the worm also sets up a backdoor into the system by opening TCP ports 3127 through 3198, which can potentially allow an attacker to connect to the computer and use it as a proxy to gain access to its network resources. Moreover, this worm can block websites that provide PC security programs and it can also download and install suspicious applications to victim's computer without a permission.
W32.Mydoom removal from the affected PC system
If W32.Mydoom has already infected your computer, you have two options: you can either ignore it and let attackers steal your important data or initiate other dangerous activities behind your back, or you can run a full system scan with one of these programs and remove this threat from your computer. We recommend you downloading one of these applications: Reimage, Malwarebytes Malwarebytes, Plumbytes Anti-MalwareNorton Internet Security.
Alternate Software
We have tested Plumbytes Anti-Malware's efficiency in removing W32.Mydoom (2015-05-29)
We have tested Malwarebytes's efficiency in removing W32.Mydoom (2015-05-29)
We have tested Hitman Pro's efficiency in removing W32.Mydoom (2015-05-29)
We have tested Malwarebytes's efficiency in removing W32.Mydoom (2015-05-29)
W32.Mydoom manual removal:
Delete registry values:
Browse to the key:
'HKEY_LOCAL_MACHINESOFTWAREMicrosoftWindowsCurrentVersionRun'
Delete the value 'TaskMon'
Browse to the key:
'HKEY_CURRENT_USERSOFTWAREMicrosoftWindowsCurrentVersionRun'
Delete the value 'TaskMon'
Delete files:
shimgapi.dll,askmon.exe
About the author