Win 8 Antivirus 2014. How to remove? (Uninstall guide)
What is Win 8 Antivirus 2014?
Win 8 Antivirus 2014 is a fake anti-virus, which has already been labeled as a rogue anti-spyware. Although from the first glimpse at this program and its functionality may seem like it is a legitimate program, in reality it is a serious computer parasite, which may try to deceive you and take away your money. Win 8 Antivirus 2014 belongs to the Rogue.FakeRean-Braviax, also known as Braviax, family, which is usually spread around with a help of trojan horse. After installation, this malicious program initiates system's modifications and starts scanning computer every time you start it. In addition, it displays hundreds of fake alerts, which notify about infected files that are hidden in the system. Moreover, Win 8 Antivirus 2014 may hijack your browser and start blocking certain web sites by displaying alerts saying that they are unsafe. Beware that such notifications are fake and that infections that are listed on them are invented. If you click on those ads, you can be redirected to purchase website, which will offer you to purchase the full version of this program. This is how this scareware is swindling people's money. By the way, Win 8 Antivirus 2014 trickily protects itself from removal by terminating any legitimate security program you try to run. It generates fake notifications saying that this program is infected with the Trojan-BNK.Win32.Keylogger.gen virus and blocks it. Please, keep in mind that all alerts that are caused by Win 8 Antivirus 2014 are fake and should be ignored. Do not trust this rogue anti-spyware and remove it immediately after detection. For this, we strongly advise you to install a reputable anti-spyware.
How can Win 8 Antivirus 2014 infect my computer?
Similarly to other rogue anti-spywares, Win 8 Antivirus 2014 gets inside the system without user's permission asked. Typically this scareware is promoted through corrupted websites that were hacked and then set to install malicious programs into poorly secured computers. Moreover, Win 8 Antivirus 2014 may enter its target PC system with a help of trojan horse, which hides inside seemingly legitimate programs and updates. If you click on the infected update or try to download infected program, you can also install Win 8 Antivirus 2014 on your computer. As soon as it gets there, it then start showing bogus alerts reporting about cyber infections right away. Beware that this program is a scareware or rogue anti-spyware that has the intention to make you believe that your computer is seriously infected and that you have to buy its fake license. It is very likely that you may be tricked into believing that your computer is in danger. However, we strongly advise you to ignore all notifications that suggest you to buy Win 8 Antivirus 2014 license because you will loose your money for nothing. To avoid this, use alternative anti-spyware and make sure that your computer is infected only with this rogue.
How to remove Win 8 Antivirus 2014?
If you are experiencing fake Win 8 Antivirus 2014 alerts, do not waist time and remove this rogue anti-spyware. For this, we strongly recommend relying on AUTOMATIC REMOVAL OPTION and avoiding manual removal. When relying on this option, you should just download a reputable anti-spyware, update it and run a full system scan. If you need a detailed guide explaining how to do that, read this guide.
When trying to remove Win 8 Antivirus 2014, our recommended programs are Reimage and Malwarebytes Malwarebytes because they can easily detect every hidden component that belongs to this and other cyber threats.
ATTENTION! As we have already mentioned previously, Win 8 Antivirus 2014 may try to block installation and activity of legitimate security programs, including SpyHunter and StopZilla. If you can't download or launch any them, try these options:
1. USING SYSTEM RESTORE TO DISABLE VIRUS:
Go to the Windows 8 Start Screen and type restore point in the Search section.
Now click on Settings -> Create a restore point.
When in System Protection tab, select System Restore.
Click Next button to see your restore points and left click on the entry you need.
Now select Scan for affected programs -> Close -> Next -> Finish.
Once your PC reboots, download Reimage and run a full system scan after updating it.
2. REBOOTING TO SAFE MODE WITH NETWORKING:
Click on Windows key and go to the bottom-right corner.
Select Settings -> Change PC Settings -> General.
Click theRestart Now buttonunder Advanced Startup.
Now selectTroubleshoot -> Advanced Options -> Startup Settings.
Now choose Restart and press F5.

Launch IE or other browser and enter this link to your address bar: https://www.2-spyware.com/download/hunter.exe
Download a program on your desktop and launch it to remove malicious files.
3. USING ANOTHER PC FOR DOWNLOADING ANTI-SPYWARE:
Take another computer that is not infected by this virus and download Reimage or Malwarebytes Malwarebytes on it.
After completing the procedure, transfer this anti-malware to the CD/DVD, external drive, or USB flash drive.
In the meanwhile, kill malicious processes on your infected computer. For that you can use this tutorial.
Stick the device you used for transferring anti-spyware program to your infected PC and launch it.
Alternate Software
We have tested Plumbytes Anti-Malware's efficiency in removing Win 8 Antivirus 2014 (2014-09-10)
We have tested Malwarebytes's efficiency in removing Win 8 Antivirus 2014 (2014-09-10)
We have tested Hitman Pro's efficiency in removing Win 8 Antivirus 2014 (2014-09-10)
We have tested Malwarebytes's efficiency in removing Win 8 Antivirus 2014 (2014-09-10)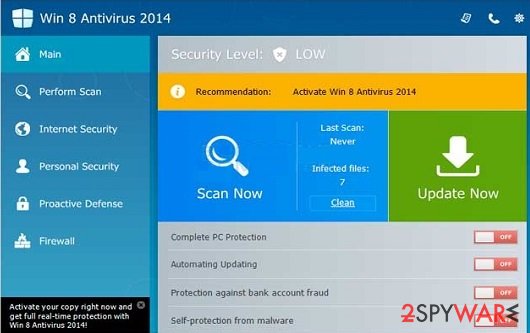 Win 8 Antivirus 2014 manual removal:
Kill processes:
[random characters].exe
Delete files:
[random characters].exe
About the author
Removal guides in other languages