Remove XP Protection 2014
What is XP Protection 2014?
XP Protection 2014 is a fake anti-virus that seeks the only thing – make people believe that their computers are dangerously infected and that they have to buy its license for their removal. Of course, you should never pay for it because this is a straight way to loosing the money, credit card details and other personally identifiable information. When having XP Protection 2014 virus installed on your computer, you should be prepared for constant system scanners that show how they are scanning the system and then detecting such viruses as trojans, adwares and rogues. They are typically displayed every time when victim reboots his/hers computer and starts working on it. In addition, you can also expect hundreds of alerts offering you to purchase XP Protection 2014's 'full', 'licensed' or similar version presenting it as a seriously powerful anti-spyware. If you have already noticed such notifications, it's a sign that your computer was infected. In this case, you should check your machine with reputable security application. It will help you to remove all dangerous files, including the ones that belong to XP Protection 2014.
How can XP Protection 2014 hijack my computer?
XP Protection 2014 belongs to a huge group of viruses, which is known as Braviax. This group is known for multi-name rogues that change their name according to the OS that is used on computer. So, if you are using Windows XP, XP Protection 2014 can easily show up on your computer. The way how this and other rogues infiltrate them relies on security vulnerabilities. If your PC is vulnerable, you can easily discover this rogue hiding on it. That's why you should always make sure that you have an updated anti-spyware installed on your computer that will keep it protected from all kinds of threats. In addition, you should also be very careful with misleading pop-up ads that show up during your browsing. If you see an alert saying that you should check your PC for free, ignore it because it might be used for spreading such rogues like XP Protection 2014. As soon as it infiltrates computer, it modifies the system and starts displaying such alerts:
System Hijack!
System security threat was detected. Viruses and/or spyware may be damaging your system now. Prevent infection and data loss or stealing by running a free security scan.
If you think that your PC may be infected by XP Protection 2014, you shouldn't wait any longer. You should scan it with reputable and updated anti-spyware for eliminating this virus from the system. Keeping it on computer can easily initiate such issues as infiltration of other threats, identity theft and similar problems.
How to remove XP Protection 2014?
We don't recommend removing XP Protection 2014 from your computer manually because you may damage your PC system by eliminating the wrong files. Fortunately, you can select AUTOMATIC REMOVAL OPTION that requires just downloading a reputable anti-spyware, updating it and running a full system scan. If you need a detailed guide explaining how to do that, read this guide. When trying to remove XP Protection 2014, our recommended programs are Reimage and SpyHunterCombo Cleaner because they can easily detect every hidden component that belongs to this and other cyber threats.
ATTENTION! As we have already mentioned previously, XP Protection 2014 may try to block installation and activity of legitimate security programs, including SpyHunter and StopZilla. If you can't download or launch any them, try these options:
1. USING SYSTEM RESTORE TO DISABLE VIRUS:
Click Start -> All Programs -> Accessories -> System Tools -> System Restore.
Select Restore my computer to an earlier time and click Next.
Choose the date and the specific restore point that you want and click Next.
Wait until your PC reboots and click OK on the Restoration Complete window.
Now download Reimage and run a full system scan after updating it.
2. REBOOTING TO SAFE MODE WITH NETWORKING:
Restart your computer
As soon as your computer becomes active, start pressing the F8 key continuously until you see Advanced Boot Options screen.
Here, select Safe Mode with Networking (for that, use the arrow keys) and then hit Enter.
Login as the same user as you were in normal Windows mode
Now right click on IE or other browser's icon and select Run As or Run As administrator. Enter your Administrator account password (if needed).
Enter this link to your address bar: https://www.2-spyware.com/download/hunter.exe and download a program on your desktop. Launch it to remove malicious files.
3. CREATING GUEST ACCOUNT FOR SCANNING COMPUTER:
If you have another user (guest) account, you can try to run a full system scan from it. You just need to log into it and download Reimage for a full system scan. You can activate your guest account with a help of these steps:
Click Start -> Settings -> Control Panel and select User Accounts.
After a new window shows up, click on Guest -> Turn On Guest Account.
Now wait until computer reboots and you see Windows log on screen
Select Guest account for downloading our recommended anti-spyware.
4. USING ANOTHER PC FOR DOWNLOADING ANTI-SPYWARE:
Take another computer that is not infected by this virus and download Reimage or SpyHunterCombo Cleaner on it.
After completing the procedure, transfer this anti-malware to the CD/DVD, external drive, or USB flash drive.
In the meanwhile, kill malicious processes on your infected computer. For that you can use this tutorial.
Stick the device you used for transferring anti-spyware program to your infected PC and launch it.
Alternative Software
Different security software includes different virus database. If you didn't succeed in finding malware with Reimage, try running alternative scan with SpyHunter.
Alternative Software
Different security software includes different virus database. If you didn't succeed in finding malware with Reimage, try running alternative scan with Combo Cleaner.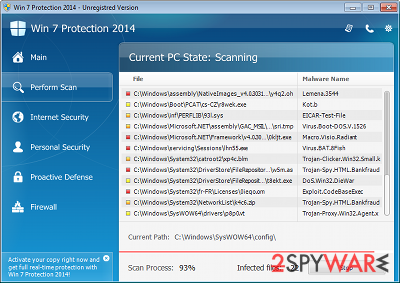 About the author
Removal guides in other languages