Malware removal tools are computer security programs, which can be used for removing specific viruses. While programs that can be found in this section cannot protect the system from the infiltration of malicious software, they can detect and remove viruses that are already hiding in it. Usually, such tools are needed when anti-virus or anti-spyware program is not capable of finding a virus on a computer.
Why does an anti-virus or anti-spyware software fail to detect malware?
Cases when anti-virus software or anti-spyware fails to detect a virus are quite rare. However, it can happen because of the following reasons:
computer is infected with a newly released cyber threat, which is not added to the database of an anti-spyware software;
computer is affected by an updated virus version, which is still not added to the database of an anti-spyware;
computer is infected with a sophisticated threat, which relies on several strategies while trying to prevent its removal and anti-spyware fails from removing it.
The most of the removal tools are free to use. However, some of the developers can ask people to make a donation or pay before removing detected virus. Free Malware removal tools can be effective just as the paid ones. However, it is worth remembering that different Malware removal tool works for a different virus. Programs that belong to this category are mostly designed to help people detect only one single threat or some of its variants that belong to the same family. Typically, Malware removal tools can be used for finding and removing viruses that belong to these categories:
Trojan horse. A malicious program, which is mostly used for stealing sensitive data and infecting the system with other viruses;
worm. A virus, which infects files, degrades overall system's performance and installs other dangerous parasites, such as backdoors or trojans, on a computer;
Adware. Potentially unwanted program, which causes annoying ads on victim's computer;
Browser hijacker. A program, which is capable of hijacking the browser and causing redirects to third party websites.
Ransomware. Malicious software, which is seeking to encrypt victim's files and then make him/her pay the ransom in exchange for the specific decryption key.
other malware
What is the difference between Malware removal tools and anti-spyware programs?
The difference between Malware removal tools and regular anti-spyware or anti-virus programs is that they are not designed for system's protection. As we have already mentioned, such programs are not capable of protecting a computer from the infiltration of malware or helping people to prevent the loss of their personal information. They can only eliminate specific viruses that they are designed for and finish their work after that. According to PC security experts, such tools can easily work in conjunction with anti-spyware and similar security software. The most of them are quite simple and lightweight utilities.
The best Malware removal tools can be downloaded from our site or official websites. Before installing such software on the system, people should do a research and try to find the malware removal tool, which is designed to remove their virus. While there is only a small possibility to end up with the same virus in the future, we would recommend users to think about uninstalling a Malware removal tool right after it finishes its job and increasing your disk space. Note that the most of the developers of such software do not provide any support for their users. That is why it is recommended using anti-virus or anti-spyware software instead of Malware removal tools.
Examples of Malware removal tools:
Adware Removal Tool is a reliable application, which is dedicated for the removal of adware-type programs. Adware, browser hijackers, and similar PUPs have become very popular recently. They can be installed without users' awareness and then initiate various unwanted activities behind their back. Also, you can find serious problems when trying to remove such viruses from your computer because they have been relying on aggressive methods used for preventing the elimination of adware. Adware Removal Tool is a program, which was developed to deal with such parasites. It is free to use a program, which has earned great reviews on the Internet. 
AdwareMedic is another tool, which is recommended for people suffering from adware-type programs and similar viruses. If you ended up with such PUP on your computer, you should think about installing Adware Medic. After checking the system, it will show the location of unwanted files and will remove them for you. Detecting unwanted files is the hardest work when trying to fix the system after the infiltration of adware.
We can approve that all tools from this category are legitimate and work when they are used according to their purpose. They cannot compromise your computer and data, which is stored on it. 2 Spyware research team checks each of these Malware removal tools carefully before giving people know about it. However, if you need a full-scale spyware removal program, which could help you with the prevention of malware, take a look at Anti-Spyware category. It contains the list of all known and the most reliable anti-spyware programs. If kept up-to-date, they can not only eliminate the most dangerous parasites from your computer but can also block their installations. This is the safest way to browse the Internet and download files on your computer.
Latest Software Reviews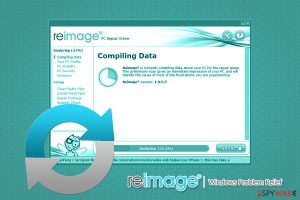 Reimage Repair is a legitimate and recommended software for users in 2021.
smitRem is a free stand-alone tool designed for removing widely spread parasites.
AdwareMedic is a unique tool, which was designed to help people uninstall all known adware and other stubborn software.
Information updated: 2017-05-11