Got an email from Bank of America? It might be infected with Cryptowall virus!
If you are interested in viruses, you must have heard about Cryptowall virus. This is a serious ransomware that has ability to encrypt specific files and then display a warning message asking people to pay a ransom for their decryption. At the moment of writing, this virus has ability to affect only those computers that use Windows OS, including Windows Vista, Windows 7, and Windows 8. Unfortunately, payment is the only way that can save the files that were encrypted by Cryptowall virus. That's why you should make sure that you give your 100 percent for preventing infiltration of this ransomware..
One of the most popular methods that is used for spreading Cryptowall virus around relies on spam email attacks. According to the latest news, cyber criminals have just started a new spam campaign that uses the name of Bank of America. This fake BofA email claims:
Date:
From: Andrea Talbot [Andrea.Talbot@bofa.com]
Subject: RE: Important Documents

Please check attached documents regarding your Bofa account.

Andrea Talbot
Bank Of America
817-298-4679 office
817-180-2340 cell Andrea.Talbot@bofa.com

CONFIDENTIAL NOTICE: The contents of this message, including any attachments, are
confidential and are intended solely for the use of the person or entity to whom the
message was addressed. If you are not the intended recipient of this message, please be
advised that any dissemination, distribution, or use of the contents of this message is
strictly prohibited. If you received this message in error, please notify the sender.
Please also permanently delete all copies of the original message and any attached
If you are the customer of this financial institution, you should be very careful with emails from this company. If it mentions Andrea Talbot name and includes AccountDocuments.zip file, be sure that it's a malicious letter that seeks to infect your computer and decrypt important data that is kept on it. It must be added that this email has no links inside, so virus infects system after victim is tricked into downloading AccountDocuments.zip on his/hers computer. Please do NOT do this. Ignore this fake Bank of America email and delete it from your inbox without a delay. In addition, make sure that you ignore this warning that may appear on your PC's screen: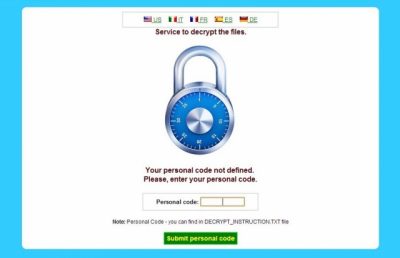 In order to avoid Cryptowall virus or other threats that can make serious damage on your computer, you should double check your security software. Please make sure that you have reputable anti-virus and anti-spyware installed on it. In addition, always double check emails before clicking links or downloading files that are incorporated into them. Look for grammar or typo mistakes, pay attention to email's design and sender.
About the author