Invisible Stealth Keylogger. How to remove? (Uninstall guide)
The publisher of Invisible Stealth Keylogger states that
Invisible Stealth Keylogger is an extremely useful auditing and security tool. It runs silently in the background, records all of the machine's keyboard activities into a binary log file. The binary log file can later be viewed via included "datview.exe" utility […] Invisible KeyLogger Stealth for WindowsNT version 1.0 is the world's first keystroke recorder that can capture even NT's trusted logon (alt-ctrl-del logon). It runs silently in the background, records all of the NT machine's keyboard activities into a binary file. This binary file can later be viewed via the 'datview.exe' utility provided. The only file that is required for keystroke recording is the file "iks.sys". This file can be renamed to maximize stealth. The binary log file can also be renamed and be redirected to a different path. The primary purpose of this program is to provide network administrators with an effective means to monitor workstation usage in hostile environments. It is an equally effective tool for parental control, security audit and network penetration for the security professionals.
About Invisible Stealth Keylogger
The developers of this keylogger (which is also known as Invisible Keylogger) have released three versions of this keylogger: Invisible Stealth Keylogger 1.2d, Invisible Stealth Keylogger 2.0, Invisible Stealth Keylogger 2.1. Although the developers of this application claim that it is a very beneficial tool, you should also remember that it can be used not only for guiltless purposes. This program can also be used to collect private information about the PC user. Moreover, if someone installs this program to your PC, they might become able to see your credit card info, your passwords, and basically track every click that you perform on your keyboard. As a result, such stealth of personal information can lead to data leakage or even financial tear-off. Needless to say, no one wants to suffer because of the activity of hackers and data thieves.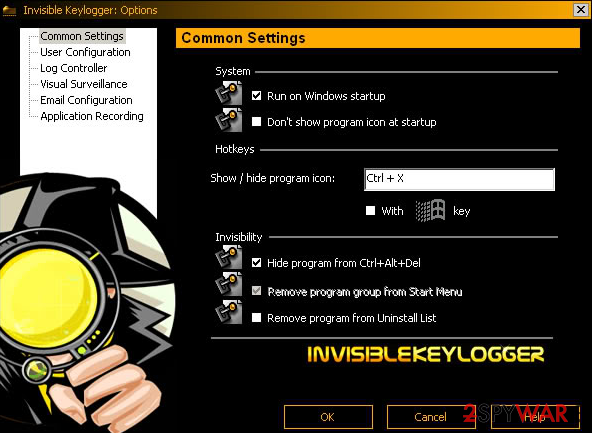 How can Invisible Stealth Keylogger enter victim's computer?
Invisible Stealth Keylogger can infiltrate your computer if you:
Tend to install freeware or shareware without paying attention to installation settings;
Browse through unreliable websites and allow to install suspicious apps;
Open e-mails from unknown senders and extract the e-mail attachments;
How to remove this keylogger?
You can remove Invisible Stealth Keylogger with a professional anti-malware program – Reimage. It can detect every malicious file and permanently eliminate it. You can also try to remove this program manually (we have provided removal instructions below), but this removal method is not as effective as the automatic one.
Alternate Software
We have tested Plumbytes Anti-Malware's efficiency in removing Invisible Stealth Keylogger (2015-05-30)
We have tested Malwarebytes's efficiency in removing Invisible Stealth Keylogger (2015-05-30)
We have tested Hitman Pro's efficiency in removing Invisible Stealth Keylogger (2015-05-30)
We have tested Malwarebytes's efficiency in removing Invisible Stealth Keylogger (2015-05-30)
Invisible Stealth Keylogger manual removal:
Kill processes:
datview.exe, iks2k20d.exe
Delete registry values:
HKEY_LOCAL_MACHINEsystemcontrolset001enumrootlegacy_iks
HKEY_LOCAL_MACHINEsystemcontrolset001servicesiks
HKEY_LOCAL_MACHINEsystemcontrolset002enumrootlegacy_iks
HKEY_LOCAL_MACHINEsystemcontrolset002servicesiks
HKEY_LOCAL_MACHINEsystemcurrentcontrolsetenumrootlegacy_iks
HKEY_LOCAL_MACHINEsystemcurrentcontrolsetservicesiks
Delete files:
log viewer for iks.lnk, datview.exe, iks2k20d.exe, iks.dat, iks.sys, uninst.isu
Delete directories:
iks
About the author