PC Health Aid virus. How to remove? (Uninstall guide)
Everything you need to know before installing PC Health Aid tool
Questions about PC Health Aid virus
PC Health Aid, created by Comguard Solutions, is a system optimization tool that is categorized as a potentially unwanted program (PUP). The official website of the program claims that it is "the best PC health tool on earth" that is supposed to accelerate the system speed, stabilize computer's performance, backup registry, detect and fix various computer issues, and protect data. One of the reasons why this program has been classified as a PUP is that many antivirus programs detect it as a Trojan[1] or adware.[2] Another reason is related to its distribution method. This tool spreads bundled with other software; thus, it might seem to appear on the computer out of nowhere. For this reason, computer users tend to think about this program as PC Health Aid virus. However, we want to stress out that it's not a virus. This program cannot harm the system, but it can certainly cause annoying activities. When installed on the computer, this tool starts scanning the system looking for various errors and issues that need to be fixed. Once it finds, it presents scan results and offers to buy a full version to fix these problems. Thus, this program has two versions. The free version works as a scanner and is mostly distributed with freeware or shareware. This technique helps to promote the paid version of the program. Finding out about computer-related programs might not be pleasant, and some people might be interested in buying it. However, if the scan results appeared out of the blue and you haven't installed this program yourself, you should think twice whether you can rely on this program or not. Though, we do not recommend buying a full version. If you think that you need PC optimization tool, look for more reliable applications or try other methods to speed up your computer[3] after PC Health Aid removal.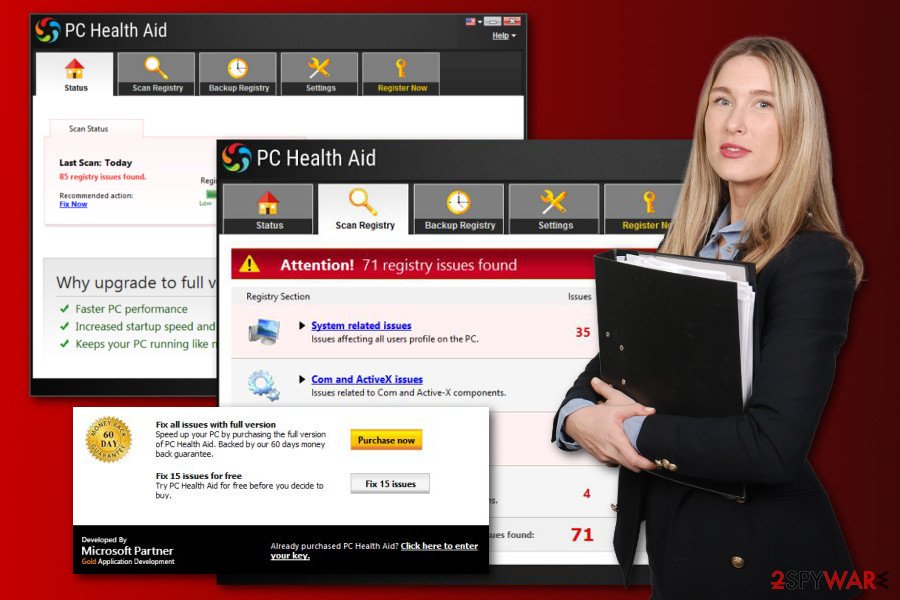 Slide 1 of 1
Before installing new programs, you should always read the Privacy Policy and EULA to learn what you can expect from it.[4] The most important parts of these documents are data collection and partnership with third-parties. When you decide to install PC Health Aid, you agree that developers collect particular information about you and, in some cases, share aggregated data with third-parties. The program might collect information such as IP address, the type and version of the browser and operating system, etc. What is more, they may use tracking cookies to get information about downloaded, installed or uninstalled the software. According to the Privacy Policy, this information might be shared with vendors, consultants, and other service providers. This information is supposed to help to improve their services; however, it might also be used for marketing purposes. Developers also reveal that third-party advertisements and analytics technologies are integrated into their products. Thus, if you do not want to see an excessive amount of online ads, you should remove PC Health Aid immediately. What is more, we recommend scanning the system with Reimage just to make sure that other PUPs haven't been installed without your knowledge as well.
Is it possible that this tool has been installed on the computer without my knowledge?
PC Health Aid tool has an official website where people can purchase, download and install it. However, it's not the only one way how this program might end up on the computers. This application might also be added to the software packages[5] and offered to download as an optional component. The problem is that majority of computer users rely on Basic or Standard installation settings when installing freeware or shareware. These settings do not reveal whether you install a package or a single program. Thus, if it was a package, you might encounter not only PC Health Aid hijack but allow other potentially unwanted programs to enter the system. In order to avoid PUPs, you need to install new programs under Advanced or Custom settings. However, do not rush to click "Next" button. Slowly and attentively follow each step and look for the list of pre-selected entries. Once you find them, deselect all programs offered to you.
How to remove PC Health Aid virus?
First of all, we want to remind that PC Health Aid virus is not a suitable term for this application. It might be called a potentially unwanted program. Though, it can be uninstalled from the computer easily. The simplest method suggests to go to the Programs folder and search for the program. Then, click "Uninstall PC Health Aid" option and wait for the uninstall guide to launch. Additionally, you can uninstall it just like any other program from the computer:
Go to Control Panel.
Choose Programs and Features (or Add/Remove Programs), and in the list look for the program.
Double-click on it and choose Uninstall.
Wait for the uninstall process to start.
After PC Health Aid removal, we also recommend scanning the computer with a reputable anti-malware program, such as Reimage. This step is extremely important if this program came into your PC bundled with other software. It is possible that other potentially unwanted programs have been installed without your knowledge too. Thus, you need to remove them as well.
Alternative Software
Different security software includes different virus database. If you didn't succeed in finding malware with Reimage, try running alternative scan with Malwarebytes.
Alternative Software
Different security software includes different virus database. If you didn't succeed in finding malware with Reimage, try running alternative scan with Combo Cleaner.
About the author
References