Remove RegClean Pro (Updated)
RegClean Pro: install it or not?
Since the daily schedule is often packed with various appointments, you might struggle to find time for family, not to mention the computer. Therefore, developers of RegClean Pro use this opportunity to promote their seemingly useful tool – PC optimizer. However, differentiating between a truly beneficial computer digital manager and a program, which only aims to wheedle out your money, becomes a challenge for an Internet user. Unfortunately, this program might not be as useful as you expect it to be but rather more troublesome. Thus, we recommend initiating RegClean Pro removal. If you struggle to do it, install ReimageIntego.
RegClean Pro is a product of the Systweak company. According to them, the software is designed to improve PC performance by eliminating bad registry entries, files, and other problems. However, RegClean Pro virus acts as scareware. It alarms you of possible infections and multiple issues as well. Thus, thinking that the program will enlarge the capacities of the computer by making enough free space and solving other optimization issues, you are mistaken. As soon as this application is installed on the system, it starts displaying reports about a seemingly infected computer. The most annoying aspect of RegClean Pro is that it starts scanning the PC almost every time you reboot your computer or start a new browsing session.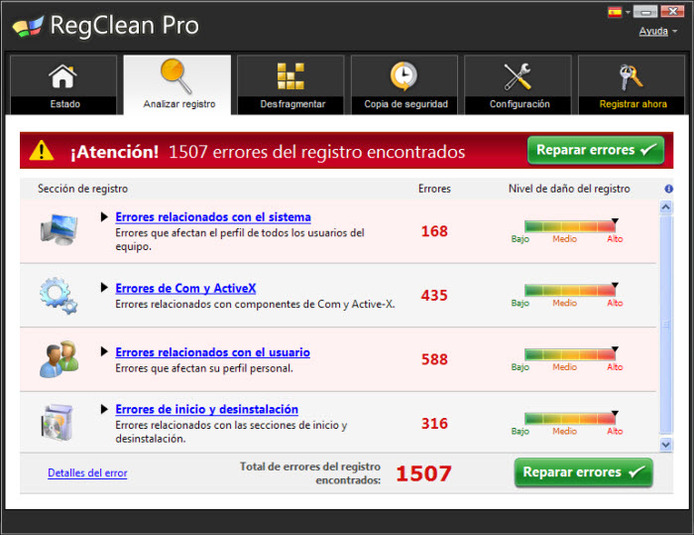 When you click "solve the issues", a message pops up offering to buy the full version. However, even if you purchase the full edition, it does not guarantee that the alerts will cease. On the contrary, they might increase, or you might be bombarded with other offers to obtain new programs. In addition, the downloaded programs might not turn out so harmless as they look. They might be "enhanced" with unwanted and even malignant files. That is why we encourage you to remove RegClean Pro as soon as possible.
The transmission ways of RegClean Pro
Questions about RegClean Pro
RegClean Pro registry cleaner is mostly distributed via its official website. However, you can also install this program on your computer along with freeware. Usually, when you hop through the installation stages, you ignore the fact that the downloaded program might be "bundled" with additional software. Thus, since the add-on, containing RegClean Pro, is pre-marked, it gets installed along with the primary application. In order to spot such programs, you need to opt for "Custom" installation mode and then unmark unnecessary attachments.
RegClean Pro removal steps
After testing it, we found that it might fail to detect all registry errors. It also displays exaggerated scan results which are filled with doubtful issues. If you have already purchased it, its owners offer a money guarantee. We would recommend you to use it. If you want to remove RegClean Pro from the system, you can do it by using anti-spyware program or get rid of it manually:
For Windows users:
1. Click "Start" button
2. Enter "Control Panel"
3. Find "RegClean Pro" and select "Uninstall" function
4. Finish the process by clicking "OK"
For Mac System:
1. Click "Go" button and select "Applications"
2. Find the "RegClean Pro" in the list
3. After selecting the program, choose "Move to Trash"
Alternative Software
Different software has a different purpose. If you didn't succeed in fixing corrupted files with Reimage, try running SpyHunter 5.
Alternative Software
Different software has a different purpose. If you didn't succeed in fixing corrupted files with Intego, try running Combo Cleaner.
Do not let government spy on you
The government has many issues in regards to tracking users' data and spying on citizens, so you should take this into consideration and learn more about shady information gathering practices. Avoid any unwanted government tracking or spying by going totally anonymous on the internet. 
You can choose a different location when you go online and access any material you want without particular content restrictions. You can easily enjoy internet connection without any risks of being hacked by using Private Internet Access VPN.
Control the information that can be accessed by government any other unwanted party and surf online without being spied on. Even if you are not involved in illegal activities or trust your selection of services, platforms, be suspicious for your own security and take precautionary measures by using the VPN service.
Backup files for the later use, in case of the malware attack
Computer users can suffer from data losses due to cyber infections or their own faulty doings. Ransomware can encrypt and hold files hostage, while unforeseen power cuts might cause a loss of important documents. If you have proper up-to-date backups, you can easily recover after such an incident and get back to work. It is also equally important to update backups on a regular basis so that the newest information remains intact – you can set this process to be performed automatically.
When you have the previous version of every important document or project you can avoid frustration and breakdowns. It comes in handy when malware strikes out of nowhere. Use Data Recovery Pro for the data restoration process.
About the author
Removal guides in other languages

October 15th, 2012 at 10:44 pm

WOOOOOOOOOOOOOOOOOOOOOOOOOOOOOOOOOOOOOOOOOOOOOOOOOOOOOOOOOOOOOO wow this didnt help at all


May 26th, 2013 at 6:48 pm

pois e formata q ajuda


June 4th, 2014 at 3:11 pm

Now for some odd reason, i have downloaded reg, pro, by accident, it seems…..Now here it is …. And now, for some odd reason, ( i have been looking around and reg pro seems to be some kind, of virus. Ok. Understandable…but i did not intentionally download it. Ok so, now i am trying vigorously to delete it and, guess what……..hey, you guessed correctly.. i will make it easy for you, to tell you the truth i think my neighbors are listtning to my keys or the spiders in the attic, I am from Dunoon Scotland my name is Jermaine Moore….So what seems to be the problem, …Ha i think i know what it is not…You designed it microsofties, not me, im the man. Lol chuckles from the children in the background..All of you. Anyways…what is up with this program. Hey see if you get my neighbors or the spiders names, you can have this >>> Anyways..Lol, easy fix for all users. Put the fix on the internet, "Lol, Now dont you feel better.


October 28th, 2012 at 6:50 pm

CAN NOT GET RID OF REGCLEAN PRO.ITS INFECTIOUS.HOW DO I GET RID OF THE DAM THING.I CANT DOWNLOAD OTHER VIRUS CONTROLS?


November 11th, 2012 at 7:12 pm

Can you please advise and help me to get rid of REGCLEAN PRO, from my computer.

This is extremely annoying.


August 3rd, 2013 at 2:15 am

Get Revo Uninstaller it does the job.


September 28th, 2013 at 5:57 pm

yes Revo works great..thanks for the info..i was so tired of regcleanpro and now its gone…


January 3rd, 2014 at 9:04 pm

Thanks no name (last entry) I used your suggestions and it is gone.


August 3rd, 2013 at 2:17 am

Get Revo Uninstaller it does the job


September 28th, 2013 at 5:59 pm

Revo Uninstaller….it works great


November 7th, 2012 at 2:59 am

regclean pro is not a spyware program, i m using this software since last 2 years & its working fine at my laptop… to remove invalid reg entries.


May 17th, 2013 at 6:27 pm

this is a virus


July 22nd, 2013 at 11:26 am

Do not be deceived.

Regclean Pro is a Scam.
It is currently being used by Indian and Pakistani con artists to fool you into giving them your money.
Do not install REGCLEAN PRO ON YOUR COMPUTER.

Oregon 2013-07-22


November 19th, 2012 at 3:41 pm

Trying to get 2 charges refunded on my credit card …..one charge for 29.95 and the other for 39.90…………Neither charge was authorized by me …….Is this a scam?????? need these charges refunded to me ..


April 12th, 2013 at 2:55 pm

Call your credit card company and tell them you want to dispute the charge you did not authorize.


December 1st, 2012 at 9:59 pm

Microsoft did not give them any certification……that is complete rubish!


January 4th, 2013 at 7:59 am

blaspheme 2 bill gates


December 12th, 2012 at 2:21 pm

When I called Systweak support line because the software would not take the registration number e-mailed to me. They explained that the spyware was destroying my computer in the background. They explained that they would install a super high tech program from Microsoft for $298. They told me that my credit card was not accepted and to use another credit card. I turned off my computer and called the credit card company. They had, in fact, actually approved the charge and are treating this as fraud.


December 14th, 2012 at 3:32 pm

I almost made the mistake of ordering clean pro until i found that their pop ups continue to annoy and disturb my work, INCLUDING An annoying vocal announcement saying WARNING WARNING" ETC. so,,,clean pro…get lost and stop the damn scam. YOU lost a potential legitimate customer.


December 31st, 2012 at 9:20 am

Is there any way to stop their pop ups? I havent installed anything, but get the pop ups all the time.


January 17th, 2013 at 5:28 am

This is so annoying. spent another £35 today and the pop up still comes up with same amount of errors????


January 4th, 2013 at 8:04 am

i have about 567…..probs in my computer……fuk u ….REG..PRO…………PLUS THIS RIPOFFF WEBSITE…….TY TY:)


January 13th, 2013 at 3:12 am

this shouldnt pop on my pc now .
feeling at the souls level to put this pro to an end .
mantras souund frequencies will be transmitted to the pro.
so please tc.
pvr


January 23rd, 2013 at 2:28 pm

This is a predatory program. It popped up in the middle of a job search I was on and appeared to be part of the process. Anyone who says this is not a virus or a scam should help provide a way to get this off of peoples computers, since many of us dont want it. I believe Alex and Dave must receive some sort of compensation from Systweak, or they would offer some help


January 31st, 2013 at 2:26 pm

I never authorized this advertisement from Reg clean Pro. It keeps poping up even when I am actively on other sutes. I have deleted it from by bucket several times but it keeps poping up and scanning. I am sick of that s___.


February 8th, 2013 at 12:56 pm

Hello everyone who needs help uninstalling this program. If you have windows, this would be really easy to uninstall. Just follow these simple steps.
1. Press the windows logo at the bottom left
2. Go to control panel
3. Got to program -> uninstall program/programs
4. Look for the program in the window
5. Select it, and press uninstall/make changes (there is a little button that appears when you click a program)
6. Go through every step, some will try to scam you again, and dont let that happen!


February 9th, 2013 at 1:54 pm

Thank you for this advice. I followed it – now I will have to see if it worked when I reboot my system.


July 12th, 2013 at 8:08 pm

thank u. im from iran.


November 19th, 2013 at 3:47 am

this worked – thanks (I paid my £29.99 but Ill just have to write that down to experience!)


December 4th, 2013 at 11:10 pm

Tried to uninstall thru Control Panel. It says uninstaller is missing!


January 26th, 2014 at 6:20 pm

A window pops up. On the right there is a button to uninstall, and install a new virus. On the left there is a button "no thanks just uninstall" which does nothing once clicked.


February 5th, 2014 at 10:53 am

Tried that numerous times – doesnt work


June 2nd, 2014 at 4:12 pm

This does not work because the RegClean Pro does not appear in the uninstall list. You can go to MSDOS and try cd programming files, dir/p and del *.*


June 5th, 2014 at 5:52 pm

I did this,,went to control panel, programs, uninstall. and clicked…….yes it does keep asking to stay etc.
I x out of it twice, clicked on no just uninstall…..I think it worked. It says it was removed.

Thanks so much for this.

Now, could you tell me what is good to use for spywear, reg errors, etc? Even if I have to pay to get something to work.
I have been having multiple errors on Java, not installed. Have done everything I know to update it etc in order to plat some of the games.
Thanks…..


February 11th, 2013 at 11:50 pm

OK nobody wants to be warned that there PC is infected with spyware or ad-ware thats why there ex-hist these kind of programs called
reg pro ,but there are other programs that you can use in conjunction with this i use other ones too along with it plus i just bought one called advance system care ultimate antivirus this cost about 40 dollars.

so think of these little programs as testers if you are relying on reg clean pro alone this wont help you at all i am a person who is constantly
tweaking and testing software go ahead try advance system protector,reg clean pro, together along with something called super anti-spyware they all-ways asking to upgrade but you dont need to right away if you dont have the money another good program i just found out about was this one called
spyware terminator 2012 free version either way you look at it your still going to have to get a good antivirus program i suggest i obit website for some tools.

i hope i been of help


February 17th, 2013 at 6:28 pm

It say i have 2045 errors in my pc …. -_- …ill never buy it…that smell like a lie.


February 20th, 2013 at 12:12 pm

you are an idiot. It is not so simmple to remove this virus like "uninstal" Do you think everybody are fools here?


March 6th, 2013 at 12:54 pm

YOU are an idiot. If you read the article, you would know that this is not a virus


December 22nd, 2013 at 4:37 am

Yes, but its behaviour is the same as a virus, I uninstall it and its still there, I dont ask a scan and it pops up scanning. If this is not a virus Im writing from Mars.


February 25th, 2013 at 12:28 pm

Do you guys who installed/bought this also give out your credit card number to strangers in the street?


March 2nd, 2013 at 11:58 pm

how i got rid of it:

Go to taskmanager and end the regclean-pro application….
Then go to "control panel" (from start menu) then unintall the damn thing

====IT WORKED FOR ME=======


March 18th, 2013 at 7:50 am

yup it worked !!thanks


April 25th, 2013 at 4:05 pm

This worked for me too! To repeat:
1. Ctrl-Alt-Delete to start Task Manager
2. Click on Application tab, then RegCleanPro, then End Task
3. Click Start button, open Control Panel, then Programs and Features
4. Select RegCleanPro, then Un-install
5. Close pop-up window that offers to sell it at 1/2 price ($14.95)


September 8th, 2013 at 9:24 am

thanks for the help


March 31st, 2014 at 7:24 pm

so what do you suggest if it isnt in task manager ?
the normal uninstall process doesnt work, its not in task manager but still cant removed the fucken thing !


March 3rd, 2013 at 9:16 pm

uhh the regclean pro kept opening random programs and kept changing the rate AND WITH THESE COMMETS on how to get rid of them dont get neither


March 22nd, 2013 at 5:22 pm

yes i have this reg. pro cleanup popup on my computor and i can not get rid of it . it has taking over the whole computor . I cant even do system restore how do i get rid of it?


March 25th, 2013 at 8:24 pm

this program is scam pops up on your pc and they dont let you unninstall so when you call them they want to charge you thats how they make money hescumbags


March 27th, 2013 at 9:46 am

I do not know if i have the right Co.But they must remove their garbage from my computer as my attorney will call.REMOVE !! REGPROCLEAN NOW!!!


April 1st, 2013 at 7:38 am

why are you people tricking people that the download you have up there is for removal…why are forcing people on your product!!


April 5th, 2013 at 11:30 am

please help please tell mehowto mannuelyremove this virisoffmy computer


April 6th, 2013 at 12:39 am

i want my money back


April 8th, 2013 at 2:15 pm

Concerning RegClean Pro 6.2, the FBI has received a paper on you showing your web site and the menacing trouble you cause so many people, you sell progrms that are no good and the programs are ment to annoy and cause you problems with your computer…Now RegClean Pro 6.2, have fun with the FBI….


April 11th, 2013 at 2:55 am

please help how to remove regclean pro from my pc please is very importante to tell me because i dont know to work with this pleasee


April 15th, 2013 at 7:29 pm

Control panel–Add/Remove Programs–Reg Clean Pro–Remove


November 2nd, 2013 at 11:21 am

doesnt work another way ?>


April 23rd, 2013 at 10:37 am

HI.
This is litle bit geeky.

Control panel–Add/Remove Programs–Reg Clean Pro–Remove
Pay atention to your browser and close it when it shows something from that company. Close it any way you can.
Then RegClean will uninstall.
After that do
Control panel–Add/Remove Programs–Advanced System Protector–Remove
Its from the same company so goodbye
Again, pay atention to your browser and close it when it shows something from that company. Close it any way you can.
After that install CCleaner (you can check it out online first) and clean the computer and the registry
Set the Windows Explorer to show hidden files anda manualy search for:
RegClean…
AdvancedSystem…
Sysweak
Erase everthing you find with these names
Run CCleaner again (sorry but i am a pessimist)
Rebbot and its done.

If this fails … reinstall windows


April 24th, 2013 at 6:45 pm

Youre correct if it was that simple we would not come on here


April 28th, 2013 at 1:34 pm

i cant remove/unistall it from my system completly


April 28th, 2013 at 1:36 pm

please remove it from my system


April 29th, 2013 at 10:38 am

ran across this when going to free games from AARP – sucked it – stuck like glue – warning to seniors – dont push buttons unless you KNOW what it involves – I am novice with computer – looked good – tastes BAD! Will try remove suggestions. Thks.


May 1st, 2013 at 11:11 am

Hello Friends,

I also was a victim of this predator nasty program RegClean PRO. It is nothing more than Scam-ware with fake problems showing – than (of course after payment) REG clean will step by step destroy Your system registery up to computer down. For me took over 9h to recover my data, make system copy, reboot and get ride of this program. Pls find below a "Unlocker" program link will for sure help You our to cancel Reg Cealn one for Your live:

http://www.emptyloop.com/unlocker/


May 3rd, 2013 at 8:59 am

youre the idiot! falling for this article. funny how my computer starts working again after the removal of this infectious program! why would an antivirus program install itself? VIRUS!


May 8th, 2013 at 12:07 pm

How do i get rid of this RUBBISH!!!!!!!!!!!!!!!!!!!!!!!!!!!!!!!!!!!!!!!!!!!!!!!!!!!!!!!
This is the biggest shit programme in the word. lITS A VIRUS!!!!!!!!!!!!!!!!!!!!!!!!!!!!!!!!!!!!!!!!!!!!!!!!!!!!!!!!


May 9th, 2013 at 8:36 pm

after dling the update for OoVoO, the regpro thing was dled on my laptop. having had these annoying probs before, i made sure NOT to click "fix" and clicked out of the regpro. I went to uninstall it and made sure not to click on anything to trigger the pest. After uninstalling you must realize there is a counterpart to regpro which is called Advanced System Pro or something of the sort. just know it starts with the ttile "advanced system" and it will be on your desktop looking like a gold badge of honor and/or pop up saying you have a certain amount of problems with your system and it would have been dled the same time/date as regpro. DONT CLICK to open it but click it the "x" and uninstall it like regpro. You should be fine after that. Now if you already put the "fixes" on your computer from regpro, i assume you will have a harder time gettin it off your computer as you have now allowed it to attach to and be associated with your files. If all else fails, you can reinstall windows program or do a reformat for your computer. If you know anybody who can do this for you, then it will take time but it wont be as bad as living with the regpro pest. Hope this info helps.

I also agree that this site also tries to get money. before doing anything immediately, I wanted to see if regpro was actually good and legit and found myself on this site. I have come to the conclusion that anything that voluntarily commits itself to help you after have dled something else that was free is most likely going to be a pain to get rid of. Whenever you can, if you dl something you want, make sure you have the option of NOT dlling other software that is offered with it. But in my case, i had no choice as this seemed like a package with the update of OOvOO. Good luck.


May 18th, 2013 at 4:55 pm

you should be serious, you should warn your download is not free and dont let people lost time in your software…


May 19th, 2013 at 12:22 am

You are a liar. Most definitely a virus.


May 31st, 2013 at 2:15 am

Hi,
I really apologize for the inconvenience that you had to face. RegClean Pro certainly is not a virus, it is absolutely a very safe registry cleaner which helps you run your PC smooth and error free.
RegClean Pro is a completely virus free tool and you can upload and test it yourself on sites like virustotal.com for your satisfaction.

For any assistance you can always contact at support.systweak.com.

We look forward to assisting you.

Regards,
Systweak Software


July 1st, 2013 at 7:14 am

Then why wont it "uninstall" like normal programs?


September 13th, 2013 at 2:21 pm

You are a liar and a prick..


June 1st, 2013 at 4:02 pm

If you read the article you believed it, then youre really nuts. Spyware is nothing but "legal" malware. It should be penalized like Trojans.


June 4th, 2013 at 4:09 pm

Why do I keep getting ads for RegClean Pro? I DO NOT HAVE WIDOWS; I HAVE AN IMACG5.


June 29th, 2013 at 1:44 pm

Remove it with malwarebytes antimalware.
recommend using linux and forget about these problems


July 2nd, 2013 at 1:38 pm

I did not download or install RegClean, however the button is hovering above me on a toolbar that was installed when I was looking for maps of National Parks. It seemed like a good idea to download this maps program, and when it asked if I wanted the toolbar I said NO. It installed it anyway.

Now I want to get rid of the toolbar. I have been to the control panel and nothing was installed according to that record. Where can I find out how to get rid of the toolbar? I didnt even download the RegClean program and the toolbar seems to be slowing things down.

Not only that, but nothing on the toolbar works, except the "Clean Your PC" button which leads to the download button for RegClean. It also messed up my home page and keeps offering me other stuff to download!

Currently doing a MalwareBytes scan and its found nothing yet after running for 2+ hours.

How do I get rid of the toolbar?


July 5th, 2013 at 8:22 am

Hey guys, Im using RegClean Pro from last 4 weeks and dont find any problem with it so far.. Its working smooth and fixed so many problems on my pc.. Im using 3 antivirus protections on my PC ( Malwarebytes, Ad-Aware and Spybot – Search & Destroy ) and I scanned my pc many times with all of these and didnt found any threat in RegClean Pro.. So, why everybody telling it a THREAT, its out of my mind !!!


July 6th, 2013 at 11:39 pm

THIS IS HOW TO REALLY FIX IT< WAS TIRED OF THIS CRAP search window, type "regedit" click yes click edit and then find typed "regclean pro" click find next deleted what it finds by clicking in left window and delete, BE VERY SURE THERE IS NOTHING ELSE OF IMPORTANCE IN WHAT YOU DELETE go back to edit and click find next Continue until they are all deleted. TAKE OUT TRASH w CCleaner shutdown and start computer, dont restart This fixed it for me, it didnt start on start up and is finally gon from unistall menu. Hoped this helped, I may make a video


July 8th, 2013 at 11:40 pm

I found out how to get rid of the tool bar.
I dont know whether RegClean is ligit or not, but I do know that it was connected to a BROWSER HIJACKING.

If you had your browser hijacked and the tool bar was installed and your default search preference and home page were changed…

Here are instructions to remove them and they work!
I noticed that the name "Conduit" was at the bottom of my browser page and I searched for that.
I came up with this blog – if you follow the instructions your browser will return to normal.
http://malwaretips.com/blogs/remove-conduit-apps-search-and-toolbar/

CAUTION: I did not download the suggested registry cleaner, my computer guru said he had never heard of it.
I did run the Malwarebytes scan which I already had installed on the computer.


July 16th, 2013 at 10:24 am

ITS A SCAM!!!!! Do not purchase – I paid $29.95 for the software & it does nothing but continue to scan and stop you using your computer.
To get it off:
Turn on your computer and immediately click on start, choose programs and then control panel
Choose remove programs & select Regproclean and uninstall

Make sure you do it as soon as you turn on the computer before the Regpro scan kicks in.


August 4th, 2013 at 5:12 pm

Let me join the chorus. This program screws up far more than it fixes. The only thing worse than the program is the company that provides support. After "cleaning" my machine. There were more things wrong than I could count. I called support…Im a little confused as to whom I was talking to, I think it was systweak.com, but I really couldnt understand them, after a couple hours they said the register was clean…maybe but my puter was really hosed and I had a pop-up from logmein.com that they had installed. Logmein.com is another POS. It didnt work for the "support team" they used another program. Meanwhile the Logmein.com pop-up, did what it does best Pop-up. Support told me that the registry was clean and they could get my computer working like new and keep it working for two years for $249.00. NO WAY. Their normal charge they explained was $60 an hour….But they would fix it as one time occurrence for $98.00. I relented…I need my computer for work. 24 hours later they hadnt figured out how to get rid of the logmein.com.pop-up, they had deleted my Chrome browser and I got error messages when I tried to re-load Chrome. Nearly 48 hours later they got rid of the logmein.com pop-up and I was able to re-load chrome. They were trying to load Explorer8 for some reason….They said they would fix that…"I told them not to bother….I will never try another Registry Cleaner program. I know that there are programs that work if you know whats safe to delete and whats not. If we were that smart we wouldnt be using these 29.95 programs.


August 11th, 2013 at 6:54 am

This company once you have paid does not remove your viruses and you are not given a registration key so that you can cancel as they promise a 30 day money back guarantee!!!!I have tried to cancel and remove and there is no way of contacting them in Inda!!!Beware i cannot now remove it???Any one who can help?please?


August 16th, 2013 at 12:05 am

I wish the ADer remove this product AD,I am serious about this unknown software so I google before download it or buy it,and then most of them are bad comment.
And,rather buy this software,go get ccleaner.


August 26th, 2013 at 12:02 am

I was able to uninstall it but have since bought a new computer. What worries me is, I am sure I read somewhere in REGClean Pro information that they will renew your account after the year without notice. So even though I have uninstalled it, it sounds like they will renew without warning or asking. Anyone know what to do about that.


September 28th, 2013 at 5:56 pm

Revo Uninstaller will uninstall the regcleanpro program…I just used it and it worked like a champ


October 9th, 2013 at 7:01 pm

when I tried to uninstall the regcleanro from my computer it would not show up on the control panel. It slowed my computer to where it would take 30 minutes to open. I finally called systweak @1 800 871-7918. After 1 hour on the phone he said the program had not loaded correctly so thats why it didnt show on the control panel. He finally removed it. Now my computer is working fine. That program had slowed my computer so that programs that normally take 20 minutes took 4 hours . It took 7 hours to update my TomTom GPS.


October 19th, 2013 at 12:59 pm

contre ma volonté systweak regclean pro résultat jai u la difficulté faire la recherche sur mon antivirus
résultat cheval de trois


November 3rd, 2013 at 2:00 pm

SIIIIIIIIIIIIIIIIIIII!!!!!!!!!!!!!!!!!!!!!! è UN VIRUS!!!!!!!!!!!!!!!!!!!!!!!!!!!!!! Miraccomando a me hanno fatto una truffa tremenda!!!!!!!!!!!!!!!!!!! Loro dicono che il tuo computer ha la memoria piena, ma non è veroooooooo!!!!!!!!!! NON ESISTE una cosa del genere!!!!!!!!!!!!!!!! E poi ti fanno anche pagare per avere "il pacchetto completo", se no non ti riparano "il danno". A me ha procurato un totale di 117 minacce-ovvero aker che attaccano il sistema!!! Lo puoi capire anche perchè il computer va più lento, FAI ATTENZIONE!!!! Io come rimedio a questi problemi uso SpyHunter 4 che è il più efficace anche se ci mette più tempo rispetto ad altri file. è solo una MESSA IN SCENA BELLA BUONA!!!!!!!!!!!!!!!! NON FIDATEVIIIII!!!


November 4th, 2013 at 6:51 pm

i have the software regcp and gues what i was enable to uninstall it and reinstall it why is evry1 so hatefull of this software it works for me but cant really remove the errors fully it says you must 1st register in order to fix errors am i missing the key cuz i may haveto get the box inorder to get the key off that the rest of regcp is a good software i here that lots of people just misused it in all the wrong ways


November 10th, 2013 at 11:40 am

to ilary,
cant you just learn english?


November 14th, 2013 at 6:01 pm

To John, Leave the Italian ilary alone. Here is the translation.

SIIIIIIIIIIIIIIIIIIII!!!!!!!! IS A VIRUS!!!!!!!!!! Miraccomando I have made a terrible scam!!!!!!! They say that your computer has the memory is full, but it is not veroooooooo!!!! THERE IS such a thing!!!!!! And then also make you pay for "the complete package", otherwise you do not repair the "damage". To me it has provided a total of 117 threats or-aker who attack the system! I can also understand why the computer goes slower, BE CAREFUL!! I as a remedy to these problems use SpyHunter 4, which is the most effective even if it takes longer than other file. its just a STAGED BEAUTIFUL GOOD!!!!!! NOT FIDATEVIIIII!


November 16th, 2013 at 4:56 am

I removed Remove RegClean Pro today with Advanced Uninstaller PRO without problem and its great and easy to use and can remove many programs its realy great


November 18th, 2013 at 5:46 pm

Hope this removes RegCleanpro from my puter


November 19th, 2013 at 10:06 am

I did what Dale suggested, install revo uninstaller. It works, removed it and all registry files from my desktop. Just read the directions as they pop up, not to delete anything you dont want to. And its free. My wife almost got scammed by this, she said she stooped when they wanted $350 dollars to correct a problem and I was left with these programs I couldnt remove through windows control panel.


November 30th, 2013 at 3:06 am

GO TO MY COMPUTER THEN GO TO DRIVE C ( YOUR HARD DISC ) THEN GO TO PROGRAM FILES THEN LOOK FOR REGCLEAN PRO CLICK UN-install then delete all file one by one . good luck


December 13th, 2013 at 2:09 pm

l do not need it cause l have one all reading; and l call dose peolp 86and there still but it back . can you get it out of my page


December 28th, 2013 at 2:30 pm

Please remove from my pc Reg proclean


January 1st, 2014 at 7:44 pm

we did not download or click this either and it messed up my moms computer also..i just now finally got it deleted from the computer … I started task manager ( ctrl-alt-delete ) then the process button and scrolled down untill i found it there and deleted it.. then i went into the control panel and uninstall and removed it there…it worked… hope this helps others…


January 26th, 2014 at 6:44 pm

Start
Computer
Local Disk
Programs (x86)
Scroll down to the regclean pro folder
Right click and choose delete
Exit back to your desktop.
Start
Control Panel
Add Remove Programs
Find Regclean Pro
Uninstall.
Click yes.
GOOD BYE.


February 7th, 2014 at 3:23 am

it works! thank you so muchhh.


February 26th, 2014 at 1:57 am

Thanks, it is working perfectly.


March 2nd, 2014 at 2:22 pm

Brilliant. Gone. Thanks


January 27th, 2014 at 7:44 pm

Guys if you Want to Uninstall this programe go to the control pannel and uninstall this programe from there
it will work


January 31st, 2014 at 2:49 am

Dont ever think of getting RegCleanPro, the trail version is as useless as tits on a bull and even harder to get rid of . Am going to try some of the removal programs that Ive been shown above here but if all fails Im going to have to reboot the mother board again


February 14th, 2014 at 6:16 pm

I have been running RegClean Pro for over 2 years with no adverse effects. I checked out Systweak and like the article above found that they are indeed a MS Partner but only in relation to thier software skills. The free version of RegCleanPro is a pain and could be considered adware with its annoying habit of popping up every now and then encouraging you to upgrade. In the end I upgraded and it has been fine with no annoying popups. I also ran a few comparisons with Norton, SuperAntiSpyware etc and noticed there was not many differences in "errors" reported by these compared to RegCleanPro.

Bottom LIne: I have no problems with it.


February 19th, 2014 at 11:58 pm

This program is a scam. I tried to download a completely different program that had absolutely nothing to do with RegClean Pro. Instead of the program that I authorized a download for (it was free, so they did not get my credit card), it installed about 6 or 7 other programs, including RegClean Pro. I was able to uninstall most of them, but this one would not uninstall. Every time I try to uninstall it, it just tries to get my to install another program. There is a button that says "No, I just want a clean uninstall" but if I click it, it just closes the uninstaller and leaves the program on my computer. I cant figure out how to get rid of it.

This program is useless, predatory and you should avoid it at all costs. So far it has not caused any problems with my computer other than it being there against my will, but I will keep trying to get rid of it without installing any other programs.


March 4th, 2014 at 7:32 pm

Its a Virus. Do not use it. It will crash your system. I am a computer tech. Contact Microsoft if you do not believe me.


December 2nd, 2014 at 7:47 pm

what is a virus, REVO ir REGCLEAN PRO?


March 24th, 2014 at 3:05 pm

I tried everything. i installed REVO Uninstaller after reading all the other posts praising it. Well, they were right! Its GONE foreve thaks to REVO and it was a free program. It works better than the Micosoft uninstall program. Thanks REVO!!!!


April 1st, 2014 at 11:29 am

Try "reset" of Internet Explorer …. open IE –> click Tools from Menu –> click "Internet Options" –> click "Advanced" –> close to the bottom there is a "reset" button click that button –> click "Apply" button at the very bottom –> Click OK button –> Go to START button of Windows and use "Restart" option to restate your session of windows. NOTE: Internet Explorer (IE) is integrated into your computers operating system and EACH user runs IE with the option to personalize it with FAVORITES, TRACKING COOKIES, etc. Before I thought of this, I created a NEW USER and had fewer problems with RegClean Pro. But resetting IE seems to be the best solution for me. Let me know what you think of this process. Have a Good Day!


May 5th, 2014 at 2:04 pm

RegCleanPro one of the most malicious predatory programs I have ever come across I went to download a JAVA update,I hit download and RegCleanPro took over downloaded some 17 programs and two Trojans.I called the company after almost 5 hrs I still had the problem plus they didnt get rid of all the problems plus they billed me $198.00 for tech support this is a phone scam, Systweak .com is a joke they created this problem.I called the bank to dispute this fraud..I went to REVO uninstall,then microsoft corp and downloaded safety scanner,then to Microsoft support and downloaded FixIt. So far so good


July 30th, 2014 at 10:22 am

This is the first time this programs appeared on my screen, basically. I havent even allowed the scan to finalize (I click off of it before it even finishes), which btw, it does a scan EVERY TIME I TURN ON THE COMPUTER- AS IF ITS SET TO DO THAT BUT IT ISNT) and I see pop ups, ads, and virus-like stuff. It is annoying the hell out of me and I hope people do something about it. Websites open up for no reason, too. VIRUS!


October 30th, 2014 at 8:01 pm

It is a virus. It will destroy your computer unless you get rid of it !


July 30th, 2014 at 10:27 am

Had this RegCleanPro problem for about a week.


July 30th, 2014 at 10:46 am

One more bit of info, if I try to run a scan on the free trial or w/e (by this computers Microsoft Forefront EndPoint Protection 2010) at Start, itr will take like almost less than a second to say "No threats were detected".


August 29th, 2014 at 3:34 pm

Have read all posts and mostly agree.. But dont go near Malwarebytes either. (Or Vipre.) A lot of people swear by it and it does look kike a gold standard. Fact is, you couldnt be more deceived. Cleverbridge and Systweak are co-conspirators who aid and abet each other! The two setups may well be controlled by one and the same Mafioso mastermind.


October 5th, 2014 at 6:07 am

Dear Sir/Madam, Please help me removing clean registry programme from my computer.


October 18th, 2014 at 11:10 pm

Ive tried these steps many times over and it does not work! Everytime I do this I get a pop up that says Before you uninstall Regclean Pro, Get support Dock and PC cleaner Absolutely FREE! And on the bottom left in small letters No I want Full uninstall, and then on the bottom right in green it says, Uninstall and get Support Dock Free! I only pressed the full uninstall button the left…AND NOTHING HAPPENS…ITS STILL THERE. I have tried this over and over for months now. Any other advice? Anybody else reading this have any advice


November 9th, 2014 at 5:20 am

IKR my mother just recently bought a computer and it was built in for whatever reason and in the uninstall programs, it will not show up


December 13th, 2014 at 5:45 am

I have tried all of the methods listed about (Scanned using AVG, malwarebytes, Dr Web CureIT, and tried REVO) nothing works. The program no longer appears in my list of programs in the control panel, however everytime i restart my computer RegClean Pro will pop up.
Any other reccommendations? I"m using Windows 8.1


December 17th, 2014 at 1:01 am

Last week I saw it on the computer of my friend. I uninstalled it but after restarting windows, all Windows visual effects have been disabled (like on high performance mode in Computer properties) and I cant enabled them anymore, but worse than this is all the buttons have become invisible. The texts are horrible.
It seems after unistalling it activates a virus that do this.
I reinstalled Registry Pro all came back to normal, but I should tolerate its lie report.

Do you have any idea how to remove it?


December 19th, 2014 at 3:07 pm

This article is full of it! Of course they are affiliated, read the tiny disclosure at the bottom of the article. Reg Pro Cleaner is a virus, I uninstalled after it crashed my system but still have bits of it that pop up in spite of having cleaned my system. This are scammers,including anyone who would support such product.


January 12th, 2015 at 4:54 pm

A version of the program popped up on my system this weekend and I am having hell getting it off. It even uninstalled the anti-virus program I had on my computer. And I am still trying to figure out how that happen. If this program is not so bad then why cant it be uninstalled by those who do not want it.


January 14th, 2015 at 8:43 pm

I am just now having problems with Reg Clean Pro. It came out of nowhere (I may have installed it without any knowledge of it), and just brought problems. I am currently using Windows Uninstaller to uninstall the program, but the uninstall isnt running. It pulls up the uninstall page, but there is no progress in the uninstall itself.

Does REVO Uninstall actually work?? Is it a virus?


February 6th, 2015 at 9:17 pm

revo uninstaler is a great program for uninstalling programs that otherwise wont uninstal in windows.


January 18th, 2015 at 5:04 pm

Spent $40 on Spyhunter 4 and still did not uninstall Reg Clean Pro. Still have the problem. Bad advice and adding to what I have spent to get this virus/malware crap off my machine.


February 6th, 2015 at 6:24 pm

I have reg clean pro popping up when I sign in and cannot uninstall as I do not see it on my list of programs to uninstall…this drives me crazy.what can I do???


May 15th, 2015 at 9:14 pm

what ive tried. Malware bytes, rouge killer, revo uinstaller, super anti spyware, all have failed.

i have moved to combo fix and am currently awaiting results.


May 15th, 2015 at 11:11 pm

Combo fix did not work. I am doing a re image on the machine.


May 15th, 2015 at 5:50 am

whats i can do to delete reg cleane up and advanced system protector