Remove ThinkPoint (Updated Guide)
Why ThinkPoint is not a anti-spyware you should trust?
ThinkPoint virus is a rogue anti-spyware program that comes bundled with the fake Microsoft Security Essentials Alert. It is promoted through e-mail phishing and P2P (peer-to-peer) networks and often comes along with Trojans and virus exploit kits. Once installed, the rogue program will prompt you to restart your computer because of the supposedly found malware on your computer. After a restart, ThinkPoint will scan your computer for malware without your permission. After the fake scan, it will claim that your computer is infected with all sort of viruses but in order to remove all the infections you need to buy certain modules that are not included in a trial version of ThinkPoint. You will likely to see messages like these:
Microsoft Security Essentials detected potential threats that might compromise your privacy or damage your computer. Your access to these items may be suspended until you take action.
Unable to remove threat. Click 'Scan online' to remove this threat
In reality, thought, these notification are fake, and the program only pretends to scan your computer. Even if you try scanning your computer online, it remove any infections from your computer because they are simply non-existent. If you do not purchase the full version of the program, it may start dropping threatening messages that the computer is supposedly bombarded with viruses trying to get in. However, you should not be deceived because it is merely a scareware program, using social engineering techniques to trick people into bringing easy profit for this virus creators. You should take action as soon as you notice this program or its threatening notifications on your device. ThinkPoint removal instructions provided at the end of this article. However, it is always advisable scanning your computer with a reliable antivirus tool, such as Reimage Reimage Cleaner Intego to remove the rogue program automatically.
While running, ThinkPoint will block legit programs on your computer. It will block task manager, registry editor and other tools too claiming that these tools were block due the security reasons and might be infected with malicious code. The main process of ThinkPoint is usually called hotfix.exe or thinkpoint.exe. You will have to end this process first and then either remove all the other malicious files related to ThinkPoint manually or use an automatic removal tool. One possible way is to reboot your computer in safe mode with networking and download an automatic removal tool and run a quick system scan or manually delete ThinkPoint files listed below. It seems like ThinkPoint allows you to run only Internet Explorer, but in some cases it might allow you to run other web browsers as well.
ThinkPoint removal guide:
As you can see, ThinkPoint is nothing more but a scam. It reports fake infections and prompts to pay for a full version of the program to remove them. The problems that the reported infection do not even exist. Also, this rogue program significantly diminishes the computer's performance, so you may also start encountering different system errors too. If you have already bought this rogue program than you should contact your credit card company and dispute the charges. Finally, please use an automatic removal tool given below to remove ThinkPoint from your computer or delete its files manually.
Before you can remove this infection you have to recover Internet connection if you have problems with that and end all processes associated with ThinkPoint malware. Otherwise you will not be able to run any anti-spyware/virus software.
Disable proxy server for LAN in Internet Explorer or use another browser, for example Firefox or Opera.
How to disable Proxy server for LAN in Internet Explorer:
1. Open Internet Explorer. Click on the Tools menu and then select Internet Options.
2. In the the Internet Options window click on the Connections tab. Then click on the LAN settings button.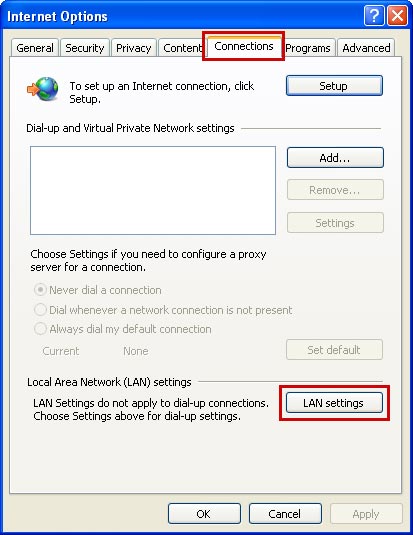 3. Now you will see Local Area Network (LAN) settings window. Uncheck the checkbox labeled Use a proxy server for your LAN under the Proxy Server section and press OK.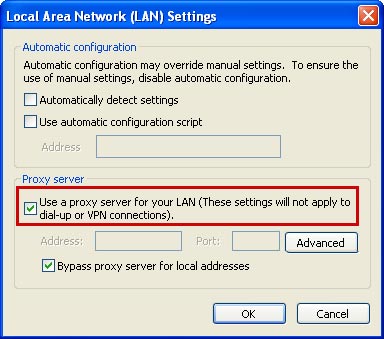 4. Now download renamed Process Explorer (explorer.com) and terminate ThinkPoint processes. Should be hotfix.exe and thinkpoint.exe.
NOTE: Do not reboot your computer after using Process Explorer and terminating ThinkPoint processes.
Alternative Software
Different software has a different purpose. If you didn't succeed in fixing corrupted files with Reimage, try running SpyHunter 5.
Alternative Software
Different software has a different purpose. If you didn't succeed in fixing corrupted files with Intego, try running Combo Cleaner.
About the author

October 20th, 2010 at 3:10 pm

Thanks for the clear concise removal instruction. Worked like a charm


October 20th, 2010 at 11:10 pm

No matter how I restart my computer, I cannot get past Thinkpoint. Any suggestions?


October 21st, 2010 at 5:10 am

Thanks a lot for the good structured help; it works fine. To start the task manager, you have to press quickly alt-ctrl-del, before the full ThinkPoint window appears. From withinTskmgr you can run the remedies listed.


October 23rd, 2010 at 2:10 am

Really…this is a high quality spyware…it infected my brother's computer…

trying to remove it…. well, thanks for the info. 🙂


October 23rd, 2010 at 8:10 am

Worked for me! Thanks! Safe mode with networking.. then control alt delete to task manager.. delete hotfix.exe .. the go to file in task manager and RUN NEW ..regedit .. delete HKEY listed above.. then you can SEARCH under ALL FILES for hotfix and delete them all..


October 23rd, 2010 at 11:10 am

it will not let me open my task manager…


October 23rd, 2010 at 11:10 am

WORKED GREAT GOT RID OF THE ISSUE


October 23rd, 2010 at 12:10 pm

I did the Safe mode with networking -> stop hotfix*32.exe using Task Manager -> Run System Restore thing. Looks like it worked. 🙂


October 23rd, 2010 at 10:10 pm

I can't get into the system. How do I get to safe mode with networking?


October 24th, 2010 at 3:10 am

Taskmanager does not work, what to do now?


October 24th, 2010 at 4:10 am

10x! works as stated!


October 24th, 2010 at 12:10 pm

Another tip for windows 7 users, and possibly others…you can't get to your desktop from the Thinkpoint screen, just go to task manager (Alt, Ctrl, Del) then go to the top of the task manager window, hit "File", then select New Task(Run) and type in "explorer.exe" Your desktop should pop right up!


October 24th, 2010 at 8:10 pm

thank you! this worked perfectly for me.


October 24th, 2010 at 10:10 pm

I meant to write documents and settings


October 24th, 2010 at 10:10 pm

Help I can't access my disconnects abs settings and I cannot access the internet either! Using phone now please help


October 25th, 2010 at 2:10 am

Thank you so much.I have removed Think Point spyware with your help.


October 25th, 2010 at 2:10 am

Thank you so much.I have removed Think Point spyware with your help.Great work keep it up……..


October 25th, 2010 at 12:10 pm

thinkpoint has infected my laptop. i can not access the internet, or run task manager. someone please help me remove it from my computer.
thanks,Brian


October 25th, 2010 at 4:10 pm

me cago en todos tus muertos,,si te tubiera aqui a mi lado te corto las manos,,,,hijodeput..si no teneis nada que hacer,,,rebanarse el cuello,,antes de que se os adelante,,cobrones,,,heso no se ace,,malditos hijosdeputa


October 25th, 2010 at 10:10 pm

for win7 users
the application "hotfix.exe" is found in

computer > local disk(c:) > users > (then chose the main addministrators user account)
> App data > Roaming > (then sroll down its probably at the bottom of the list)


October 27th, 2010 at 11:10 am

Thanks for the tip Think Point logo is gone now, but I can not get onto Internet for a long time . The internet is not responding. Am i missing something? Any idea on how to fix it?


October 28th, 2010 at 7:10 am

Thanks a lot for this information. I save my laptop from this scrammer spyware.
By the way, avast don't detect this troyan.


October 29th, 2010 at 7:10 pm

thank you sooooooooooooooo much


November 3rd, 2010 at 6:11 am

I was lucky, I had a system restore point 2 days ago. I simply just did
a system restore and it seems to have completely solved the problem.


November 3rd, 2010 at 1:11 pm

I have problem with thinkpoint want to detract from the pc that does not leave me to use the Internet …


November 5th, 2010 at 1:11 pm

i have a problem with thinkpoint and i can´t leave this


November 7th, 2010 at 10:11 am

Just to let people kniw that Avira and Spybot have both failed to detect this nasty, time consuming, infuriating virus!!! I am just downloading Spyware doctor now from a USB stick – will let you all know how it goes….


November 7th, 2010 at 1:11 pm

Spyware doctor need a key/license . Anyone can help me?


November 8th, 2010 at 8:11 am

Comment #17. Thanks!


November 20th, 2010 at 8:11 pm

I can't find a way to remove thinkpoint. And its asking me credit card info.won't let me go online to download anything to remove it


November 22nd, 2010 at 12:11 pm

I can't open internet because thinking point keeps comeing on


November 24th, 2010 at 6:11 am

I can't go anywhere! Using Windows 7. Clicking the popup which says to run unprotected will do away only to come back when I try to open anything. Help!


November 24th, 2010 at 7:11 am

I did a system restore and it has taken care of the problem at least for now. I have Win 7. Keeping my fingers crossed.


November 24th, 2010 at 5:11 pm

I am using my work computer to send this. On my home computer I cannot get into anything when I try to remove processes – it jiust keeps rebooting. What should I do?


November 25th, 2010 at 2:11 pm

I am using my husbands computer. I receive this thinkPoint virus this morning. I can't get into my internet, or run task manager. Can someone help me figure out how to get in my computer to get rid of this virus?


November 26th, 2010 at 1:11 pm

Thank you for posting the manual removal instructions. Somehow I got Task Manager running (quick with the ctrl-alt-del on reboot, I think) and was able to kill hotfix.exe. After that I refreshed the screen and I was able to follow manual instructions.


November 29th, 2010 at 8:11 am

Your instruction to remove Thinkpoint cannot be used because Thinkpoint does not allow me to open Internet Explorer to begin with. How can I open Internet Explorer?


November 29th, 2010 at 6:11 pm

just ran free AVG and it got it. Malwarebytes picked it up also. This kinda of problem is why I run Linux on my systems but this makes me money. Thanks for the info.


November 30th, 2010 at 3:11 pm

This was very simple and good way to remove Thinkpoint. Thanks


December 4th, 2010 at 2:12 am

Hey i used Spybot and it worked on my system. It was free and i used it on another machine and it worked there too.


December 5th, 2010 at 11:12 pm

help! can't use the internet and won't let me use the taksmanager


December 13th, 2010 at 1:12 pm

i cant go on the internet tho, it wont let me -.-


December 15th, 2010 at 8:12 am

i can't get on internet task manager or system restore how do i get rid of think point


September 20th, 2012 at 3:13 pm

i can get into windows please help