Windows Antivirus Rampart. How to remove? (Uninstall guide)
Windows Antivirus Rampart is a fake antivirus program, a part of FakeVimes family of rogue programs. Just like its previous versions, Windows Ultimate Security Patch, Windows Guard Tools and others, it displays fake security notifications, disturbs proper functioning of your legitimate programs, uses fake scanners and does more things that damages your system. It enters computer systems imitating some updates, like Adobe Acrobat, Java or others. It is basically impossible to know when this badware is gets access to your machine and to stop it at the stage of infiltration.
Once there, Windows Antivirus Rampart is configured to start automatically with each system reboot. The program pretends to look for infections on your system by running its fake scanner. In fact this badware cannot detect anything so by the end of this scan imitation, the program generates a fake list of infections and tells to remove those files by getting a licensed version of Windows Antivirus Rampart. That is the way the comes comes for cyber criminals. Unfortunately, paying for this type of programs does no good to us, ordinary computer users. You will simply lose your money and stay with the same problems on your system that you had. This rogue will continue running fake scans and disturb you all possible ways.
One of the most annoying things that rogue programs do is displaying tons of different security notifications providing completely false informations. Some of the read:
Error
Keylogger activity detected. System information security is at risk.
It is recommended to activate protection and run a full system scan.
Error
Software without a digital signature detected.
Your system files are at risk. We strongly advise you to activate your protection.
As you see they warn that your system is at risk because of some security related issues. In fact these alerts are completely fake and they are only used to make you believe that your system is infected and pay for Windows Antivirus Rampart. Do not trust this badware under any circumstances. Use a reputable antispyware program to remove Windows Antivirus Rampart as soon as you detect it on your machine. Do not hesitate to do that straight after detecting this badware on your machine. As this malware disables your antivirus, make sure that your antivirus starts normally when you finalize cleaning your PC. The most effective way to do so is using anti-malware programs like Reimage.
The latest parasite names used by FakeVimes:
[newest]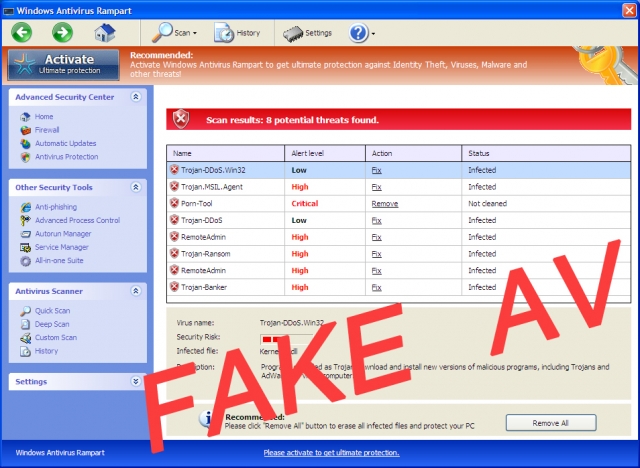 Windows Antivirus Rampart manual removal:
Kill processes:
Protector-[random].exe
Delete registry values:
HKEY_LOCAL_MACHINESOFTWAREMicrosoftWindows NTCurrentVersionImage File Execution Optionsafwserv.exe "Debugger" = 'svchost.exe'
HKEY_LOCAL_MACHINESOFTWAREMicrosoftWindows NTCurrentVersionImage File Execution Optionsavastsvc.exe "Debugger" = 'svchost.exe'
HKEY_LOCAL_MACHINESOFTWAREMicrosoftWindows NTCurrentVersionImage File Execution Optionsavastui.exe "Debugger" = 'svchost.exe'
HKEY_LOCAL_MACHINESOFTWAREMicrosoftWindows NTCurrentVersionImage File Execution Optionsegui.exe "Debugger" = 'svchost.exe'
HKEY_LOCAL_MACHINESOFTWAREMicrosoftWindows NTCurrentVersionImage File Execution Optionsekrn.exe "Debugger" = 'svchost.exe'
HKEY_LOCAL_MACHINESOFTWAREMicrosoftWindows NTCurrentVersionImage File Execution Optionsmsascui.exe "Debugger" = 'svchost.exe'
HKEY_LOCAL_MACHINESOFTWAREMicrosoftWindows NTCurrentVersionImage File Execution Optionsmsmpeng.exe "Debugger" = 'svchost.exe'
HKEY_LOCAL_MACHINESOFTWAREMicrosoftWindows NTCurrentVersionImage File Execution Optionsmsseces.exe "Debugger" = 'svchost.exe'
HKEY_LOCAL_MACHINESOFTWAREMicrosoftWindows NTCurrentVersionSystemRestore "DisableSR " = '1'
Delete files:
Protector-[random].exe
About the author