XP Internet Security. How to remove? (Uninstall guide)
XP Internet Security is a bogus security software that at first glance might look like a legitimate anti-spyware program but in reality it's just another scam trying to steal money from inexperienced computer users. Once installed and active, it will be automatically configured to scan your computer for malware every time Windows starts. Of course, this fake program only imitates a system scan and after all reports false computer threats that cannot be removed with a trial version of the program so you will be prompted to pay for a full version of of the bogus software. XP Internet Security is a total scam, don't buy it and instead remove this infection from your computer upon detection. And by the way, if you have already purchased it, contact your credit card company immediately and dispute the charges if it's not too late.
While XP Internet Security is running you will notice that your computer will begin to run slower. This is because the program is always running in the background while using your computer's resources. XPInternetSecurity will also display many fake security alerts and impersonate Windows Security Center to make the whole scam look more realistic and to finally convince you into believing that your computer is badly infected. Furthermore, the rogue program will block anti-virus and anti-spyware software and hijack Internet Explorer. This hijacking consists of XPInternet Security randomly displaying a message into Internet Explorer stating that the page you are visiting has been blocked due to malware activity or other security threat. The removal guide below will walk you through removing the XP Internet Security virus and any associated malware that may have been installed with it.
XPInternetSecurity removal instructions:
1. Click Start->Run (or WinKey+R). Input: "command". Press Enter or click OK.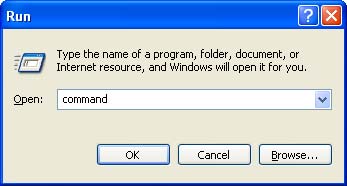 2. Type "notepad" as shown in the image below and press Enter. Notepad will open.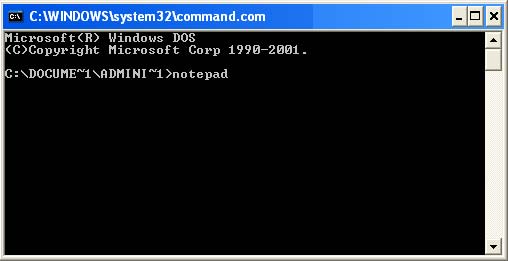 3. Copy and past the following text into Notepad:
Windows Registry Editor Version 5.00
[-HKEY_CURRENT_USER\Software\Classes\.exe\shell\open\command]
[-HKEY_CURRENT_USER\Software\Classes\secfile\shell\open\command]
[-HKEY_CLASSES_ROOT\.exe\shell\open\command]
[HKEY_CLASSES_ROOT\.exe]
@="exefile"
"Content Type"="application/x-msdownload"
[-HKEY_CLASSES_ROOT\secfile]
4. Save file as "exefix.reg" (without quotation-marks) to your Desktop.
NOTE: choose Save as type: All files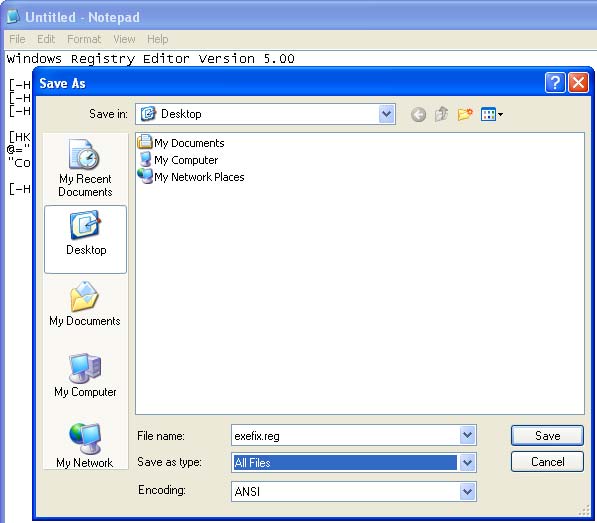 5. Double-click to open exefix.reg. Click "Yes" for Registry Editor prompt window.
6. Download STOPzilla or an automatic removal tool below. Update STOPzilla and run a full system scan.
If you can't complete the above steps then please use another PC to download an automatic removal tool and exefix.reg (Right Click (Save Target As)) to download file. Copy these files to USB flash drive or any other external media and transfer them to infected computer. Launch exefix.reg file first and then install STOPzilla.
Alternate Software
We have tested Plumbytes Anti-Malware's efficiency in removing XP Internet Security (2012-01-01)
We have tested Malwarebytes's efficiency in removing XP Internet Security (2012-01-01)
We have tested Hitman Pro's efficiency in removing XP Internet Security (2012-01-01)
We have tested Malwarebytes's efficiency in removing XP Internet Security (2012-01-01)
XP Internet Security manual removal:
Kill processes:
av.exe
Delete files:
%UserProfile%\Local Settings\Application Data\av.exe
%UserProfile%\Local Settings\Application Data\WRblt8464P
About the author