What is 1234.exe? Should I remove it?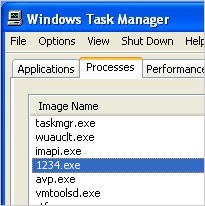 1234.exe is a malicious executable file, which can easily reveal the fact that your PC is infected. According to one part of security experts, this process is related to Trojan.FakeSysdef. However, the other part declares that it is installed and used by WinPC Defender virus. In fact, no matter what virus uses it, the most important task of 1234.exe is to start a parasite or launch some of its components. This file may also cause privacy related issues and install more viruses on the system, so if you noticed this process silently working in your system's background, make sure you remove 1234.exe from it.
1234.exe can be installed on the system in a bundle with previously mentioned viruses. However, it may also work on its own. It can be used for performing such harmful actions as recording keyboard's keystrokes and stealing personal user's information. In addition to that, it may be the reason why you see annoying pop-up ads, suffering from redirects and similar issues.
Please, delete 1234.exe file as soon as you find it running on your computer. In order to terminate it, we recommend using RegCure Pro. After that, you should scan a system with Reimage and make sure that your PC is fixed.
verdict - status of the file:
dangerous file
Advice:
If your computer seems sluggish, or you are suffering from unwanted advertisements and redirects to unknown websites, we highly recommend you to scan it with reputable anti-spyware program. Do some FREE scan tests and check the system for unwanted applications that might be responsible for these problems.
About the author