What is antimalware.exe? Should I remove it?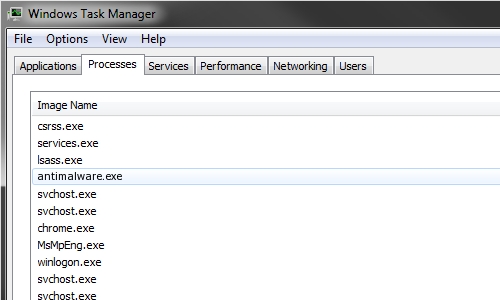 antimalware.exe is a fraudulent executable file, which belongs to AntiMalware virus. Once this malicious process is installed on the system, it can be used for launching certain components of this rogue anti-spyware or running a destructive payload. Even if the antimalware.exe file does nothing suspicious, its presence indicates that your computer is infected with a particular threat. Please, do NOT let this files and related malware stay on your machine because there are lots of dangerous activities that can be initiated by it. In most of the cases, AntiMalware virus causes continuous pop-up ads claiming that computer is dangerously infected. After that, it starts offering to purchase the licensed its version for their removal. Of course, this technique is used only for swindling people's money.
If you have just discovered antimalware.exe file on your computer, you should consider using a reputable anti-spyware, which will get rid of this file without any delay. Please, avoid manual removal because you may remove wrong files and lead your PC to serious damage. If you want to remove associated parasites, we highly recommend using Reimage.
Attention! In some cases the presence of antimalware.exe does not mean that your system is infected. This file may actually belong to a fully legitimate application and therefore must stay intact. If you are in doubt, please scan the antimalware.exe file before eliminating it. For that we recommend using RegCure Pro.
verdict - status of the file:
dangerous file
Advice:
If your computer seems sluggish, or you are suffering from unwanted advertisements and redirects to unknown websites, we highly recommend you to scan it with reputable anti-spyware program. Do some FREE scan tests and check the system for unwanted applications that might be responsible for these problems.
About the author