What is dumprep.exe? Should I remove it?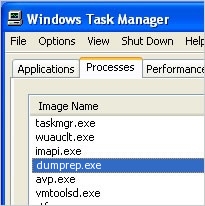 dumprep.exe is a legitimate and trustworthy file from Microsoft Corporation, which is used in Windows Error Dump Reporting Tool. This process helps to send messages to Microsoft about errors/crashes on the system. Ever seen a "Send Error Report" message when your Windows Explorer or other Windows program crashed? dumprep.exe file helps your system to configurate and send this error directly to Windows Help Center. Although this file operates in a Windows background, it is not an essential file. Therefore, you can terminate it via Windows Task Manager without any serious consequences that can influence functionality of Windows. Usually this file is operating from C:\Windows\System32 folder and takes about 9,000 – 35,000 bytes of disc space.
DANGER!
Sometimes hackers are naming their viruses, trojans, malwares, and other malicious creations same as a genuine process, which is operated by Windows. Despite that dumprep.exe is a legitimate Windows process, this file name could be used for a wrong reason, such as hiding viruses and other cyber threats. You should carefully check, whether dumprep.exe file is running in its normal operational folder (C:\Windows\System32). If this file is operating somewhere else, you should be worried. Scan your computer with reliable anti-spyware tool and make sure that your system is cleaned from malicious intruders RegCure Pro.
verdict - status of the file:
diagnosis required
Advice:
If your computer seems sluggish, or you are suffering from unwanted advertisements and redirects to unknown websites, we highly recommend you to scan it with reputable anti-spyware program. Do some FREE scan tests and check the system for unwanted applications that might be responsible for these problems.
About the author
Removal guides in other languages