What is PIA_NW.exe? Should I remove it?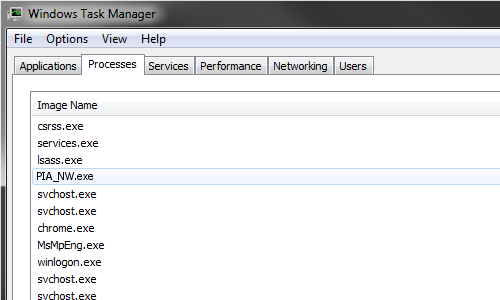 PIA_NW.exe is a legitimate file that is related to VPN services
PIA_NW.exe is a legitimate file that belongs to Private Internet Access v76, Private Internet Access v77 or Private Internet Access v79 applications. Alternatively known as nwjs, this process does not pose any danger to the Windows operating system. Typically, you can locate the file running in the Task Manager. If you have Private Internet Access installed, the process will renew at every startup. Otherwise, try determining the relation of the file with a program or service and make sure that it is not related to malware. There are numerous viruses that use the names of legitimate files to hide on the system. 
| | |
| --- | --- |
| Name | PIA_NW.exe  |
| Type | Executable file |
| related to | Private Internet Access by The NWJS Community |
| Dangers | Can be misused by malware to hide its presence on the system  |
| Distribution | It is a program file that has to be installed manually |
| Elimination |  Use Reimage to make sure that PIA_NW.exe is not malicious |
To doublecheck this executable, open the Task Manager, right-click on the PIA_NW.exe and choose "Open file location." If it is not located in system files or program related folders, it might be unsafe. Finally, if the file is draining CPU resources, inspect your browser extensions as well as system apps. Any suspicious app, tools or extensions might contain malicious codes or spread malware in your system. These files can be used by malicious actors why disguise malware under the name of a known file. 
The executable has also been related to some errors
There are a few errors that might be displayed on your screen by the PIA_NW.exe itself:
pia_nw.exe has encountered a problem and needs to close. We are sorry for the inconvenience.
End Program – pia_nw.exe. This program is not responding.
pia_nw.exe – Application Error. The application failed to initialize properly (0xXXXXXXXX). Click OK to terminate the application.
pia_nw.exe – Application Error. The application failed to initialize properly (0xXXXXXXXX). Click OK to terminate the application.
However, the file is not crucial to Windows system operation, so you might want to remove PIA_NW.exe. Especially, if this is affecting some parts of your system. Use Reimage and perform a full system scan for the determination of a purpose for this file.
People often immediately want to remove PIA_NW.exe when they find it working in the background. But this file might be safe, and termination is not needed. If you find that this is what causes issues try updating the program, device, drivers related to this file and see what that does. Only then treat it like a parasite with anti-malware tools. 
Ways used by malicious files to get into the system
You might think that communicating via email is one of the safest ways but not paying attention can often cause intruders on your device. Unwanted programs and malware spread via commercial content filled letters. Those letters can also have attachments that are not related to the content at all. This should already bring awareness to you. 
If you find that attachment is an ordinary document file, but it is added to a letter with offer or sale message from a legitimate-looking company, do not get tricked and delete the letter immediately. You should get rid of them all before even opening because spam email box contains letters that are automatically categorized as commercial content.
Eliminate PIA_NW.exe if it is causing issues on your PC
To remove PIA_NW.exe, you should use something more reliable than just manual search for the file and related programs. This type of files can be disguised as malware and infect the system with more malicious programs as trojans and ransomware. It also can have more additional pieces which cause those issues on your PC.
If the program or service is unknown to you, scan the system with malware elimination tool. If you find that this file causes the most of the issues and trojan or other malware is also on your PC, related to the file. An anti-virus or malware elimination tool such as Reimage or Malwarebytes, Plumbytes Anti-MalwareNorton Internet Security will help you delete it and finish PIA_NW.exe removal.
verdict - status of the file:
diagnosis required
Advice:
If your computer seems sluggish, or you are suffering from unwanted advertisements and redirects to unknown websites, we highly recommend you to scan it with reputable anti-spyware program. Do some FREE scan tests and check the system for unwanted applications that might be responsible for these problems.
About the author