What is SENTRY.exe? Should I remove it?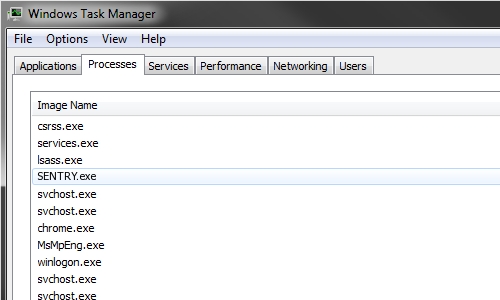 SENTRY.exe is a malicious executable file which seeks to help for malware creators implement their malicious tasks. The primary purpose of this executable files is to launch related malware or start some part of its components. According to PC security experts, SENTRY.exe file is related to IPInsight virus and other malwares. As soon as IPInsight is started, it begins causing annoying pop-up advertisements, shows banner ads, in-text links and similar content. Nevertheless, it can also start tracking its victim and collect information about him/her, so you shouldn't waste your time after discovering SENTRY.exe on your computer. For eliminating it, you should use Reimage.
Beware that SENTRY.exe is a significant part of a dangerous threat, but it can also work on its own. After hiding itself deep inside the system, it can start tracking you and can easily collect various information. Besides, it can also connect itself to the Internet and download other potentially unwanted programs and malwares to the system. That's why you must delete the SENTRY.exe file immediately after detection. Otherwise, the parasite will continue its privacy violations. In order to avoid difficulties that may appear while trying to remove this file, you should consider using an anti-spyware program. We recommend selecting Reimage.
Attention! Sometimes a presence of SENTRY.exe does not indicate that your computer is infected. It can also be an essential system file or a file installed by harmless legitimate software. Although such cases are quite rare, you should thoroughly examine SENTRY.exe before deleting it from the system.
verdict - status of the file:
dangerous file
Advice:
If your computer seems sluggish, or you are suffering from unwanted advertisements and redirects to unknown websites, we highly recommend you to scan it with reputable anti-spyware program. Do some FREE scan tests and check the system for unwanted applications that might be responsible for these problems.
About the author