What is spoolsv.exe? Should I remove it?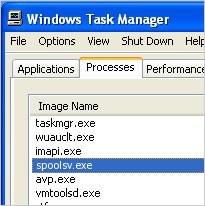 spoolsv.exe is a legitimate file, which is mostly described as Spooler SubSystem App or Windows Print Spooler Service. This process is started as soon as you reboot your computer and used for handling printing and fax jobs, such as transferring data in the buffer or queuing printing tasks. It is possible to end this process with the Task Manager, but we don't recommend that until you stop using your printer. Spoolsv.exe is located in C:WINDOWSSYSTEM32 folder and it runs in the background of the system until you shut down your computer.
DANGER!
There are many legitimate file names that have been involved to malicious activities. This means that the presence of spoolsv.exe file may not necessarily mean that your computer is safe. According to security experts, this file has already been related to Findwhatever, IamBigBrother and other viruses/potentially unwanted programs. Please, be very careful with such files and, as soon as you notice something suspicious, check the file with RegCure Pro.
verdict - status of the file:
diagnosis required
Advice:
If your computer seems sluggish, or you are suffering from unwanted advertisements and redirects to unknown websites, we highly recommend you to scan it with reputable anti-spyware program. Do some FREE scan tests and check the system for unwanted applications that might be responsible for these problems.
About the author