What is taskeng.exe? Should I remove it?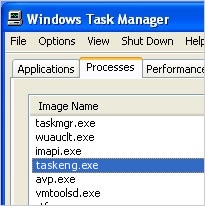 taskeng.exe is a legitimate process from Microsoft, which is also known as the Task Scheduler Engine. This file can be found on Windows Vista and Windows 7 OS and is responsible for launching certain processes at a certain time. taskeng.exe is typically located in C:\Windows\System32 folder and takes from 166,400 bytes to 169,472 bytes of PC's memory. If you noticed it running in your Task Manager, you should check the location of this file. If it's not the folder C:\Windows\System32, you should be worried. If that is the case, continue reading..
DANGER!
If taskeng.exe has been slowing your computer down or initiating similar issues on it, you should check the trustworthiness of this file. We say so because any malware can be named anything and scammers may have used the name of taskeng.exe for hiding their own viruses and preventing their removal. In order to make sure that this file is not related to some virus, spyware, trojan or worm, check it with RegCure Pro.
verdict - status of the file:
diagnosis required
Advice:
If your computer seems sluggish, or you are suffering from unwanted advertisements and redirects to unknown websites, we highly recommend you to scan it with reputable anti-spyware program. Do some FREE scan tests and check the system for unwanted applications that might be responsible for these problems.
About the author