What is winzip quick pick.exe? Should I remove it?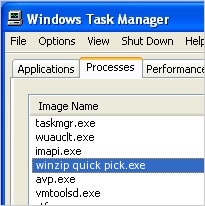 winzip quick pick.exe is a legitimate executable, which is also known as WinZip Quick Pick. It is added to the system after downloading WinZip version 8.1 and used for the instant access to WinZip and Zip files. No matter that it is not an essential system's file, you shouldn't terminate it. Otherwise, you may have problems with WinZip functionality.
DANGER!
There are lots of files that have been involved to malicious activity. In most of the cases, it is done for hiding viruses and preventing their elimination. When malicious winzip quick pick.exe version is installed on the system, it is mostly used for the parasite's payload. In this case, this file acts as a significant part of a dangerous threat, so you should NEVER leave it on your computer! For examining winzip quick pick.exe, we recommend you using RegCure Pro. If this file is reported as malicious, you should get rid of it ASAP.
verdict - status of the file:
diagnosis required
Advice:
If your computer seems sluggish, or you are suffering from unwanted advertisements and redirects to unknown websites, we highly recommend you to scan it with reputable anti-spyware program. Do some FREE scan tests and check the system for unwanted applications that might be responsible for these problems.
About the author