Alpha Antivirus. How to remove? (Uninstall guide)
Alpha Antivirus is a misleading anti-virus program that deliberately displays fake security alerts and reports false system security threats to trick you into thinking your computer is infected with spyware, adware, Trojans or other malicious software. The graphical user interface of this bogus application is almost identical to widely spread rogue's anti-spyware application called Personal Antivirus. When the program is installed it will list a variety of infections and prompt you to pay for a full version of the program to remove infections which do not even exist. You shouldn't purchase this program. We strongly recommend you to uninstall Alpha Antivirus from your computer upon detection.
Alpha Antivirus is installed through the use of fake online anti-spyware scanners and Trojan viruses. Trojans, usually FakeAV, display fake security alerts and notifications stating that your PC is infected or under attack by an Internet virus. FakeAV variants may also download additional malware. In this case is also installs a password stealer on the compromised computer. Once active, AlphaAntivirus will be automatically configured to imitate system scan and display bogus results each time you log on into Windows. As we have already mentioned, the scan results are fake, you may safely ignore them. The main goal of this infection is to trick you into purchasing totally useless software.
Furthermore, Alpha Antivirus will block anti-virus programs and security related websites to protect itself from being deleted. It may disable certain Windows tools and options too, for example Task Manager, Registry Editor and etc. The program will also impersonate Windows Security Center and state that you must purchase AlphaAntivirus to ensure full system protection. As you can see, this program is nothing more but a scam. Please use the removal guide below to remove Alpha Antivirus from your computer manually for free.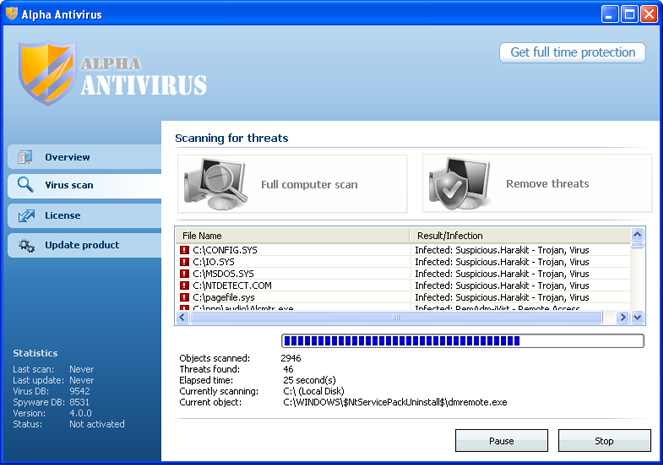 Alpha Antivirus manual removal:
Kill processes:
AlphaAV.exe
NetFilter.exe
Delete registry values:
HKEY_LOCAL_MACHINESOFTWAREMicrosoftWindowsCurrentVersionRun "AlphaAV"
HKEY_LOCAL_MACHINESoftwareMicrosoftWindowsCurrentVersionRun "Alpha Antivirus"
HKEY_LOCAL_MACHINESoftwareAlpha Antivirus
HKEY_CURRENT_USERSoftwareAlpha Antivirus
HKEY_LOCAL_MACHINESOFTWAREMicrosoftWindowsCurrentVersionUninstallAlpha Antivirus
%UserProfile%DesktopAlpha Antivirus.lnk
Unregister DLLs:
msnaoladdon.dll
ndisapi.dll
Delete files:
AlphaAV.exe
msnaoladdon.dll
Alpha Antivirus.lnk
NetFilter.exe
ndisapi.dll
NDISRD.sys
Delete directories:
%Program Files%Alpha Antivirus
%Documents and Settings%All UsersStart MenuProgramsAlpha Antivirus
%Documents and Settings%All UsersApplication DataAlpha Antivirus
About the author