Remove Australian Federal Police Ukash virus
Australian Federal Police Ukash virus is a ransomware infection, which is a clear sign how hackers are becoming more and more inventive. Now they are actively spreading this trustworthy-looking parasite, which locks computer down and displays a huge alert pretending to be from Australian Federal Police. In reality this is a deceitful pop-up message that wants to mislead you into spending your money on the invented fine. Although this intruder states that you have been watching or listening copyrighted videos and music, this is nothing but a trick used to rip people off. Be aware that this or any other trojan-based intruder from Ukash group of viruses is capable to hack the system completely and disable user from using Internet connection or any legitimate program, which is installed on it. Please ignore Australian Federal Police Ukash virus and remove it from your computer.
HOW CAN I GET INFECTED WITH Australian Federal Police Ukash virus?
This ransomware is spread by trojans that can be avoided by ignoring spam emails and their attachments or misleading domains filled with commercial ads and pornographic content. As it is almost obvious, it attacks people living in Australia and asks them to use Ukash prepayment system. As soon as Australian Federal Police Ukash virus gets inside the system, it displays its alert saying that you have to pay $100 to unlock your PC. Before that is states that you have been doing illegal activities on your computer. Instead of believing this deceitful warning, remove Australian Federal Police Ukash virus without hesitation! Besides, it's highly recommended NOT to pay the fine, because it won't help you to unlock your computer but will only lead you to money the loss and more viruses on your computer.
HOW CAN I REMOVE Australian Federal Police Ukash virus?
To get rid of this sneaky infection, firstly you must unlock your PC. For that we have rated special steps. Note that you will have to download automated anti-malware program because it's almost impossible to find infected files of this or any other Ukash virus manually:
1. Take another machine and use it to download reputable anti-malware program. We recommend choosing ReimageIntego, SpyHunter 5Combo Cleaner or Malwarebytes.
2. Update the program and put into the USB drive or simple CD.
3. In the meanwhile, reboot your infected machine to Safe Mode with command prompt and stick USB drive in it.
4. Reboot computer infected with Australian Federal Police Ukash virus once more and run a full system scan.
UPDATE: Here are other ways how you can unblock your computer:
* Try to change your computer's time to the previous date and then run a full system scan with anti-malware program.
* Users infected with Ukash group of viruses are allowed to access other accounts on their Windows systems. If one of such accounts has administrator rights, you should be capable to launch anti-malware program.
* Try to deny the Flash to make your ransomware stop function as intended. In order to disable the Flash, go to Macromedia support and select 'Deny': http://www.macromedia.com/support/documentation/en/flashplayer/help/help09.html. After doing that, run a full system scan with anti-malware program.
* Manual Australian Federal Police Ukash virus removal:
Reboot you infected PC to 'Safe mode with command prompt' to disable virus (this should be working with all versions of this threat)
Run Regedit
Search for WinLogon Entries and write down all the files that are not explorer.exe or blank. Replace them with explorer.exe.
Search the registry for these files you have written down and delete the registry keys referencing the files.
Reboot and run a full system scan with updated SpyHunter 5Combo Cleaner, ReimageIntego to remove remaining files.
Alternative Software
Different software has a different purpose. If you didn't succeed in fixing corrupted files with Reimage, try running SpyHunter 5.
Alternative Software
Different software has a different purpose. If you didn't succeed in fixing corrupted files with Intego, try running Combo Cleaner.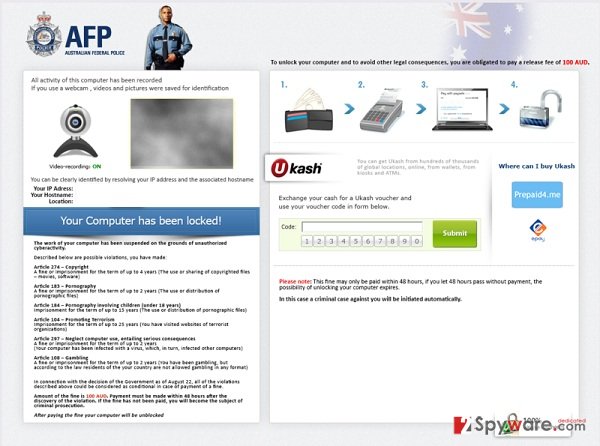 Access your website securely from any location
When you work on the domain, site, blog, or different project that requires constant management, content creation, or coding, you may need to connect to the server and content management service more often. The best solution for creating a tighter network could be a dedicated/fixed IP address.
If you make your IP address static and set to your device, you can connect to the CMS from any location and do not create any additional issues for the server or network manager that needs to monitor connections and activities. VPN software providers like Private Internet Access can help you with such settings and offer the option to control the online reputation and manage projects easily from any part of the world.
Recover files after data-affecting malware attacks
While much of the data can be accidentally deleted due to various reasons, malware is one of the main culprits that can cause loss of pictures, documents, videos, and other important files. More serious malware infections lead to significant data loss when your documents, system files, and images get encrypted. In particular, ransomware is is a type of malware that focuses on such functions, so your files become useless without an ability to access them.
Even though there is little to no possibility to recover after file-locking threats, some applications have features for data recovery in the system. In some cases, Data Recovery Pro can also help to recover at least some portion of your data after data-locking virus infection or general cyber infection. 
About the author
Removal guides in other languages

September 27th, 2012 at 11:47 pm

Just wanted to express my gratitude for posting this simple and seemingly very effective solution. Thanks and keep up the great work!


January 24th, 2013 at 7:09 am

Hi I have this virus which has locked my computer. I can get rid of it with hitman pro but I cant get my pc to boot to desktop. I have tried but cant get a safe mode option. I have made a hitman pro kick start usb but this virus is not allowing me to boot the pc. Has anyone got any ideas how I can get the pc to boot. If I can get to desk top I should be able to kill off the virus. Using Win 8. Help please!


January 24th, 2013 at 7:28 am

Another recommended method of removal is go to a clean computer and download hitman pro kickstart. You need a free usb as the paogram will format your usb. The kickstart is at the bottom bar of the hitman pro page, it is a little man kicking symbol. The put usb in infected pc and turn on. On start hit F2 (or could be F12 ) and shose your usb to boot from from. If this boots from the usb hitman pro will start at desktop and remove the virus. You will need to accept 30 day free tria. It is then recommended you also scan with malware bytes as well just to be sure. Unfortunately would not work for me but seems to work well with XP and Win 7. Good luck.


January 29th, 2013 at 9:08 pm

Had this virus popup on my computer today , could not access computer via safemode or anything , ended up doing a windows system restore, which seems to have gotten me access back to the computer quite quickly


January 30th, 2013 at 3:05 am

My laptop has been locked out and i cant get any access to it what so ever, can anyone help me please, its a school laptop.


July 4th, 2013 at 6:19 am

Same i have no clue how to get rid of it because it isnt admin


February 13th, 2013 at 4:16 pm

I deal with this virus at work and now malware has worked for us you have helped my department sort this out, I believe your up for a standing ovation with this spy hunter software , I got this at home and almost broke down thank you so much


February 13th, 2013 at 10:43 pm

All my computer is allowing me to do is to system restore not boot in safe mode I need help


February 14th, 2013 at 5:44 am

I just wanted to say thanks, my aunty thought she was in big trouble and so did i, but i searched it up and guess what… a virus!


February 15th, 2013 at 10:21 pm

Thanks for the helpful instructions, pc unblocked, now to remove the files.


March 7th, 2013 at 5:35 pm

thank you helping for ukash virus


March 14th, 2013 at 4:11 am

Step 1:

Turn your Computer all the way off. Start -> Shutdown.

Step 2:

We need to boot the computer up into Safe Mode with Networking, which is a special mode that may allow us to sneak by the virus warning. To do this, turn your computer back on and start tapping the F8 key on your keyboard until you reach the Advanced Startup Options menu. Use your up and down arrows to navigate and enter to select Safe Mode with Networking.
Step 3:

You may notice a bunch of strange files scrolling by, this is normal. The computer may will either boot right to the desktop, or you'll need to select your user account. You should now see your Desktop.

Note: If you still can't get in to your computer, this guide will not work for you and we recommend you Chat with an Expert.

Step 4:

Now we need to delete all the nasty files the virus created. The best way to do this is to run a full scan with MalwareBytes. You can download MalwareBytes for free here.

Step 5:

Once you've installed MalwareBytes, you need to select Full Scan and then hit Scan.

Step 6:

Once the scan finishes, you can hit Remove and you may need reboot the computer. At this point, your computer should boot up normally. It's a good idea to make sure your anti-virus software is up to date and run a full scan, or download a copy of free anti-virus such as AVG or Avast.


March 14th, 2013 at 5:33 pm

hello, thankyou for the advice but when you say select user account what do you mean ?
sorry for stupid question but im not sure what this is


March 17th, 2013 at 4:22 pm

help i need to unlock thus virus pls this one showing to pay $100


April 6th, 2013 at 7:42 am

Very helpful, thank you


April 23rd, 2013 at 8:20 am

windows system restore worked for me


June 14th, 2013 at 9:57 pm

Thanks for the helpful instructions, pc unblocked, now to remove the files. ukash.web.tr


September 12th, 2013 at 12:16 am

At times this virus also stops safemode from giving you access to the desktop, particularly some of the newer strains..

We have had success by booting to safe mode with command prompt and running explorer manually to get the desktop back

cdwindowssystem32
explorer.exe

Should have destop back.

Run SpyHunter or similar to get rid of the virus, reboot, do a full virus scan with decent AV software

You may have to manually bake a few registry setting changes, a quick Google search will show the relevant entries.

Regards


October 3rd, 2013 at 2:53 am

Thank you for Alert . I get Ukash card http://www.ukash.tc and ww.ukashu.com sites…


November 10th, 2013 at 7:37 pm

Started up in safe mode & restored to a previous time. WTF This thing used my webcam to display my face ??? If that is possible what is not possible ?


November 29th, 2013 at 3:47 am

evet okuduk ve sizi takip etmeye devam edeceğiz. http://www.onlineukash.com


November 30th, 2013 at 6:55 pm

I just woke up to this message on my compiuter this morning i felt sick how can these people do this to innocent people. Thanks so much for all this information. This is the first time i have ever been hacked into its scary.


December 26th, 2013 at 4:22 pm

This seems to have worked fine. * Try to change your computers time to the previous date and then run a full system scan with anti-malware program. I used Norton.


January 25th, 2014 at 4:06 am

What about on a Mac?


February 1st, 2014 at 1:34 am

DO NOT PAY anything!!! this hackers wont do anything for you. How come that the Australian Police does not do anything about it?


April 20th, 2015 at 12:48 pm

I copped it tonight, simply stated up in safe mode did a system
restore from a point pre virus, job done. Then did a malware scan just to make sure, clean as a whistle.


December 7th, 2015 at 9:37 pm

How do I remove it from Chrome on iPad?


December 7th, 2015 at 9:50 pm

How do I remove it from Chrome on iPad?