Disk Antivirus Professional. How to remove? (Uninstall guide)
Disk Antivirus Professional is a rogue anti-spyware, which hails from the same family as Smart Fortress 2012, Smart Protection 2012, System Progressive Protection, Personal Shield Pro, Live Security Platinum and many others. It is called WinWebSec. They all use identical GUIs and apply misleading techniques that are dedicated for the only aim – to swindle the money from PC users. If you are interested in this technique, we must firstly say that you should never believe Disk Antivirus Professional's alerts because they report about invented viruses and security problems. After doing that and scaring its victim, malware additionally offers to purchase its licensed version and remove those parasites. However, this 'licensed version' doesn't exist and purchasing it only means supporting the scammers. We highly recommend to remove this virus from your computer instead.
HOW CAN I GET INFECTED WITH Disk Antivirus Professional?
Disk Antivirus Professional installs on its target computers secretly and without user's permission asked. For that, it uses trojan horses that hide inside safely-looking downloads, such as media codecs, fake software updates, spam attachments and similar. Once inside the system, it drops some harmless files there and also includes its own Registry values that should help it to launch as soon as user reboots his computer. Additionally, this virus begins to show its worst side and floods its victims with annoying pop-up notifications and aggressive pop-up ads. As we have said, they all announce about viruses or simply warn the victim about possible dangers:
Disk Antivirus Warning
Your PC is still infected with dangerous viruses. Activate antivirus protection to prevent data loss and avoid the theft of your credit card details.
Warning: Your computer is infectedDetected spyware infection!
Click this message to install the last update of security software…
Warning!
The site you are trying visit may harm your computer!
Your security setting level puts your computer at risk!
Activate Disk Antivirus Professional, and enable safe web surfing (recommended).
Ignore warnings and visit that site in the current stat (not recommended).
As we have already mentioned, all these alerts are useless and bogus, so you should never take them seriously. Instead of paying for Disk Antivirus Professional's license, you should remove this malware and forget about invented problems on your machine. Some of PC users have reported that they have been blocked when trying to remove infection from the system. If you are one of them, read a detailed removal guide below:
HOW TO REMOVE Disk Antivirus Professional?
If you are one of those unlucky people who have already purchased Disk Antivirus Professional, first thing you should do is to contact your credit card company and dispute the charges. Then, remove this rogue anti-spyware from your computer ASAP. For that, you should scan your PC with at least one legitimate anti-spyware program, such as Reimage, SpyHunterCombo Cleaner or Malwarebytes Malwarebytes.
If you can't launch your anti-spyware, use these essential steps:
1. Download Reimage. It is designed to run even when it is blocked, just change the name of its executable from xxxx.exe to xxxx.com.
2. Try registering malware by using this code, which has been working with earlier parasites from WinWebSec: AA39754E-715219CE . It will make your malware think that you have purchased it.
Alternative Software
Different security software includes different virus database. If you didn't succeed in finding malware with Reimage, try running alternative scan with SpyHunter.
Alternative Software
Different security software includes different virus database. If you didn't succeed in finding malware with Reimage, try running alternative scan with Combo Cleaner.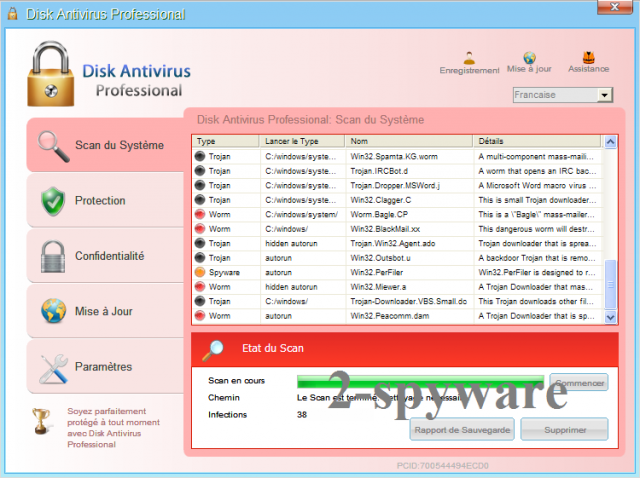 About the author
Removal guides in other languages

February 28th, 2013 at 7:27 am

Thanks it really works. Please go go.


March 4th, 2013 at 6:26 pm

BS, SpyHunter will only fix if you buy — as bad as Disk Antivirus Professional itself!! Lame-oid software vendors with their bait & switch tactics!


March 6th, 2013 at 9:39 am

Thank you for this particular fix, and especially the QR code – solved my problem quickly (because the registration code worked.)


March 7th, 2013 at 8:52 am

I had two machines on our network that were infected with this virus. Although it is a real pain, it can be removed. The most important point that I experienced is that you MUST be logged on as an ADMINISTRATOR to be able to do anything. You may not even be aware of this since there are no notices that you must be logged in as an administrator. Once I did that I was able to load the tools, any tool for that matter and they executed perfectly.
Good luck!!


March 8th, 2013 at 8:31 pm

For those who have norton 360 I have found using the norton power recovery tool to be able to remove disk antivirus


March 12th, 2013 at 12:07 pm

Boot into safe mode command prompt only. Look for hidden files in the root c directory with names like: installl*.exe and globdata.ini – delete these files. copy hijack this and boot into Safe Mode again with GUI this time and run hijack this. Delete any entries starting with an @ sign, having an unknown owner and pointing to SystemRoot. Reboot after fixing and things should be more stable. Actually in the process of cleaning my box right now. Downloading SpyBot and going to run that shortly…however horrible misbehavior from this morning has been halted.


March 12th, 2013 at 1:57 pm

this software is a big virus. it came into my pc uninvited and took over my pc and battled for two days to remove it. it stopped all services even the antivirus but I manage to remove it.


March 14th, 2013 at 5:09 pm

I just wanted to thank you for posting this article. I was able to use the registration code above to "fool" the program into thinking I had actually purchased it. Your advice above: 2. Try registering malware by using this code, which has been working with earlier parasites from WinWebSec: AA39754E-715219CE . It will make your malware think that you have purchased it.

This is so frustrating when it happens I just wanted to let you know your advice worked. I couldnt even download any of the other softwares to remove it until I tried the registration code.


March 14th, 2013 at 9:35 pm

Thanks, Cindy! I just tried the registration code on a friends computer and it worked perfectly.


March 15th, 2013 at 9:16 pm

Except the password, How about the login ID?


March 15th, 2013 at 9:41 pm

I mean the email. what email should I input?


March 16th, 2013 at 5:04 pm

Just continuing my personal belief that anti-virus programs are a variety of protection rackets. 😉

But once I had found the random name of the executable, removing the virus manually while running Windows under safe mode turned out easy. Running under safe mode is the key — as otherwise, it will prevent you from deleting it (if its loaded, it merely recreates the file). Finding the random executable file name turned out easy, too… it had created a shortcut in the Start menu, and all I had to do was right click on the shortcut and view the properties for it. Then follow the instructions above for removing it manually.


March 18th, 2013 at 4:45 am

Thanks a lot guys for update. It worked for me.


March 18th, 2013 at 7:37 am

wat about the email I D in Spyhunter


March 20th, 2013 at 12:50 pm

I infected with this virus and i was unable to uninstall it hence i Install windows XP fresh copy but i think this virus is took place in my other hard drive partition and always corrupt mt windows. install windows 6 times but this virus is not getting removed and when i install an antivirus to remove this torjan but this virus always infected the windows. please help or guide me what to do,