Smart Protection 2012. How to remove? (Uninstall guide)
Smart Protection 2012 is a dangerous malware that must be eliminated as soon as it starts displaying faked alerts on victim's computer. Just like its earlier version Security Phere 2012, this program should be categorized as rogue anti-spyware because it uses misleading tactics based on faked messages and systemscanners for the only reason – to make victims believe that they must purchase the licensed its version. For that Smart Protection 2012 will 'detect' tons of trojans, adware and other kinds of viruses and then will start initiating annoying redirections to its purchase page. Please, ignore this ultimate money-hunter and remove SmartProtection2012 without any delay. In addition, never buy this rogue anti-spyware because it may steal your credit card information and all the money found on your account.
As a rule, Smart Protection 2012 uses trojans for trying to get inside the system. As soon as they manage to come, they start messing it up afterwards and make some unnoticeable changes to system parameters. These changes help for Smart Protection 2012 to launch once the PC is rebooted. In addition, this scam will do its best in making it look like you really need the registered its version, so it will drop some faked harmless files first and then will detect them as malicious. Trying to mislead its victims, it reports:
Warning: Your computer is infected
Detected spyware infection!
Click this message to install the last update of security software…
Smart Protection 2012 Warning
Your computer is still infected with dangerous viruses. Activate antivirus protection to prevent data loss and avoid theft of your credit card details.
Click here to activate protection.
Smart Protection 2012 Warning
Intercepting programs that may compromise your privacy and harm your system have been detected on your PC.
Click here to remove them immediately with Smart Protection 2012
Security experts report that Smart Protection 2012 has empty virus database, so it can be hard to imagine how it detects viruses and removed them from the system. In addition, it clearly returns misleading results for the only reason – to make its victims concerned about their machines and buy its license. Rememeber, all the scanners and detection alerts or Smart Protection 2012 are nothing but pre-designed popups used for tricking the unsuspecting user. Do not believe them and remove Smart Protection 2012 without any delay. If you simply ignore this scamware, soon you will notice that malware is consuming your CPU resources and your PC is really slow because of that. You may also find some internet connection problems and browser redirections to its affiliate websites as well.
If you find it difficult to launch your anti-spyware program and scan PC for Smart Protection 2012, reboot your PC to safe mode with networking first. In addition, go online to download STOPzilla and run a full system scan with it to remove infected Smart Protection 2012 files.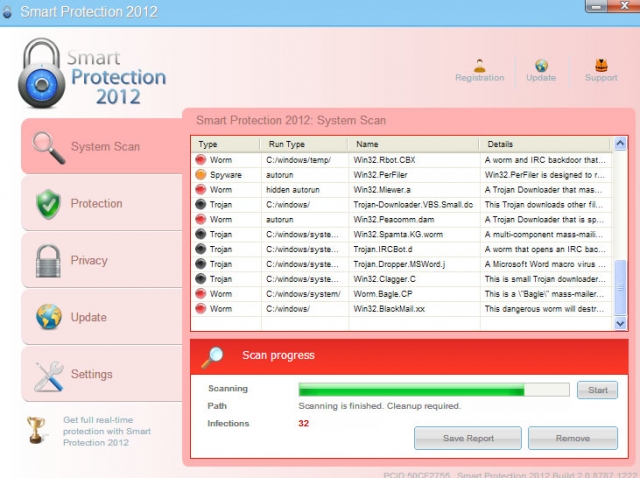 Smart Protection 2012 manual removal:
Kill processes:
[random].exe
Delete files:
%AllUsersProfile%[random]
%AppData%MicrosoftWindowsStart MenuProgramsSmart Protection 2012.lnk
%AppData%MicrosoftWindowsStart MenuSmart Protection 2012.lnk
%UserProfile%DesktopSmart Protection 2012.lnk
About the author