Remove Eleanor Mac virus (Simple Removal Guide)
Is there a way to avoid Eleanor Mac virus?
Mac OS users should become cautious since they may be targeted by Eleanor Mac virus. It is reported that EasyDoc Converter application is used as a disguise to spread the malware. This application was previously used for format converting purposes. However, IT specialists have revealed that once the program is installed, the virus within creates a backdoor for other viruses to infect a PC. Some even associate it with KeRanger ransomware. In this article, we will present the essential information about this malware and what damage it can inflict. In addition, take note of Eleanor Mac removal methods. One of the latter – elimination using Reimage Reimage Cleaner .
How does the virus operate?
Questions about Eleanor Mac virus
There is a tendency among scammers and professional hackers to exploit old programs for their maleficent deeds. Applications which haven't been granted an update for a longer period of time risk to be exploited by the hackers since this option give a cover of legitimacy. In addition, fewer users would suspect that the program possesses malignant files. Thus, you might wonder how Eleanor virus works. Once EasyDoc is installed, it activates a script shell which initiates the task in the operating system. The virus checks whether LittleSnitch (a firewall application) is running. If there is no such program on the system, it then runs three LaunchAgents in the user folder:
/Users/username/Library/LaunchAgents/com.getdropbox.dropbox.integritycheck.plist
/Users/username/Library/LaunchAgents/com.getdropbox.dropbox.timegrabber.plist
/Users/username/Library/LaunchAgents/com.getdropbox.dropbox.usercontent.plist
/Users/username/Library/.dropbox/
These executables may look like they belong to the file-sharing program called Dropbox. As a result, users may not have the slightest suspicion that these executables do not have any relation to the mentioned application in the first place. In fact, the launched processes make for outside third-parties easier to access the PC; it also allows remote code execution and may meddle with webcam settings. Furthermore, the virus paves the way for Tor hidden service. The latter is widely used by such destructive ransomware as Locky and Zepto threats. Thus, we encourage you to initiate Eleanor Mac removal as soon as possible.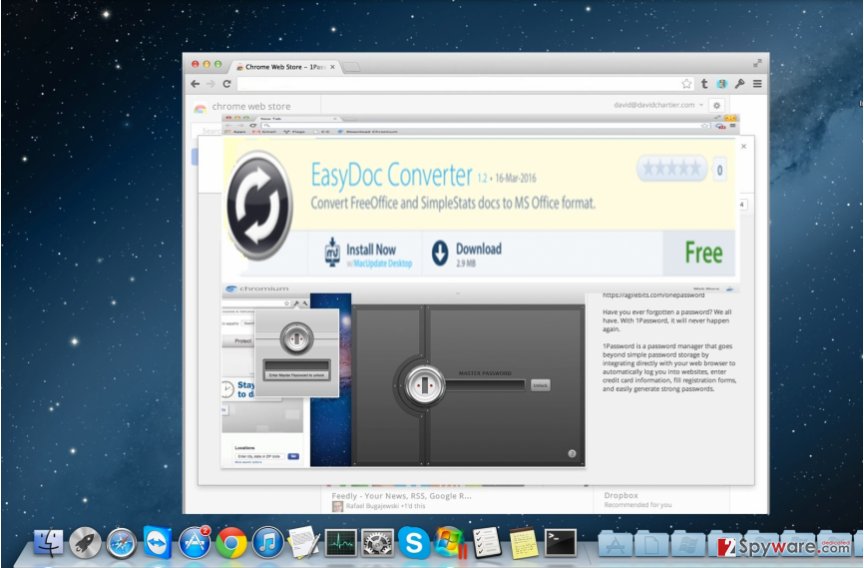 Though originally, EasyDoc converter has been published already in 2014, the first signs of the malware were detected only in April this year. The main problem of this fraudulent application is that users still can open it and unintentionally launch the virus even though the application does not have certain Apple certificate which proves its legitimacy. What is more, Apple specialists cannot get hold of the virus and terminate it.
Eleanor Mac removal guidelines
Users have reported that the current malicious version of EasyDoc Converter falls short of its promises and do not convert the files. Thus, you should not delay its elimination. Though Eleanor Mac virus can cause significant damage, its bearer, the converter, can be easily uninstalled. The best way to get rid of the malware is to run a system scan employing the services of an anti-spyware program. Since the malware is not a minor threat, complete and proper removal is of utmost importance. Thus, the security application will remove Eleanor Mac within a moment without leaving any traces behind. The program is also highly beneficial since it monitors the general security of the OS and ensures real-time protection. Luckily, you can uninstall the converter by yourself as well. You will find the instructions below. Lastly, beware of outdated software and check users' reviews before installing a new or older application.
For Mac System:
1. Click "Go" button and select "Applications"
2. Find "EasyDoc Converter" in the list
3. After selecting the program, choose "Move to Trash"
Alternative Software
Different software has a different purpose. If you didn't succeed in fixing corrupted files with Reimage, try running SpyHunter 5.
Alternative Software
Different software has a different purpose. If you didn't succeed in fixing corrupted files with Reimage Cleaner, try running Combo Cleaner.
About the author

July 7th, 2016 at 9:20 am

So nowhere is safe anymore…


July 7th, 2016 at 9:20 am

Now even you cant convert files without getting a virus or two…


July 7th, 2016 at 9:22 am

I guess it is time for me to install a normal security app.