Your computer has adware / spyware virus. How to remove? (Uninstall guide)
removal by Ugnius Kiguolis
-
- Also known as
'Your computer has adware / spyware virus' popup virus
| Type:
Malware
'Your computer has adware / spyware virus' is a misleading warning that seeks to make people become users of a questionable service. If you fall for this pop-up notification and call the number that is given on it, you may not only be tricked into spending your money on a fake service. You may also be tricked into downloading fake programs on your computer or reveal your confidential information, such as banking data, various loggins, passwords, etc. If you noticed 'Your computer has adware / spyware virus' ads during your browsing, it's a sign that your browser is affected by a questionable web browser plugin. Please, make sure you remove this plugin from your PC because it won't stop showing you this and similar pop-up notifications. For that we highly recommend using reputable anti-spyware, such as Reimage or Malwarebytes.
How can 'Your computer has adware / spyware virus' hijack my computer?
Unfortunately, there are lots of legitimate programs that have been involved to the distribution of the browser plugin that causes 'Your computer has adware / spyware virus' notification. Of course, such programs belong to questionable developers that seek to earn some easy money from this distribution. That's why we highly recommend avoiding programs that promise you to improve your browsing sessions, help you save the money or make your PC run faster. If you decide that you really need such application, choose only Custom or Advanced installation and opt out of various plugins, add-ons and extensions. If you started noticing this alert during your browsing, it means that your system was affected by a questionable application:
Your computer has adware / spyware virus
What to do:
Call 877-649-9499 immediately for assistance on how to remove the virus (…)
Data exposed to risk:
1. Your credit card details and banking information
2. Your e-mail passwords and other account passwords (…)
How to remove 'Your computer has adware / spyware virus'?
If you have been interrupted by 'Your computer has adware / spyware virus' alert, don't waste the time and scan your PC with a reputable anti-spyware. For that we recommend using Reimage or Malwarebytes. Once you finish that, follow these steps:
Internet Explorer:
1. Open Internet Explorer, click the Gear icon or 'Tools' → 'Internet Options'.
2. Here, go to the 'Advanced' tab and click the 'Reset' button.
3. Go to the 'Reset Internet Explorer settings' → 'Delete personal settings' and click on 'Reset' option.
4. Finally, click 'Close' and OK to save the changes.
Mozilla Firefox:
1. Open Mozilla Firefox, go to the 'Help' section → 'Troubleshooting Information'.
2. Here, choose a 'Reset Firefox' for a couple of times and 'Finish'.
Google Chrome:
1. Click the Chrome menu button on the Google Chrome browser, select 'Tools' → 'Extensions'.
2. Here, look for unfamiliar entries.
3. Select each of them and choose Trash can icon to delete them.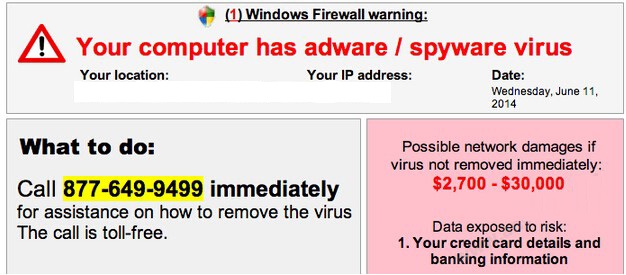 About the author
Removal guides in other languages