Nahwhyme.live scam (fake) - Free Instructions
Nahwhyme.live scam Removal Guide
What is Nahwhyme.live scam?
Nahwhyme.live is a scam website that attempts to trick you with attractive gifts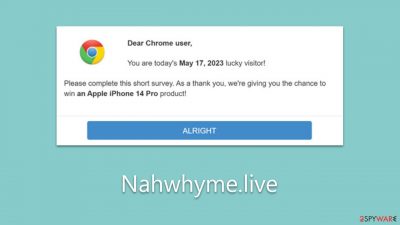 Nahwhyme.live is an untrustworthy website that employs deceptive tactics to trick users. While browsing the internet, users may encounter this site either by inadvertently clicking a link or due to adware installed on their systems. This scam site primarily exhibits counterfeit surveys and lures users with the promise of winning valuable gifts from acclaimed companies like Google or Amazon.
Nahwhyme.live often asserts that users have been arbitrarily selected to receive high-ticket items such as an iPhone, PlayStation, or TV. This pretense can bewitch some individuals, making them believe they've stumbled upon a stroke of luck. However, the site's true objective is more nefarious: to dupe users into divulging personal details like home addresses and email addresses, which can later be misused by cybercriminals. In many instances, they even demand payment for these "free" gifts, further exploiting the users.
It is strongly advised to avoid engaging with any content on Nahwhyme.live. Instead, scrutinize your system for potential adware infection, which could be a reason for the redirection to such phishing sites. If you've already provided your personal information, we'll provide guidance on how to mitigate the risks associated with such scams.
| | |
| --- | --- |
| Name | Nahwhyme.live |
| Type | Scam, phishing, adware |
| Operation | Claims that the user has been selected for a free gift; those who proceed to reclaim the alleged gift are asked to provide personal details |
| Distribution | Adware, redirects from other websites, malicious links |
| Dangers | Make people provide personal information, subscribe to useless services, download malicious software, or subscribe to push notifications |
| Removal | To remove unwanted apps manually, you can follow our removal guide below. If the unwanted ads and other disruptive behavior do not stop, you should scan your computer with SpyHunter 5Combo Cleaner security software and delete all threats automatically |
| Recovery | Use RestoroIntego to clean your system from data trackers and fix any damage done by adware or other malicious software |
The broader picture
Nahwhyme.live is a deceptive website that is part of a wider network of online scams. The operation of this site often takes users by surprise, as they usually find themselves redirected to it inadvertently. This redirection could occur due to multiple reasons, such as clicking on a seemingly harmless link on a different website or due to the presence of malicious adware on their systems. The latter, in particular, can be especially troublesome as it can constantly lead users to such fraudulent sites without their knowledge or intent.
Upon landing on Nahwhyme.live, users are typically greeted with a proposition that seems too good to pass up. They might be asked to participate in a survey or complete a simple questionnaire. The task, on the surface, appears harmless and straightforward, which can easily lower the guard of unsuspecting users.
To sweeten the deal further, the site often tempts users with an offer of the latest iPhone, purportedly for free. The idea of receiving a valuable gift for a small investment of time can entice many into taking the bait. However, to claim this alleged prize, users are required to provide personal details. These may range from credit card information and contact details to their residential address, under the guise of confirming their place of residence or for shipping purposes.
In other instances, users might be urged to download certain software, claiming it to be necessary for the completion of the process. Unbeknownst to them, this software can often be malicious, designed to compromise their systems.
Compliance with these requests can lead to a myriad of severe consequences. Users may suffer financial losses due to unauthorized charges on their credit cards, or their systems may become infected with malware, leading to further security and privacy breaches.
Moreover, the personal information provided can be exploited for further fraud or sold on the dark web, increasing the risk of identity theft. In essence, Nahwhyme.live employs a series of manipulative tactics to exploit users' trust, leading to potentially severe repercussions.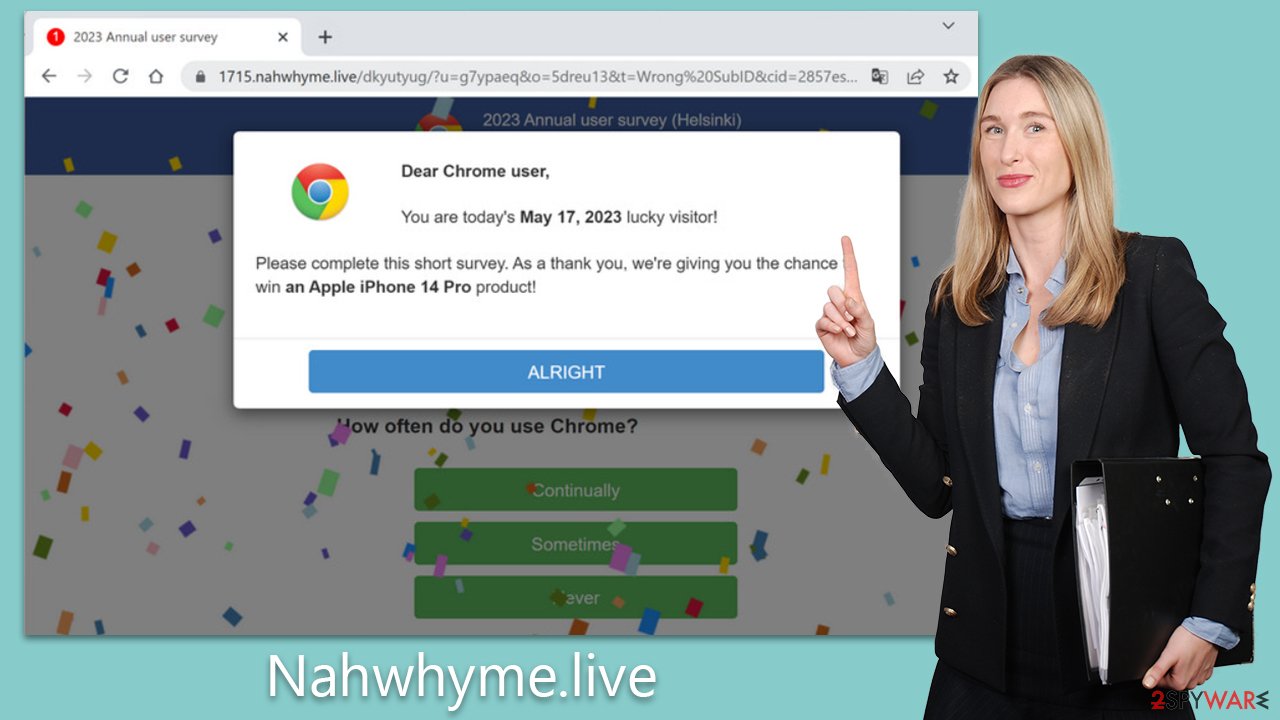 Tips to avoid being a victim of online fraud
Avoiding scams related to surveys or fake gift offers requires vigilance and proactive steps. Here are some tips to help protect yourself:
Be skeptical. Always maintain a healthy degree of skepticism when encountering offers that seem too good to be true. If a deal promises high rewards for minimal effort, it's likely a scam.
Check the URL. Carefully examine the website's URL. Scammers often use slight misspellings or alterations of well-known URLs to trick users.
Avoid sharing personal information. Never share personal information such as credit card details, social security numbers, or your home address unless you are certain the site is legitimate, and the information is necessary.
Research the site. Do a quick online search of the site name followed by "scam" to see if others have reported it as fraudulent.
Update your security software. Regularly updating your security software can help detect and prevent redirection to malicious sites.
Install a reputable Ad-Blocker. Many scams come from intrusive ads. Installing a reliable ad-blocker can help prevent exposure to these scams.
Beware of pressure tactics. Scammers often create a sense of urgency to pressure you into acting without thinking. Always take your time to consider the situation.
Taking care of adware and other infections
If you've encountered scams or suspicious content online, it's crucial to check your system for potential infections, commonly in the form of adware. Two recommended security software are SpyHunter 5Combo Cleaner and Malwarebytes.
These tools provide comprehensive protection against a range of threats, including adware, malware, ransomware, and phishing attempts. They are equipped with advanced scanning capabilities to detect and remove infections. Additionally, their real-time protection features can prevent future threats, keeping your system secure.
After ensuring your system is infection-free, it's advisable to clean your browser caches. This helps remove traces of potentially harmful websites and reduces the risk of future infections. For this task, we recommend RestoroIntego. It's a powerful tool that can clear cache, cookies, and browsing history across various browsers in a few simple clicks. By routinely using helpful software, you can further secure your system and enhance your online privacy.
Regularly checking your system for infections and cleaning browser caches are essential steps in maintaining a secure digital environment.
If you have already been scammed
If you've unfortunately become a victim of the Nahwhyme.live scam, it's crucial to act swiftly to minimize any potential damage. The first step is to contact your bank or credit card provider. Inform them about the fraudulent activity and request them to block any suspicious transactions. They may also guide you on how to replace your card if it's necessary.
Next, if you shared any passwords, change them immediately. It's advisable to use strong, unique passwords for each of your accounts to enhance security. Keep a vigilant eye on your financial and personal accounts for any unauthorized activities in the upcoming weeks.
You should also report the scam to the appropriate authorities. This includes notifying your local law enforcement and filing a complaint with your country's cybercrime unit. You can also alert your national consumer protection agency about the fraudulent website.
If you haven't already done so, install security software and run a full system scan to eliminate any potential malware from your system. If you're uncertain about the extent of the compromise or how to proceed, it's advisable to consult with a cybersecurity professional. The key to handling such incidents is swift and decisive action to protect your personal and financial information.
Alternative Software
Different software has a different purpose. If you didn't succeed in fixing corrupted files with Restoro, try running SpyHunter 5.
Alternative Software
Different software has a different purpose. If you didn't succeed in fixing corrupted files with Intego, try running Combo Cleaner.
How to prevent from getting adware
Choose a proper web browser and improve your safety with a VPN tool
Online spying has got momentum in recent years and people are getting more and more interested in how to protect their privacy online. One of the basic means to add a layer of security – choose the most private and secure web browser. Although web browsers can't grant full privacy protection and security, some of them are much better at sandboxing, HTTPS upgrading, active content blocking, tracking blocking, phishing protection, and similar privacy-oriented features. However, if you want true anonymity, we suggest you employ a powerful Private Internet Access VPN – it can encrypt all the traffic that comes and goes out of your computer, preventing tracking completely.
Lost your files? Use data recovery software
While some files located on any computer are replaceable or useless, others can be extremely valuable. Family photos, work documents, school projects – these are types of files that we don't want to lose. Unfortunately, there are many ways how unexpected data loss can occur: power cuts, Blue Screen of Death errors, hardware failures, crypto-malware attack, or even accidental deletion.
To ensure that all the files remain intact, you should prepare regular data backups. You can choose cloud-based or physical copies you could restore from later in case of a disaster. If your backups were lost as well or you never bothered to prepare any, Data Recovery Pro can be your only hope to retrieve your invaluable files.
About the author