PC Antispyware 2010. How to remove? (Uninstall guide)
PC Antispyware 2010 is another rogue security program from the same family as WinReanimator, PC Security 2009 and Home Antivirus 2010. The bogus application is promoted through the use of Trojan Braviax. This Trojan virus displays fake security alerts about possible or supposedly existing malware infections. The main goal of PCAntispyware 2010 is to coerce you into purchasing the program. You should uninstall PC Antispyware 2010 from your PC if it is already infected.
PC Antispyware 2010 can be also promoted on various misleading websites that provide fake online anti-malware scanners or it may be download and installed manually. Once active, it will be configured to scan your computer each time you log on into Windows. Of course, you can't change the way this program works. The scan results are false and are being shown only to convince you that your computer is seriously infected. To make things worse, PCAntispyware2010 will display alarmist alerts about computer threats. These alerts look like legitimate ones, so it might be difficult to envisage the difference between them. However, a reputable security application won't scan your computer without your permission.
What is more, PC_Antispyware 2010 will block antivirus programs to protect itself from being detected and removed. Likely, you won't be able to download and install other security programs as well. The rogue program will hijack Internet Explorer and Mozilla Firefox and redirect you to various misleading websites that promote malware.
All things considered, it should be obvious that this application is a scam which must be deleted as soon as possible. Please use the removal guide below to remove PC Antispyware 2010 from your computer manually for free.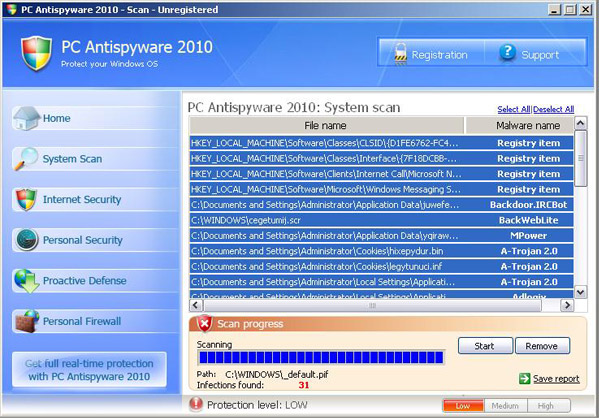 PC Antispyware 2010 manual removal:
Kill processes:
PC_Antispyware2010.exe
Uninstall.exe
jugifyryve.exe
Delete registry values:
HKEY_LOCAL_MACHINESOFTWAREMicrosoftWindowsCurrentVersionUninstallPC_Antispyware2010
HKEY_LOCAL_MACHINESOFTWAREPC_Antispyware2010
HKEY_CURRENT_USERControl Paneldon't load "scui.cpl"
HKEY_CURRENT_USERControl Paneldon't load "wscui.cpl"
HKEY_LOCAL_MACHINESOFTWAREMicrosoftWindowsCurrentVersionRun "PC Antispyware 2010"
Unregister DLLs:
AVEngn.dll
htmlayout.dll
pthreadVC2.dll
msvcm80.dll
msvcp80.dll
msvcr80.dll
Delete files:
aqamodero.dat
hubeweqa.lib
jatikysup._dl
ofyxodaqa.dat
sahaso.bat
zotys.bin
AVEngn.dll
htmlayout.dll
PC_Antispyware2010.cfg
PC_Antispyware2010.exe
pthreadVC2.dll
Uninstall.exe
wscui.cpl
daily.cvd
Microsoft.VC80.CRT
Microsoft.VC80.CRT.manifest
msvcm80.dll
msvcp80.dll
msvcr80.dll
akudyta.lib
hoxigawax.inf
kyci.dl
nuxojih.scr
qynomikov.bin
seni.reg
yfoneby.db
_scui.cpl
cocefezyj.dl
qebykiti.dl
pybisezyr.db
ulycozoho._dl
ekenubes.com
icosagula.reg
jugifyryve.exe
PC_Antispyware2010.lnk
ajeby.reg
yqeqaranym.vbs
zebav.pif
_scui.cpl.txt
xoqupuwytu._dl
Uninstall.lnk
Delete directories:
c:Program FilesPC_Antispyware2010
c:Program FilesPC_Antispyware2010data
%UserProfile%Application DataMicrosoftInternet ExplorerQuick Launch
%UserProfile%Start MenuProgramsPC_Antispyware2010
About the author