SOPA virus. How to remove? (Uninstall guide)
SOPA virus is a dangerous ransomware infection that, similarly to FBI virus or Celas virus, shows illegal alert. This message claims that S.O.P.A. Organization is going to erase victim's files if he won't pay for the usage of copyrighted or illegal files that were found on computer. When infected with SOPA virus, you will also be informed that your computer is now on a Black List of this anti-piracy organization and it will be here until you pay 200 dollars or euros through Moneypak prepayment system. However, be sure that all these stories about copyrighted materials, child pornography or illegal software are invented and seek only to scare you into giving your money away. Besides, there is a new thing about this member of Ukash virus group – it may also encrypt all of your files and offer to decrypt them if you pay a fee. Instead of falling for the scam, we highly recommend two things: ignore this misleading alert and remove SOPA virus from your computer! Note that you may need to restore the system from a backup to make it clean again but there are some special tips can also be used to remove SOPA virus.
HOW CAN I GET INFECTED WITH SOPA VIRUS?
SOPA virus can easily get inside the system through its backdoors. Similarly to its predecessors, it uses spam email attachments, freeware and shareware for its secret infiltration. System becomes locked once user reboots his computer, so there is no chance you will miss the fact that you are infected with SOPA virus. In addition, this ransomware displays its forged alert and reports something like that:
Stop Online Piracy Automatic Protection System
Your computer is locked!
If you see a warning.txt or warning screen, it means your IP address was included in S.O.P.A. Black List.
One or more of the following items were made from your PC:
1. Downloading or distributing audio or video files protected by Copyright Law.
2. Downloading or distributing illegal content (child porn, phishing software, etc.)
3. Downloading or distributing Software protected by Copyright Law.
As a result of these infringements based on Stop Online Piracy Act (H.R. 3261) your PC and files are now blocked.You can remove your IP from black list and unlock PC and files by paying a fine of 200 (USA and Canada)/200 EUR (via Western Union to other Countries)
(…)
WARNING!!!: If you don't pay the fine within 72 HOURS at the amount of 200 USD, all your computer data will be erased
Besides, SOPA has been also found to encrypt the files, found on victim's computer. The interesting part of this is a possibility to decrypt the files by sending the encrypted file to the scammers. This means that we have a deal with a really serious ransomware, that must be eliminated without any delay. For that, you should follow the guidelines given below:
HOW CAN I REMOVE SOPA VIRUS?
Some users have reported that they were capable to get on the Internet when they had SOPA virus on their machines. So, if you are also among these people, download Malwarebytes or Reimage and run a full system scan with these programs.
If you are completely disabled from getting online, here are the tips that should be helpful:
* Users infected with SOPA virus are allowed to access other accounts on their Windows systems. If one of such accounts has administrator rights, you should be capable to launch anti-malware program.
* Try to deny the Flash to make your ransomware stop function as intended. In order to disable the Flash, go to Macromedia support and select 'Deny': http://www.macromedia.com/support/documentation/en/flashplayer/help/help09.html. After doing that, run a full system scan with anti-malware program.
* Use Flash Drive method:
Take another machine and use it to download Reimage or other reputable anti-malware program.
Update the program and put into the USB drive or simple CD.
In the meanwhile, reboot your infected machine to Safe Mode with command prompt and stick USB drive in it.
Reboot computer infected with 'Stop Online Piracy Automatic Protection System' virus once more and run a full system scan with Reimage.
You may also find a problem with regaining control of your files. To decrypt the files, try using one of these tools: Kaspersky RannohDecryptor or Kaspersky RectorDecryptor.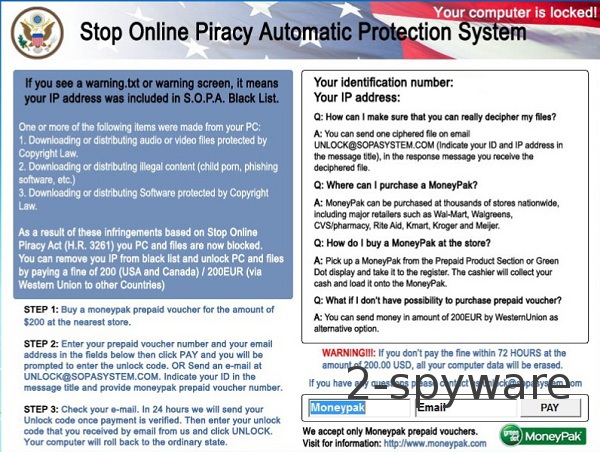 About the author
Removal guides in other languages