System Care Antivirus. How to remove? (Uninstall guide)
Obtaining System Care Antivirus license won't help to clean your PC from viruses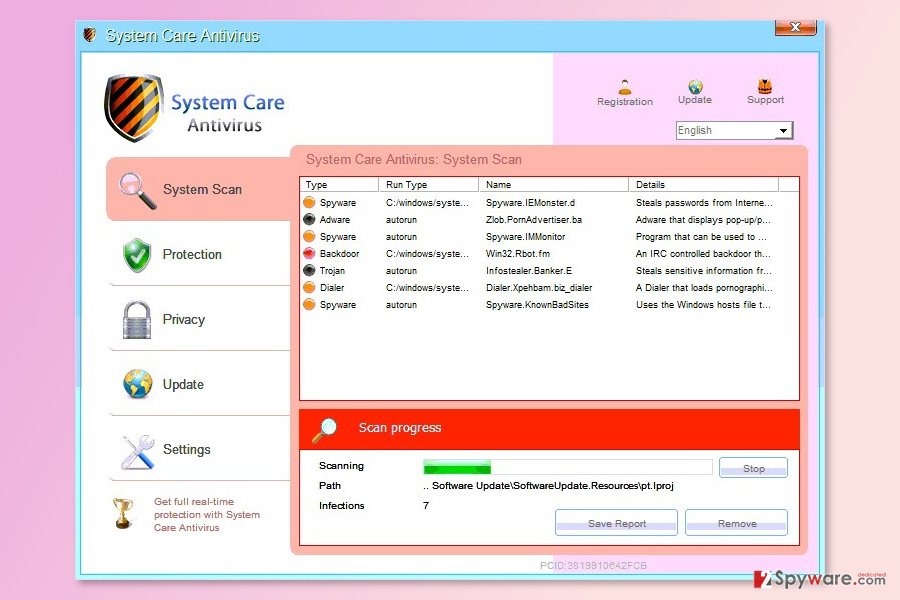 System Care Antivirus is a rough security software[1] that delivers fake alerts and system scans in order to promote paid version of the program. However, buying the license only leads to the waste of money, because this tool cannot fix your computer and remove viruses.
System Care Antivirus can also be found as System Care Antivirus 3.7.33. It might infiltrate the computer silently. The program has already caused lots of inconveniences for computer users in Australia, Canada, and France.[2]
Questions about System Care Antivirus
Once SystemCareAntivirus gets inside the system, this virus tries to make itself perfectly comfortable there and modifies some of its parameters. As a result, it gets the ability to start every time you reboot your computer and begins scanning the system and displaying its fake alerts, such as:
System Care Antivirus Warning
Your PC is still infected with dangerous viruses. Activate antivirus protection to prevent data loss and avoid the theft of your credit card details.Click here to activate protection.
Warning!
Application cannot be executed. The file GoogleUpdate.exe is infected.Please activate your antivirus software.
Warning!
The site you are trying visit may harm your computer!
Your security setting level puts your computer at risk!
Activate System Care Antivirus, and enable safe web surfing (recommended).Ignore warnings and visit that site in the current state (not recommended).
This virus is just another version of AVASoft Professional Antivirus, Disk Antivirus Professional and many other viruses that have been spread by hackers previously. They all share the same GUI and also rely on the same marketing strategy, which is based on fake alerts and scanners. You can safely ignore these notifications, and you should remove System Care Antivirus without any delay.
For System Care Antivirus removal we recommend scanning the system with Reimage. It's a real and professional security software that can protect you PC from cyber threats and clean all potentially dangerous entries.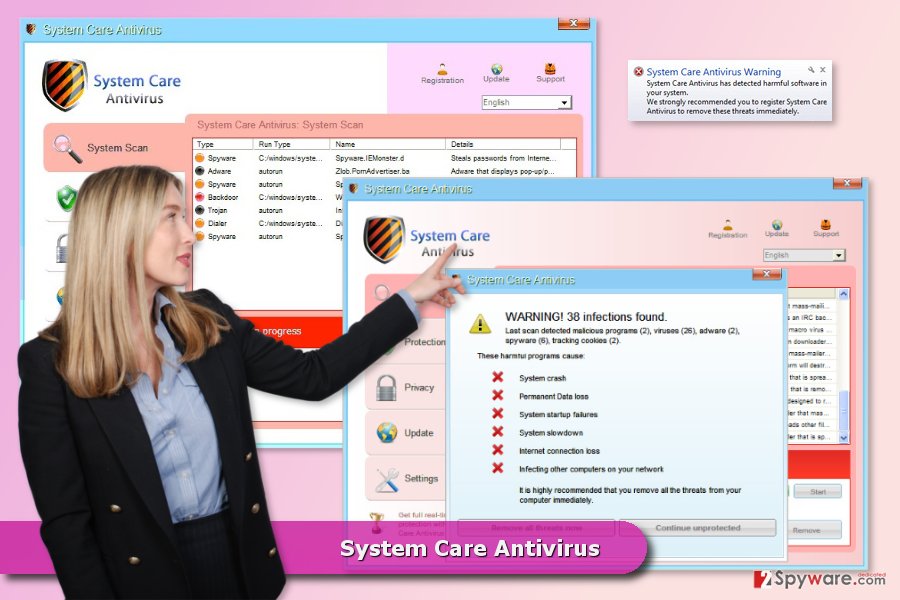 Slide 1 of 1
Distribution methods of the fake antivirus software
The program spreads with the help of ZeroAccess rootkit[3] and Black Hole Exploit Kit.[4] Therefore, it might enter the system without your knowledge. However, you can avoid this from happening by protecting your PC with professional security tool and keeping all your programs updated.
You can get infected with it if you tend to visit illegal websites, download freeware, open spam or fall for fake alerts that typically ask to update your outdated Flash Player in order to watch something online. As soon as you click on such warning, you download Trojan horse,[5] which additionally downloads malicious files that belong to System Care Antivirus virus.
Instructions how to uninstall System Care Antivirus
If you want to remove System Care Antivirus, we recommend using Reimage, Malwarebytes MalwarebytesCombo Cleaner or other reputable security application. Don't forget to update it as soon as you download this security application so that it could find these infected files automatically.
However, If you can't run automatic System Care Antivirus removal, use these essential steps:
Download Reimage. It is designed to run even when it is blocked, just change the name of its executable from xxxx.exe to xxxx.com.
Try registering malware by using this code, which has been working with earlier parasites from this dangerous group of viruses: AA39754E-715219CE. It will make your malware think that you have purchased it.
Alternative Software
Different security software includes different virus database. If you didn't succeed in finding malware with Reimage, try running alternative scan with Malwarebytes.
Alternative Software
Different security software includes different virus database. If you didn't succeed in finding malware with Reimage, try running alternative scan with Combo Cleaner.
About the author
References
Removal guides in other languages