Remove System Care Antivirus (Removal Guide) - Aug 2017 update
Obtaining System Care Antivirus license won't help to clean your PC from viruses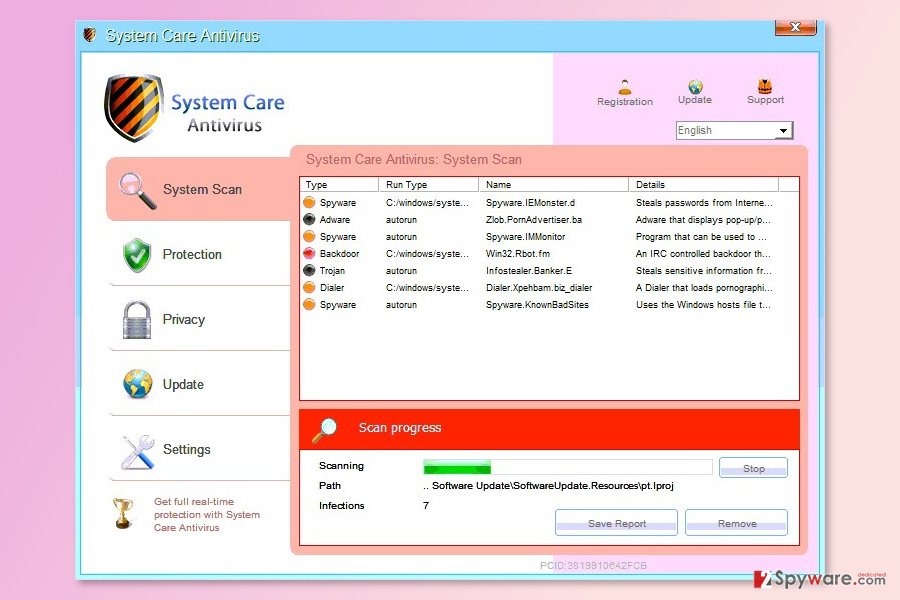 System Care Antivirus is a rough security software[1] that delivers fake alerts and system scans in order to promote paid version of the program. However, buying the license only leads to the waste of money, because this tool cannot fix your computer and remove viruses.
System Care Antivirus can also be found as System Care Antivirus 3.7.33. It might infiltrate the computer silently. The program has already caused lots of inconveniences for computer users in Australia, Canada, and France.[2]
Questions about System Care Antivirus
Once SystemCareAntivirus gets inside the system, this virus tries to make itself perfectly comfortable there and modifies some of its parameters. As a result, it gets the ability to start every time you reboot your computer and begins scanning the system and displaying its fake alerts, such as:
System Care Antivirus Warning
Your PC is still infected with dangerous viruses. Activate antivirus protection to prevent data loss and avoid the theft of your credit card details.Click here to activate protection.
Warning!
Application cannot be executed. The file GoogleUpdate.exe is infected.Please activate your antivirus software.
Warning!
The site you are trying visit may harm your computer!
Your security setting level puts your computer at risk!
Activate System Care Antivirus, and enable safe web surfing (recommended).Ignore warnings and visit that site in the current state (not recommended).
This virus is just another version of AVASoft Professional Antivirus, Disk Antivirus Professional and many other viruses that have been spread by hackers previously. They all share the same GUI and also rely on the same marketing strategy, which is based on fake alerts and scanners. You can safely ignore these notifications, and you should remove System Care Antivirus without any delay.
For System Care Antivirus removal we recommend scanning the system with Reimage Reimage Cleaner Intego. It's a real and professional security software that can protect you PC from cyber threats and clean all potentially dangerous entries.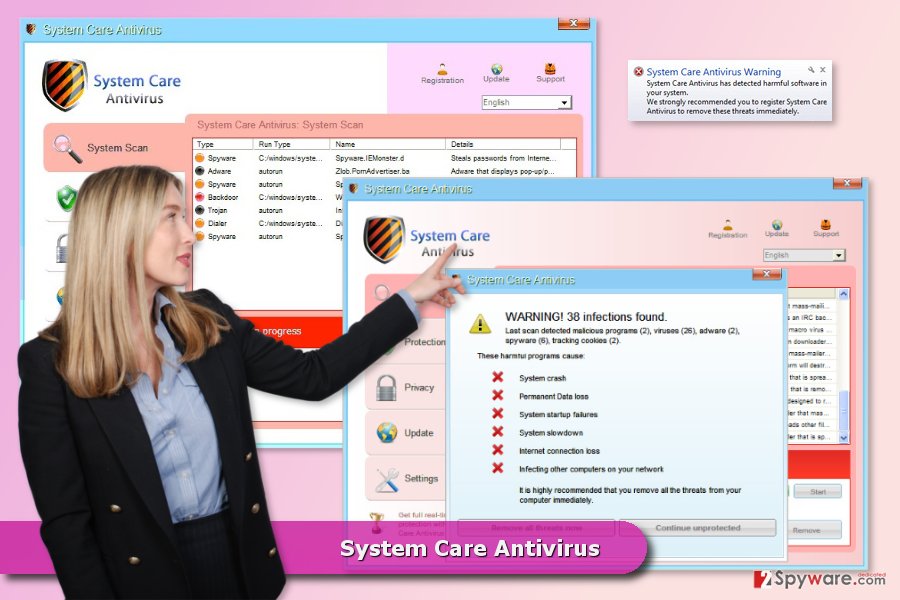 System Care Antivirus delivers fake system scans and alerts of critical computer infections in order to trick people into buying the paid version of the program.
Distribution methods of the fake antivirus software
The program spreads with the help of ZeroAccess rootkit[3] and Black Hole Exploit Kit.[4] Therefore, it might enter the system without your knowledge. However, you can avoid this from happening by protecting your PC with professional security tool and keeping all your programs updated.
You can get infected with it if you tend to visit illegal websites, download freeware, open spam or fall for fake alerts that typically ask to update your outdated Flash Player in order to watch something online. As soon as you click on such warning, you download Trojan horse,[5] which additionally downloads malicious files that belong to System Care Antivirus virus.
Instructions how to uninstall System Care Antivirus
If you want to remove System Care Antivirus, we recommend using Reimage Reimage Cleaner Intego, SpyHunter 5Combo Cleaner or other reputable security application. Don't forget to update it as soon as you download this security application so that it could find these infected files automatically.
However, If you can't run automatic System Care Antivirus removal, use these essential steps:
Download

Reimage

Reimage Cleaner

Intego. It is designed to run even when it is blocked, just change the name of its executable from xxxx.exe to xxxx.com.
Try registering malware by using this code, which has been working with earlier parasites from this dangerous group of viruses: AA39754E-715219CE. It will make your malware think that you have purchased it.
Alternative Software
Different software has a different purpose. If you didn't succeed in fixing corrupted files with Reimage, try running SpyHunter 5.
Alternative Software
Different software has a different purpose. If you didn't succeed in fixing corrupted files with Intego, try running Combo Cleaner.
Do not let government spy on you
The government has many issues in regards to tracking users' data and spying on citizens, so you should take this into consideration and learn more about shady information gathering practices. Avoid any unwanted government tracking or spying by going totally anonymous on the internet. 
You can choose a different location when you go online and access any material you want without particular content restrictions. You can easily enjoy internet connection without any risks of being hacked by using Private Internet Access VPN.
Control the information that can be accessed by government any other unwanted party and surf online without being spied on. Even if you are not involved in illegal activities or trust your selection of services, platforms, be suspicious for your own security and take precautionary measures by using the VPN service.
Backup files for the later use, in case of the malware attack
Computer users can suffer from data losses due to cyber infections or their own faulty doings. Ransomware can encrypt and hold files hostage, while unforeseen power cuts might cause a loss of important documents. If you have proper up-to-date backups, you can easily recover after such an incident and get back to work. It is also equally important to update backups on a regular basis so that the newest information remains intact – you can set this process to be performed automatically.
When you have the previous version of every important document or project you can avoid frustration and breakdowns. It comes in handy when malware strikes out of nowhere. Use Data Recovery Pro for the data restoration process.
About the author
References
Removal guides in other languages

May 8th, 2013 at 1:47 pm

Hey there,
We had a win7 pc infected with this thing. It came through some website currently unknown. I started the PC in safe mode (F8 during boot). Then I found the folder it started from by checking properties on the shortcuts it had placed on the desktop and in startmenu. In dos I deleted the folder. "rd xxxx /s". In regedit I removed two keys. One was found using search in regedit. The other listed above in your instructions. Thank you for your help.


May 22nd, 2013 at 5:14 pm

The makers of this virus/malware should be prosecuted. However, probably they will not be. Why?


June 24th, 2013 at 12:34 pm

Thanks so much for the info. The 2nd step worked by entering the security code. After that the task manager worked and I was able to delete it!


June 27th, 2013 at 3:56 am

Used the activation code and then was able to open task manager, end the process and permanently delete the file. Thanks so much!


June 27th, 2013 at 11:33 am

You should mention that Spy Hunter costs money. A$$hole. I did a full scan only to asked to be paid at the end.


July 2nd, 2013 at 11:22 pm

Capitalism at its best!!!!! 30min scan by Spyhunter and they want $$$$$$$$! Thanks for wasting my time! I will never buy anything advertised on this site!


July 3rd, 2013 at 10:18 am

Thank you
Step 2 worked.


July 5th, 2013 at 10:27 am

Indeed SpyHunter costs money. There are methods you can find online to do it for free, however SpyHunter does have the advantage of doing it with only one reboot. This can be advantageous if you are directing someone to remove it and you dont have the luxury of being with them to reboot into safe mode, edit registry keys, reboot regular, etc.

As for the writers of the system care antivirus worm, it is highly unlikely they would ever face any kind of criminal charges. Most likely they are not from the US which is one of very few countries with any kind of criminal law against such activity.


July 7th, 2013 at 2:15 am

The easiest way to get rid of System Care Antivirus is to run System Restore to a time before you got the virus.
It worked perfectly for me.


July 22nd, 2013 at 1:14 am

This virus would not let me do anything! i tried renaming the files but it would only reproduce itself. Then following anothers advice i went to the source file. it was there that i renamed the two files and whoa la it worked.


July 28th, 2013 at 10:53 pm

Your first mistake is using any windows products.
get a Mac and you will never have these problems


July 29th, 2013 at 5:14 pm

I used the step 2 method worked great, thank you!


August 13th, 2013 at 2:43 pm

I just got it opening a delivery notification. How i got rif of it was going to task manager and stopping the process…going to the file location and deleting the Systemcare exe…emptying the recycle bin. I am back up and running so far with no interference.