Malware Alarm seems to be a corrupt anti-spyware program that might be using false positives as goad to purchase. It is a clone of the illegally distributed Spy Sheriff rogue and other notorious products.
We couldn't test Malware Alarm, as the program failed to install on all our computers due to its bugs, compatibility and stability problems. However, the application is definitely a clone of Spy Sheriff and its variants, so most likely it uses false positives.
We know that the program refuses to remove any parasites it finds and asks to purchase the full
version.
Malware Alarm is a clone of Spy Sheriff, Brave Sentry, SpywareNo!, SpyDemolisher and other corrupt anti-spyware programs. All these programs are known to have identical user interfaces. They produce very similar deceptive scan results.
The official web site is www.malwarealarm.com.
DO NOT buy this product!
Malware Alarm download:
not recommended
Malware Alarm was carefully tested by 2-spyware.com research center. The review is the result of our test. If you know additional information about Malware Alarm please
send us the note
Advice:
If your computer seems sluggish, or you are suffering from unwanted advertisements and redirects to unknown websites, we highly recommend you to scan it with reputable anti-spyware program. Do some FREE scan tests and check the system for unwanted applications that might be responsible for these problems.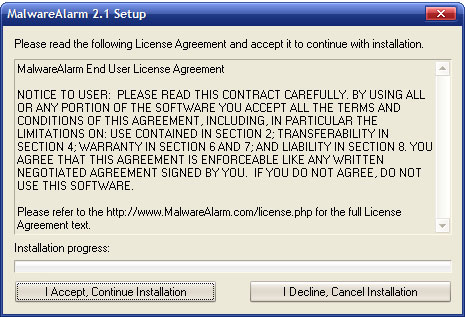 About the author